BY REGISTERING ONLINE, YOU AGREE THAT YOU HAVE READ AND AGREE TO ALL OF THE FOLLOWING RULES AND REGULATIONS DETAILED BELOW. TO ARRANGE MONTHLY SHIPPING PLEASE CONTACT THE SHOP AT 801-491-3551.
SCROLL DOWN TO SEE MONTHLY BLOCK UPDATES & PHOTOS.
We are excited to once again join forces with
Amy McClellan of
Under The Garden Moon
to bring her
Saturday Sampler
to Corn Wagon Quilt Co! Amy has designed an
original mystery quilt
pattern for our shop as part of a 12 month program. We can't show you what the finished quilt will look like but we can share the fabric palette we have worked together to coordinate. We can also tell you the finished quilt includes several different blocks, a handful of which include applique, so like Amy's past Saturday Samplers, this quilt will be a skill building program where you will be introduced to tools, products and techniques. You will learn LOTS! You will be challenged! You will practice skills that may be new to you! You will have fun! One of our great Corn Wagon instructors will teach monthly block demos with an occasional spotlight feature from Amy! Registration open June 15 - July 15, 2019.
-$40 non-refundable sign-up fee must be paid at time of registration.
-This Saturday Sampler (SS) begins Sept 14th 2019.
-You will not see the finished quilt until Aug 2020.
-Our SS is scheduled for the 2nd Saturday of each month.
-Doors open at 9:00 a.m. and close at 5:00 p.m.
-First Demo begins at 9:15 a.m.
-8 repeating demos will be held at 15 min after & 15 minutes before the hour, throughout the morning.
-Last demo begins at 12:45.
-Attending a demo is not mandatory. However, if YOU personally come into the shop the 2nd Saturday of each month to pick up your kit AND bring your last month's blocks to show us your finished monthly assignment, your current month's kit will be FREE! Otherwise, monthly kits are $5.50 each.
-SS patterns are not meant to be shared with anyone who is not enrolled in SS. They are copyrighted and will be published as a pattern for purchase after Aug 2020. The quilt is an original design created by Amy McClellan specifically for this Sampler Club.
-If you miss SS for two consecutive months, we will assume that you have dropped out and someone from our waiting list will take your place. Your $40 sign-up fee will be forfeited.
-We reserve the right to change the date of Saturday Sampler for any reason during the course of the 12 month program.
-There will be times when you will need to pay $5.50. They are listed below*. You will never pay more than $5.50 a month even if several reasons apply to you. Please don't ask our employees to make any exceptions.

* You will pay $5.50 if you do not complete your assignment from the previous month.
* You will pay $5.50 if you send someone else in your place.
* You will pay $5.50 if you miss SS for ANY reason.
* You will pay $5.50 if you don't bring your completed blocks with you and show them to us.
We are happy to have you in on the fun and look forward to seeing you soon!
~ Marsha & the girls at Corn Wagon Quilt Co.
---
AUGUST:
It's time for THE BIG REVEAL!
Your block for August is a gorgeous compass block that serves as the focal point of your quilt. It is made using the same paper piecing technique used for your smaller compass style blocks so there is no online demo for August.
Finishing kits are now available at the shop for $19.99 and include fabric for the sashing and borders in the color you previously requested. Backing and binding are not included in the finishing kit. We have LOTS of choices set aside for you in-store. Chris opted to sew together 12 fat quarters to serve as her backing. We have fat quarter bundles available in fabrics that coordinate with those used in your blocks. Come in and see this beauty in person and check out the fabulous custom quilting by Emily Herrick! We hope you've enjoyed this mystery quilt journey. Thank you for joining us!
---
JULY:
Attention!!!
We are putting together your finishing kits and YOU get to pick an accent color to be featured in your border! Choose from the color options below. We need to know right away if you would like to find yellow, green, blue, red or pink in your finishing kit. While we can't reveal the finishing details until next month, we can promise any of these color choices would be beautiful in your finished quilt. You can tell us your choice when you pick up your kit in store before Saturday, July 18. Otherwise please email your color choice to chris.chamberlain@cornwagonquilts.com before 07/18/2020.
Southern Star
https://youtu.be/5H3D3yUjWAA


Papa's Delight
Odd Fellows
Lost Children
---
JUNE:
Six in a Circle


https://youtu.be/68OftszueQE

Arkansas Snowflake


https://youtu.be/WK7xOv0GFpg


Goose Tracks


https://youtu.be/wGhinQfhai4
---
MAY:
Texas Tears
Pattern Correction!!!
Compass Star
Part 1
Part 2
Contrary Wife
Sunflower Block
---
APRIL: Saturday Sampler postponed due to COVID_19.
---
MARCH:
String Star
Dakota Star
Meadow Flower
---
FEBRUARY:
Road to California
Ric Rac Star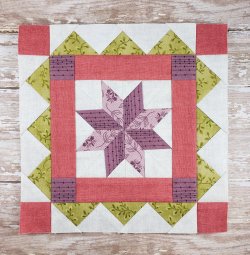 Lemoyne Star
---
JANUARY:
Birds in the Air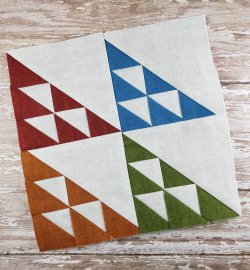 Mississippi Star
Grandmothers Flower Garden
---
DECEMBER:
Indiana Puzzle
Kansas Star
Missouri Puzzle
---
NOVEMBER:
Summer Winds
Rising Star
Rolling Squares
---
OCTOBER:
Morning Star
Wild Goose Chase
Road to Fortune
---
SEPTEMBER:
Bear's Paw
Ohio Star
Yankee Puzzle