PLEASE NOTE: Because this class has already begun, we require you to contact the shop at 801-491-3551 to register.
100 years ago, on August 18, 1920, the 19th amendment of the Constitution of the United States was ratified, giving women the right to vote. Susan B. Anthony, Elizabeth Cady Stanton, Lucy Stone and many other courageous crusaders worked tirelessly to make it possible. We owe them so much!
This tribute quilt acknowledges their efforts, their work and their sacrifice. Each of the six different blocks in the quilt point to the contribution of just one or two women who were active in the suffrage movement. Come and learn who they were and what they did in this block of the month club! We're calling it Suffragette Saturday and we invite you to join this lecture and demonstration every 4th Saturday beginning in January for six months. In the lecture you will learn the stories of these great women. In the demonstration you will learn how to construct the blocks. Then, on Tuesday, August 18th, celebrate the 100th anniversary of the women's right to vote at a special trunk-show and sewing night!
Did you know that the women who worked in the silk-worm factories in Utah gifted Susan B Anthony an entire bolt of black silk from which she made a dress still on display today? 6,000 women listened to the last speech she gave in Utah. Come and learn more! Because of them...
A $20 non-refundable registration fee holds monthly kits in your name and includes the pattern for this unique 54" x 54" quilt designed by Nancy Nielson exclusively for this program. This block of the month is a six month commitment with an optional free trunk show celebration on the date of the centennial, August 18th! Each month's kit will be $20 including tax, due upon pick up. Kits will include fabrics to piece the top.

Binding and backing are not included.

Please note that the quilt on display and pictured here were pieced using fabrics from Nancy's personal collection. Fabrics in kits will vary from those in the sample quilt but will closely replicate the overall style and color scheme as shown. Each monthly kit will be available for pick-up at the shop the fourth Saturday of each month through June.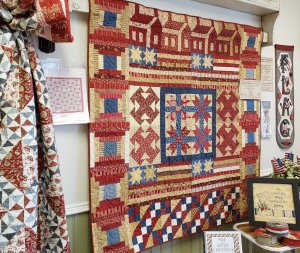 Shipping is available monthly for an additional fee. Please contact Corn Wagon Quilt Co. to make shipping arrangements.