This listing is for PICKUP IN-STORE ONLY.?IF YOU WOULD LIKE TO HAVE YOUR KIT MAILED TO YOU, PLEASE CLICK HERE FOR REGISTRATION!

FOR PROGRAM RULES AND INFORMATION SCROLL DOWN.
---
We are excited to join forces with Suzanne Jackman of Splendid Speck to offer an exciting new Saturday Sampler at Corn Wagon Quilt Co! Suzanne has designed an original mystery quilt for this 10-month program. We can't show you what the finished quilt will look like, but we can share the fabric palette we have worked together to coordinate. We can also tell you the finished quilt includes a variety of blocks so it's an opportunity to strengthen your skills. If you know basic quilting techniques, you can do this! You will definitely have fun! Live demos will not be a part of this program, however, occasional YouTube demos may be provided. Monthly patterns have excellent instructions with illustrations and are easy to follow.


Please follow the current Utah County health recommendations when entering the shop.

---
MONTH TEN - OCTOBER
---
MONTH NINE - SEPTEMBER


---
MONTH EIGHT - AUGUST


---

MONTH SEVEN - JULY



---

MONTH SIX - JUNE


---
MONTH FIVE - MAY


---
MONTH FOUR - APRIL


---

MONTH THREE - MARCH

Recommended ruler (optional): Bloc Loc 2.5" x 5" finished size


---
MONTH TWO - FEBRUARY

Recommended ruler (optional): Bloc Loc 2" x 4" finished size
This is a ruler you could use every month. We LOVE the precision Bloc Loc Rulers provide.


---
MONTH ONE - JANUARY

As you complete each monthly assignment for the Thoroughly Modern Mystery, you will find the following rulers to be helpful:

Bloc Loc 2" x 4" Flying Geese Ruler

Quilt in a Day 6.5" Half-Square Triangle
OR Bloc Loc 6.5" Half-Square Triangle

Creative Grids 4.5" Square Ruler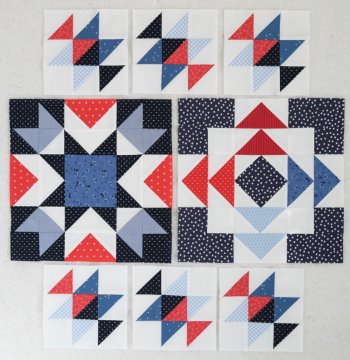 ?
?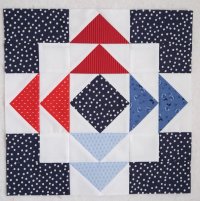 ---

BY REGISTERING ONLINE, YOU AGREE THAT YOU HAVE READ AND AGREE TO ALL OF THE FOLLOWING RULES AND REGULATIONS DETAILED BELOW.

?
-$75 non-refundable sign-up fee must be paid at time of registration and now includes the cost of the finishing kit.?
?
-Your credit card will be securely saved in our system. If you have not picked up your kit by the last day of each month, your credit card on file will be charged $6.00 and you may pick up your kit at your convenience.?
?
- If YOU come in person to the shop during the allotted week each month to pick up your kit AND bring your last month?s blocks to show us your finished monthly assignment, your current month's kit will be FREE! Otherwise, monthly kits are $6.00 each.?
?
-Our SS is scheduled for the 2nd Saturday of each month with the opportunity to pick up your kit free? through the following week.
?
-This Saturday Sampler (SS) begins January 8, 2022.
?
-Doors open at 10:00 a.m. through our regular business hours.
?
-The finished quilt will be revealed October 8, 2022.
?
-Finishing kits will be available October 8, 2022, the cost of which is included in your registration fee.
?
-SS patterns are not meant to be shared with anyone who is not enrolled in SS. The quilt is an original design created by Suzanne Jackman exclusively for this Sampler Club. Copyrights apply.
?
-We reserve the right to change the date and/or time of Saturday Sampler for any reason during the course of the 10 month program.
?
-There will be times when you will need to pay $6.00. They are listed below*. You will never pay more than $6.00 a month even if several reasons apply to you. This is not a penalty fee, but is the cost of your monthly kit. Please don?t ask our employees to make ANY exceptions.
?
* You will pay $6.00 if you send someone else in your place.
?
* You will pay $6.00 if you miss SS for any reason.
?
* You will pay $6.00 if you don?t bring your previous month?s blocks completely finished with you and show them to us.
---
We are happy to have you in on the fun and look forward to seeing you soon!
~ Marsha & the girls at Corn Wagon Quilt Co.
---
| | |
| --- | --- |
| Materials Included: | Finishing kit, including binding, will be included in registration fee. Backing options will be available for purchase at Corn Wagon Quilt Company on or before the last date of class. |
| Instructor: | {{item.instructor}} |