If you are a quilter, it is always nice to start working on Christmas gifts, BEFORE Christmas! In this one-day class, you will learn how to make this cute scrappy Christmas wall hanging and a scrappy Christmas table runner. You can choose to make one or both! Each project uses 2 panels of Ten Sisters Easy Piecing Grid. Choose the size you would like to make, your favorite Christmas fabric, and come ready to have fun completing this darling gift for your loved one or maybe for yourself!
CLASS REGISTRATION FEES ARE NON-REFUNDABLE
Optional kits are available in-store to those registered for class for $29.99. You'll get the usual 15% off class supplies and the benefit of 25% off any and all Easy Piecing Grid Panels so it's a great day to learn the grid method and stock up to prepare for future projects!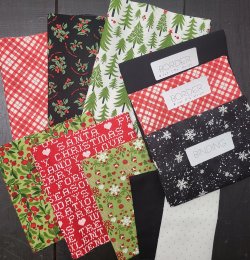 SUPPLIES:
1/4" piecing foot, basic sewing supplies.
Tree Wall Hanging-

- 2 panels EasyPiecing Grid (size of your choice)
- Tree: Scraps equaling 1/8- 3/8 yards
- Background:1/4 - 5/8 yard
- Binding: 1 fat quarter
Table Runner

- 2 panels EasyPiecing Grid (size of your choice)
- Fabric: Small scraps – ¼ yd ea.
- Border 1: BLACK 1/8-¼ yard
- Border 2: RED Plaid ¼ -½ yard
- Binding: BLACK ⅓ yd