National Quilting Day




Tomorrow, March 17, 2018 isn't just St. Patrick's Day; it's also National Quilting Day!
I decided to wander down into the dungeon here at the shop to see what my favorite machine quilter, Ramona Sorensen (she has made friends with the dragon lurking there), has been quilting on the Gammill long-arm. This darling little Easter quilt was sewn up lickety-split by Chris Chamberlain and handed over to Ramona for some free-motion, edge-to-edge quilting. She calls this design "wonky flowers." It's perfect for a playful spring quilt! You'll have to stop by to see how Chris worked some pink ric-rac into the binding. It's an adorable detail that is easy to add in for a bit of whimsy. The fabric featured in this 60" x 69" quilt is Spring Bunny Fun by, Stacy Iset Hsu for Moda. We have kits and yardage! You might recognize this fabric collection from these cute spring bunny dolls. A 1 yard panel includes instructions, mama & papa bunny
and an apron full of baby bunnies!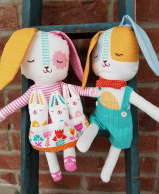 Celebrate both St. Patrick's Day and National Quilting Day with us at our
Green Sale!
Tomorrow, March 17th, 10 am - 5 pm,
All things green - completely green, partially green,
even just a wee bit of green will be 20% off!
Wear green into the store that day and receive an
additional 5% off all things green!
Sale applies to in-stock, regular price items. Some exclusions apply.




Make a Cake



By now you have probably seen the Cake Mix Recipes. You've likely seen patterns and quilts that use them, but have you tried them yet? Have you seen how they simplify precise piecing? Cake Mix recipes by Moda work with Layer Cake 10" Precuts. By layering precut fabric squares with a Cake Mix Recipe paper, you can simply stitch along the printed lines, cut as indicated and tear the paper away to create perfectly accurate quilt blocks! Emily Herrick made this Gingerbread Quilt using Cake Mix Recipe 1 and enjoyed the method so much that she is offering to teach a class!

Saturday, April 14, 10am - 2pm

Emily invites you to gather your ingredients – a Layer Cake, a Cake Mix Recipe and The Cake Mix Recipe Book I - all available here at the shop. You chose the Cake Mix quilt you want to make and she will provide the instruction and assistance plus LOADS OF FUN!
Additional ingredients may be needed depending on the quilt pattern chosen.
Register in-store, on-line, or over the phone. $30 class fee.
All supplies must be purchased separately and are available here at Corn Wagon Quilt Co.
For more information on this and other classes please click the link below.

CLASSES





Classic Storybook Charm


It's a story we all grew up with; the tale of a girl in a red hooded cape on a journey though the woods to visit her grandmother. "Whistler Studios brings this fairytale to life with their new fabric collection, Little Red Riding Hood." Drawing on 1930s inspiration, this darling collection features a main print of little Red encountering the wolf, a tossed basket print, tiny gingham, apples, flowers and a word print of well-known quotes from the tale. Clink the link below to view each fabric up close as well as find free project downloads on Windham's website (I think I have to make To Grandmother's House!) then make your own journey to visit us at Corn Wagon (wolf-free guaranteed) and create your own quilt story!

Little Red Riding Hood by, Windham Fabrics





More Upcoming Sales & Events

Marvelous Monday Sale
March 19th - 25% off one cut of fabric!
This sale includes regular price cotton, flannel, minky & wool cut from the bolt.

Wrong Price Wednesday
As of March 21st, 2018, Our Wrong-Price Wednesday fat quarter sale price will be
$ 2.25 ea. to reflect the increased regular price of fat quarters of $3.25 ea.


Wednesday's Word

Wednesday's Word is a special offer for our Facebook Friends and Instagram Followers. Every Wednesday you can find our social media post announcing Wednesday's Word. Repeat the word at the register that Wednesday to receive 25% off one regular priced item.
Remember, Facebook & Instagram feeds are no longer shown chronologically but you can simply bring up our profile to view our posts at your convenience. Hint: the more often you click on our posts, the more regularly we will appear near the top of your feed.


The UFO number for March is 12


Thank you for supporting your local brick-and-mortar quilt shop!
We feel honored to be part of such a wonderful quilt-making community.

We hope you'll visit us again soon,
Jen and the Girls
at Corn Wagon Quilt Co.