Skip Navigation
Website Accessibility
Roll with us! National Sew a Jelly Roll Day, Saturday, September 21st!

The 3rd Saturday in September has officially been designated as National Sew A Jelly Roll Day to encourage collectors to tear open a Jelly Roll and make something for themselves, as a gift or for charity! As a quilter you likely have purchased those pretty 2-1/2" pre-cuts without knowing exactly what you will make. Let's face it; there's just something wonderful about holding an entire collection of fabric rolled up in the palm of your hand. As lovely as they are, neatly tied with a ribbon, they end up on our shelves just waiting for the right project. Enter PROJECT: Jelly Roll, the annual event created to give you the perfect opportunity to turn that Jelly Roll into something wonderful! It can be a quilt or a tote bag, a pillowcase, a rug or something to wear, it doesn't matter so long as we seize the day and celebrate the joy of being a maker. Grab a Jelly Roll from your shelf, dust it off, choose a project and sew with us here at Corn Wagon Quilt Co. Saturday, September 21st, 10am - 5pm! $20 registration fee reserves your table in one of our new retreat rooms and includes lunch! Jen Tanner will be ready to roll and available to help as needed at the event. You'll even have your name entered to win a free Jelly Roll! Not sure what project to choose? We recommend visiting modabakeshop.com for free pattern downloads or of course we would love to help you find something wonderful here at the shop!
We're offering more than one way to participate in National Jelly Roll Day! Lexi Lamb & Chris Chamberlain will be teaching a Jelly Roll Rug Class that day. Choose between an oval or rectangular Jelly Roll Rug, purchase a pattern by Roma Lambson here at the shop along with your other supplies and meet in our School House 10am - 5pm, Saturday, September 21st for instruction and guidance while sewing your own Jelly Roll Rug. Register now online or in store for $55 (includes lunch!) and get ready to roll with us! Lexi chose a happy scrappy selection of Cotton + Steel fabrics to make the Squared variation of Roma Lambson's Jelly Roll Rug. We think it's brilliant that she used cork fabric to bind the edges! Adds strength and looks great too!
Saturday Sampler

Show-and-Tell
Saturday, August 31st at 10:00 a.m.

This Saturday (tomorrow!) come and show off your Saturday Sampler Quilt! Some of you are not completely finished and some of you ARE COMPLETELY FINISHED! Either way, we would love to see your quilts and check out the personalities they each have and the changes you have made to make them your own.
There will be treats and maybe a few prizes.
See You Saturday!
cornwagonquilts.com
---
The dust is beginning to settle as our old classroom has been transformed into a newly expanded wool and stitchery department! Marianne Michaels has been busy putting together a brilliant space filled with our ever-growing collection of specialty threads. Have you tried stitching with Sea Grass? How about Silken Pearl, Ribbons or Chenille? You'll find a wide range of creative options from Sue Spargo, The Thread Gatherer, Valdani and MORE. Many options are hand-dyed and some even have a little bit of sparkle. Come and see what's new!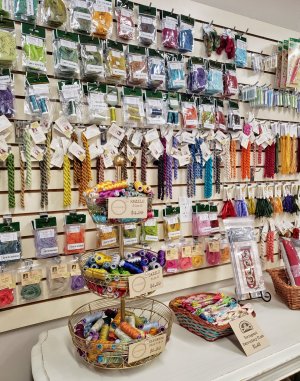 We now carry an extensive selection of Cosmo embroidery floss as well as wool floss from both Sue Spargo and Aurifil.

Pick up a new project like this wool applique floral still life by Wendy Williams titled Arrangements for Kerry then have some fun selecting unique threads for embellishment.



Early in the planning stages of this new space, we knew one thing for sure - - we needed a comfortable space for those sweet husbands to relax while their wives shop! This cozy nook provides two comfortable chairs, a few magazines and cold bottled water for those special gents. They're keepers for sure!


---
Looking for a quick and easy lap quilt for kids? Averi Smith whipped up the Super Simple Strip Quilt by Emily Herrick using these darling Art Gallery Fabrics in no time at all! The pattern is FREE here at the shop and we have kits in a variety of themes! We're talking, llamas, dinosaurs, construction trucks and sweet florals - - all coordinated and bundled for an easy grab-and-go gift! Take a closer look at how Emily Herrick quilted each strip differently and boy does that pink Cuddle backing really show off the unique quilting motifs!

---
Upcoming Sales & Events
Stuff-a-Bag Sale!




Tomorrow, Saturday, August 31st




Bring in your reusable, cotton Corn Wagon Quilt Co. bag and receive 20% off any regular priced items you can "stuff" inside. Don't have a bag yet? Purchase one for $5 and reuse it every 5th Saturday for the same great Stuff-a-Bag Sale!





We will be CLOSED Monday, September 2nd for Labor Day.



Terrific Tuesday Sale


Tuesday, September 3rd - 25% off ONE CUT OF FABRIC

!


Don't forget to stop in and see what's on the porch at an extra deep discount!



Handwork Club
This weekly club is for anyone who would like to work on a hand stitching project while learning new hand stitching skills. We will learn a-stitch-a-week! This is a great opportunity to finish our own projects and relax with a fun gathering of sewing friends every Tuesday from 10:00am - Noon.


Wrong Price Wednesday
Every Wednesday our pre-cut fat quarters are only $2.25!
Regular Price $3.25.
Time Out at the Wagon
NEW EXTENDED OPEN SEW HOURS!
Every Wednesday, 10 a.m. - 4 p.m. in our NEW school house.
Put yourself in Time Out at the Wagon. We all need Time Out from housework, phone calls, and everyday responsibilities. Come to "Time Out at the Wagon" and do just that. Bring a project and sew the day away with friends here at the shop. Marsha is looking forward to being in Time Out and hopes lots of you will join her.


Fall Open House
September 12th, 13th & 14th
Stop in during our Open House to pick up a copy of our new class schedule and see new projects on display. Take advantage of Open House discounts like 10% off regular class fees, 20% off class supplies and 25% off one regular price item of your choice!

Thank you for supporting your local brick-and-mortar quilt shop!


We feel honored to be part of such a wonderful quilt-making community.



We hope you'll visit us again soon,
Jen and the Girls
at Corn Wagon Quilt Co.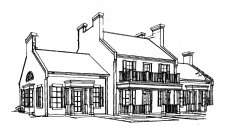 We would love to hear from you!
801-491-3551
https://cornwagonquilts.com/