Skip Navigation
Website Accessibility
Red Dot Fabric Clearance $3.99/yd this Saturday October 19th

"I've got a feeling, a feeling I can't hide, oh yeah!...
" If you've been in the Corn Wagon lately you may have noticed a bit of a buzz about the place, some new energy, some good vibes... Yes, there's definitely some excitement about the the shop these days and I've got a feeling you're going to love what's going on at the quilt shop. Let's start with what's happening
tomorrow!
We've created a new sale fabric department in the loft where the threads and stitchery used to be and we have filled it to overflowing! I'm talking quadrupled the amount of Red Dot Sale Fabric usually marked down to $5.99/yd and we want it outta here! This is where it gets exciting.
Tomorrow, Saturday, October 19th all fabric bolts in our new sale loft with a red dot sticker will be $3.99/yd!
Prices this low on quilter's quality cotton don't happen often so pop in, look for the red dot stickers, request a minimum 1 yard cut and it's yours for $3.99/yd. You'll also notice red dot stickers on the patterns in our sale loft - - they're on clearance for $2.00 each! You can also take advantage of our extended DMC embroidery floss clearance - - solid colors are 4 for $1.00! I've got a feeling it's going to be a good weekend for some fantastic fabric finds!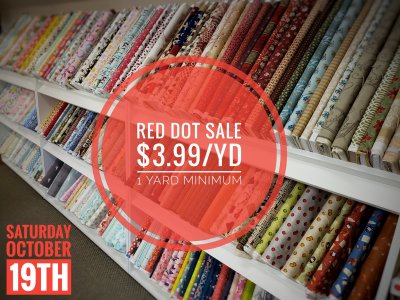 That good feeling is going to continue as we prepare to celebrate Corn Wagon's 20th Birthday!
Saturday, November 2nd is going to be a very special day.
The quilt shop will open early at 7:00 a.m. with our Pajama Party Sale! All regular price items will be on sale but the discounts will decrease as the day goes on so we recommend you roll out of bed and run right over in your P.J.s to take advantage of our best birthday bargains. Plus, if you wear your P.J.s (we'll be wearing ours!) you'll get an
extra 5% off
regular price purchases! Talk about a good feeling...shopping for fabric...in your PJs...at INCREDIBLE PRICES! But that's not the only thing that has us all aflutter.
At 10:00 a.m. on November 2nd, our new Quilter's Mercantile will open it's doors to the public for the first time!
Please join us for a truly exciting day as we celebrate 20 years of quilt making by adding
sew
much more to your Corn Wagon experience.
Not one, but
two
darling Granny Squares quilts are currently on display at the shop, each with it's own style
. The first (above) is a class! Randi Deem will be teaching the Great Granny Squared quilt by Lori Holt Saturday, November 2nd (more birthday fun!) 9:00a.m. - 4:00 p.m. You can register now on our website for $45. All supplies purchased separately and are available here at Corn Wagon.

The second (below) was pieced by Karen Averett following the Turnabout Granny Squares pattern by Missouri Star Quilt Co. and is available as a kit in-store! She used Tickled Pink prints and yard-dyed wovens by Janet Rae Nesbitt of One Sister Designs to create this warm Granny Squares quilt. And isn't it pretty with those red autumn leaves on the porch at the new Quilter's Mercantile? The Granny Squares quilt block was inspired, as you may have guessed, by classic crocheted Granny Squares. This block is friendly to all quilting levels and has a decidedly nostalgic feel using simple patchwork squares.

Boundless Carryall Class


Saturday, October 26th, 9:00 - 4:00

The Boundless Carryall does just that! It's a generously sized bag that holds A LOT with pockets on the front, sides and back to carry all your trinkets. That fabric you have been holding onto for a special project? This is it! It's also a great chance to use cork fabric for durability and interest. The possibilities of this bag truly know no bounds! Learn some serious bag making skills from true "bagineer," Shelly Taylor! Register now online for $45. All supplies purchased separately and are available here at the Corn Wagon.


cornwagonquilts.com
---
Upcoming Sales & Events
Marvelous Monday Sale


Monday, October 21st - 25% off

regular price PRECUTS!
Don't forget to stop in and see what's on the porch at an extra deep discount!

Granny's Garden Sew Along
Monday, October 21st - 10:00 a.m. - 1:00 p.m.
With floral applique blooms featuring Lori Holt's signature style and newest fabric collection, the Granny's Garden quilt is a classic in the making! Now's your chance to reserve a kit and a seat in the club! Come every other Monday and spend several hours sewing with friends working on this pretty 76" x 86" applique project. We still have a couple of kits available but they won't last long! Pick yours up today!

Summer Moon BOM
Monday, October 21st, 5:30-6:30 p.m.
Time for the next kit and demo for this gorgeous quilt. We have loved seeing your progress each month on these cute little block sets!
Handwork Club
This weekly club is for anyone who would like to work on a hand stitching project while learning new hand stitching skills. We will learn a-stitch-a-week! This is a great opportunity to finish our own projects and relax with a fun gathering of sewing friends every Tuesday from 10:00am - Noon.
Wrong Price Wednesday
Every Wednesday our pre-cut fat quarters are only $2.25!
Regular Price $3.25.
Time Out at the Wagon
NEW EXTENDED OPEN SEW HOURS!
Every Wednesday, 10 a.m. - 4 p.m. in our NEW school house.
Put yourself in Time Out at the Wagon. We all need Time Out from housework, phone calls, and everyday responsibilities. Come to "Time Out at the Wagon" and do just that. Bring a project and sew the day away with friends here at the shop. Marsha is looking forward to being in Time Out and hopes lots of you will join her.
Thread Dispenser Sewing Case
Wednesday, October 23rd, 1:00 p.m. - 5:00 p.m.
You'll have no more tangled jumbles of thread when you use this clever thread case! Special slots with ultra-suede in each pocket enable you to easily thread a needle without removing the spools from their pockets and keep everything neat as a pin. See-through pockets hold up to 48 spools! A larger pocket holds scissors, needles and other supplies. Bonus: pattern allows for a bonus small case for individual projects!
Little Poppins Bag
Thursday, October 24th, 11:00 a.m. - 6:00 p.m.
Little Poppins Bag
is SEW CUTE! Bet you have never made a bag like this - EVER! Structural stays, included in the pattern, plus
Soft and Stable
help keep its shape. Pockets inside store supplies for a sewing day with friends or a fun purse for everyday use. Choose the large or small size and come learn some bag-making techniques you have likely never tried before!

Thank you for supporting your local brick-and-mortar quilt shop!


We feel honored to be part of such a wonderful quilt-making community.



We hope you'll visit us again soon,
Jen and the Girls
at Corn Wagon Quilt Co.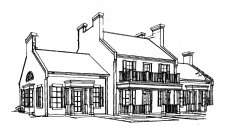 We would love to hear from you!
801-491-3551
https://cornwagonquilts.com/