20 Years of Quilting... That's a lot of stitches! Over the past two decades we've discovered so much beauty through the art of quilt making. We've enjoyed the great resurgence of traditional quilts echoing our heritage while at the same time witnessing the evolution of modern quilting. We've seen trends come and go, new designers blossom and clever techniques revolutionize the way we sew. Countless quilts have come through our doors, many of which our machine quilters have had the honor of quilting. Each one is as unique as it's creator. I think that's been the most beautiful part of being in this business; getting to know so many makers! This community of quilters is absolutely inspiring and we are grateful we get to be a part of it. To thank you, we invite you to join us as we celebrate 20 years of quilting at Corn Wagon Saturday, November 2, 2019 with two exciting events! First, it's our biggest sale of the year!

The quilt shop will open early at 7:00 a.m. with our Pajama Party Sale!

All regular price items will be on sale but the discounts will decrease as the day goes on so we recommend you roll out of bed and run right over in your P.J.s to take advantage of our best birthday bargains.
7:00 a.m. - 9:00 a.m. all regular price items will be 30% off!
9:00 a.m. - 11:00 a.m. all regular price items will be 25% off!
11:00 a.m. - 5:00 p.m. all regular price items will be 20% off!
Plus, if you wear your P.J.s (we'll be wearing ours!) you'll get an extra 5% off regular price purchases all day long! Wake up, pull on your robe and slippers and let's PARTY in our P.J.s!


Please note: PJ Party discounts will be valid only in the quilt shop 11/02/19. Discounts not available online or over the phone or at the Quilter's Mercantile.



What's the deal with this cute pink party tree? It has everything to do with the second part of our birthday celebration. You'll find this and plenty more to party about when our new
Quilter's Mercantile opens it's doors to the public for the first time at 10:00 a.m., Saturday, November 2nd
! When the Corn Wagon first opened 20 years ago, it filled half of the original brick building. Remember the delicious bakery and cafe that shared the space? Oh how we've missed those baked goods next door. Ten years later the quilt shop grew to fill the entire building and has been evolving ever since to offer more fabric, services, classes and specialties like our one-of-a-kind wool and stitchery department. 20 years in, we're ready to grow further! As you know, we recently acquired the beautiful brick building behind the quilt shop and have put it to work as our new School House. The new classroom and retreat rooms have been a success! We so enjoy seeing you gather with your sewing friends for some creative time away. The time has finally come for us to reveal the next addition to the Corn Wagon Quilt Co. - - and what exactly, will you find in the new Quilter's Mercantile? Let me give you a little sneak peek at a few of my favorite things...

You'll know you've found the right place when you see the new Quilter's Mercantile sign designed by Abby Hick's hanging near the front porch of the building directly north of the quilt shop. You may recognize the black and white quilt block as the traditional Corn and Beans block -- appropriate, don't you think? Shannon White, manager of "The Merc," has spent the past few month's searching for just the right goods and delicious treats to make our quilting friends smile.

We are thrilled to offer creations by local artisans such as Ben Behunin. Ben is a pottery master, author and artisan bread maker who just happens to make items catered to quilters. We fell in love with these magnetic pin bowls and that led to more discoveries from this talented artist's studio. You'll find lots of locally made goods at the Merc like the coolest beeswax creations by Susie Goodspeed of Farm and Hive and delicious local Honey from Harward Farms!

Bees are kind of a big deal here in Utah and we have represented them with a full line of bee products and gifts. What other Utah specialties will you find at the Quilter's Mercantile? How about a pair of socks that say, "Dang it all to heck." Definitely a Utah thing! You'll find them on display right next to Utah themed jewelry, serving pieces and dishtowels.

Speaking of jewelry, we can't wait to show you our unique finds! From sea glass to clever quotes, you'll discover perfectly giftable jewelry for a friend and something for yourself! As we searched for items to offer, we looked for goods that would "give back." Jewelry made from recycled saris offer a hopeful opportunity to those who make them and who better to appreciate colorful fabric beads than quilters?

Another company that "gives back," Duke Cannon offers serious goods for the guys while giving a portion of their profits to veterans. Manly soaps, candles, lip balms and fragrances are cleverly catered to those handsome fellas. Be sure to read the labels as they are very entertaining.

Something for the gals, something for the guys... don't worry, we also have something for the wee ones! Sometimes you need a special little surprise to go along with that baby quilt you made and you'll find just the thing at the Merc!

This is just a small sampling of the goods in store when the Quilter's Mercantile opens it's doors at 10:00 a.m. Saturday, November 2nd! Please join us! Perhaps you'll even win a prize! Once open, Quilter's Mercantile hours will coincide with the quilt shop; Mon-Fri 10am-6pm and Sat 10am-5pm, closed Sun.



If ever a collection of fabric looked like a party, it's this one! NEW Ombre Bloom fabrics by V & Co, of Moda have arrived! You'll enjoy manipulating the tints and shades in this full-spectrum offering of gorgeous hues. They're very much like the popular Ombre Confetti Metallic prints we currently have in stock, except this line features a delicate white blossom instead of gold metallic dots. It's fresh and sew much fun!


cornwagonquilts.com
---
Upcoming Sales & Events
Marvelous Monday Sale


Monday, October 28th - 25% off

ONE CUT OF REGULAR PRICE FABRIC!
Don't forget to stop in and see what's on the porch at an extra deep discount!

Handwork Club
This weekly club is for anyone who would like to work on a hand stitching project while learning new hand stitching skills. We will learn a-stitch-a-week! This is a great opportunity to finish our own projects and relax with a fun gathering of sewing friends every Tuesday from 10:00am - Noon.


Wrong Price Wednesday
Every Wednesday our pre-cut fat quarters are only $2.25!
Regular Price $3.25.
Time Out at the Wagon
Every Wednesday, 10 a.m. - 4 p.m. in our NEW school house.
Put yourself in Time Out at the Wagon. We all need Time Out from housework, phone calls, and everyday responsibilities. Come to "Time Out at the Wagon" and do just that. Bring a project and sew the day away with friends here at the shop. Marsha is looking forward to being in Time Out and hopes lots of you will join her.
Free Wool Applique Demo


Wednesday, October 30th, 5:00 p.m.
Marianne will be demonstrating how fun and easy wool applique is. She has lots of tips that she is excited to share with you. Sit in on this one hour, free demo to learn all the basics and ask questions with our wool expert. Once you see just how easy wool applique is to do, you will be excited to start your own project!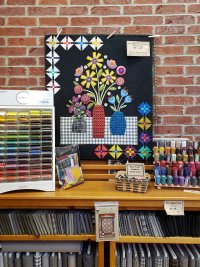 Thank you for supporting your local brick-and-mortar quilt shop!


We feel honored to be part of such a wonderful quilt-making community.



We hope you'll visit us again soon,
Jen and the Girls
at Corn Wagon Quilt Co.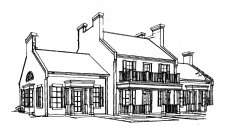 We would love to hear from you!
801-491-3551
https://cornwagonquilts.com/