Sew much to Celebrate!
Let's start with this Saturday, November 2nd. It's our 20th Birthday and we're ready to celebrate with you at our annual P.J. Party Sale! Tomorrow, bright and early (actually the sun will not
even
be up yet...) We'll open the quilt shop at 7:00 a.m. ready to PAR-TAY with our biggest sale of the year. Come early for the best deals!
7:00 a.m. - 9:00 a.m. 30% off all regular price items.
9:00 a.m. - 11:00 a.m. 25% off all regular price items.
11:00 a.m. - 5:00 p.m. 20% off all regular price items.
Wear your P.J.s (we'll be wearing ours!) and receive an additional 5% off regular price items!
Our red dot sale fabric will be on clearance at $3.99/yd all day (regularly on sale for $5.99/yd)!
Select Minky & Cuddle Fabrics will be clearance priced at $9.99/yd (look for the yellow dot)!
Discounts available in the quilt shop day of sale only. No holds. Classes and services excluded from sale.
The celebration will continue next door at 10:00 a.m. with the Grand Opening of the Quilter's Mercantile at Corn Wagon Too! Join us for a short ribbon cutting then come inside and see what this new destination is all about! P.J. Party discounts will not apply at the new Mercantile but we have a feeling you're going to love what's in store! For those who can't make to the Grand Opening; don't fret! The Merc will now be open in conjunction with the quilt shop Mon - Fri 10 - 6, Saturdays 10 - 5, closed Sun. More good news - - you can earn and redeem your customer rewards points at the Mercantile just like you do at the quilt shop! Plus, Corn Wagon Gift Cards can be used in both places.
Christmas is coming! We have lots here at the shop to help you prepare your gifts and decorations as well as some fun sewing events to celebrate the season. Sew with us on Small Business Saturday! The Saturday after Thanksgiving, we are hosting a unique class at a very special price. November 30th, Janet Hansen will be at our School House teaching you how to piece either this table topper or runner -- you choose! Purchase the kit for only $39, the pattern and class are FREE! We're calling it our Take Two Christmas Class. One kit will make your choice of topper or runner and includes all fabric for the top and binding of one as shown below. Some of the fabrics are even precut! You'll receive your kit in class and be ready to sew the day away from 10am till 5pm with Janet there to guide you. It's a super Small Business Saturday steal and our way of thanking you for supporting small businesses during the holidays. Register on our website or at the shop before this sewing event is full!


Winter is for wool -- or is it vice versa? Either way, the timing is right for this 38" square wall hanging. Aptly named, Deliver Joy is a pattern by Buttermilk Basin we currently have at the shop. We have kits too filled with hand-dyed wool for applique and beautiful cottons for piecing the top and binding.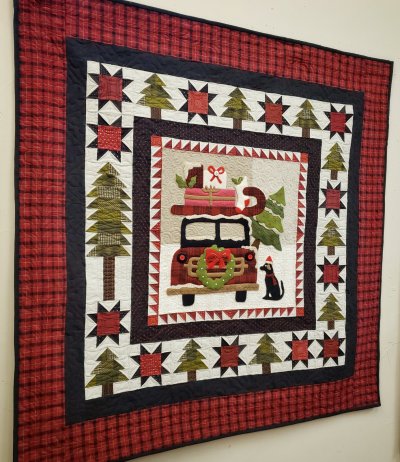 Using the Winterberry fabric collection from Riley Blake Designs, Janelle Gunderson pieced this quilt dedicated to the most wonderful time of the year. The pattern is Bluegrass by Lella Boutique and it finishes at 60" square. Grab a kit before they're gone!


Although the Christmas Figs block-of-the-month has ended, we have pattern books available! Wouldn't it be lovely out of nearly any fabric? Of course this classic red and green version still holds our hearts. You need to see the stunning custom quilting by Emily Herrick in person. She detailed every block individually and it is pure quilting perfection. Keep in mind all of our machine quilting is done free-hand. No computers on auto-pilot. These ladies are artists and their unique signature style will add to the hand-crafted tradition of your quilts.

Quilter's Corn-er


It's time to get those quilt tops in for machine quilting for Christmas! Our quilter's are currently less than four weeks out but that will change quickly as the Christmas rush comes in so don't wait until the last minute.

Remember to bring both your top and backing ready to hold your place in line.

Our Motif-of-the-Month is edge-to-edge wavy lines or channel lock quilting like the cuddly quilt shown to the left. Request one of these motifs before the end of November and receive 20% off the cost of quilting service! HINT: Channel lock quilting on a simple Cuddle throw is PERFECT for gift giving and we can hook you up with both!


cornwagonquilts.com
---
Upcoming Sales & Events
Marvelous Monday Sale


Monday, November 4th - 25% off

regular price KITS!
Don't forget to stop in and see what's on the porch at an extra deep discount!

Granny's Garden Sew Along
Monday, November 4th - 10:00 a.m. - 1:00 p.m.
Come every other Monday and spend several hours sewing with friends working on this pretty 76" x 86" applique project. We still have a couple of kits available but they won't last long! Pick yours up today!

Handwork Club
This weekly club is for anyone who would like to work on a hand stitching project while learning new hand stitching skills. We will learn a-stitch-a-week! This is a great opportunity to finish our own projects and relax with a fun gathering of sewing friends every Tuesday from 10:00am - Noon.
Wrong Price Wednesday
Every Wednesday our pre-cut fat quarters are only $2.25!
Regular Price $3.25.
Time Out at the Wagon
Every Wednesday, 10 a.m. - 4 p.m. in our NEW school house.
Put yourself in Time Out at the Wagon. We all need Time Out from housework, phone calls, and everyday responsibilities. Come to "Time Out at the Wagon" and do just that. Bring a project and sew the day away with friends here at the shop.
Drawing with Thread
Wednesday, Nov. 6th - 1pm-4pm
Shelley Taylor has put together a cute little practice project and is ready to give you the know-how so you can experiment with your own thread drawings. In this class you will make a simple pin cushion and add whimsical details using the
Sew Illustrated
book by Minki Kim as your guide. Once you get started, you won't want to stop adding illustrations to your bags, quilt labels, feature blocks, gifts... the possibilities are endless!
Register now here or at the shop while seats are still available! A pin cushion kit will be available for $5, paid day of class and will include a fat quarter of linen, soft fuse and "happy scraps" to make your pin cushion.




Travel Iron Tote




Thursday, November 7th - 1pm-4pm


It's a tote and ironing pad in one! Do you have one of those little irons that you take to your sewing retreats? And you drag a small ironing table with you? You need to make one of these cute Travel Iron Totes and simplify sewing away from home! Raid your fat quarter stash and pick up a pattern by Sister's Common Tread that comes with heat resistant ironing board fabric to make this quick and easy project you'll use over and over again!



Saturday Sampler


Saturday, November 9th


Doors open at 9:00 a.m. for those registered. First demo begins at 9:15 a.m. and repeats every 30 minutes. Last demo begins at 12:45 p.m. Be sure to bring your finished blocks into the shop with you that day before 5:00 p.m. to receive next month's kit free. Kindly, remember there are no exceptions to this rule.

Thank you for supporting your local brick-and-mortar quilt shop!


We feel honored to be part of such a wonderful quilt-making community.



We hope you'll visit us again soon,
Jen and the Girls
at Corn Wagon Quilt Co.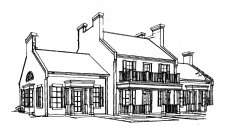 We would love to hear from you!
801-491-3551
https://cornwagonquilts.com/