Small businesses; they're at the core of every successful neighborhood. We don't take for granted that we're a part of a community full of thriving small businesses thanks to the support of locals and visitors alike. Much gratitude to you! Many of you are already in the thick of holiday shopping this Black Friday and Cyber Monday is right around the corner but in between the two biggest shopping days of the year is a little something called Small Business Saturday. You might not realize it, but every time you take a class at your favorite neighborhood spot or buy a gift from the
local shop, you're shopping small and making a difference. In fact, according to American Express, "for every dollar spent at a small business in the U.S., approximately 67 cents stays in the local community. So when you

Shop Small

on


Small Business Saturday

—and all year long—it can help add up to a big impact."

This year, Small Business Saturday happens to coincide with our Stuff-A-Bag Sale! It's a great way to pick up gifts for your best sewing friends.
Bring in one of our reusable cotton Corn Wagon Bags and receive 20% off any regular price items you can stuff inside this Saturday, November 30th!
We've got some great sewing stocking stuffers, beautiful kits, the latest books and more gift ideas to share with you. You'll be surprised how much you can stuff in one of our bags! If you don't already have a bag, don't worry! You can purchase one for $5 and reuse it every 5th Saturday for the same great sale!
Another fantastic deal - - we're offering a
coupon for a free yard of fabric with your purchase of a gift card valued $50 or more Nov. 30 - Dec. 23!
One coupon per customer. Whether you give that coupon along with the gift card or keep it for yourself is up to you. We'll never tell! Wink wink! More good news, our gift cards can be redeemed at both the Quilt Shop and the new Quilter's Mercantile!
Speaking of the Quilter's Merc, there's more Small Business Saturday bargains to be found there!
All Christmas decor will be 25% off!
Discover kantha ornaments, wool garlands, gnomes and SEW much more! Our big deal of the day at the Merc will be a unique
Sewing Notion Advent Calendar for $27.99
(regularly $39.99)! Count down to Christmas with a new sewing notion surprise everyday! It would be an especially fun way for a beginning quilter to build their notion collection or for a seasoned quilter to replenish their goods as they welcome the season.
Quilter's Corn-er
We are still accepting quilts for machine quilting service to be finished before Christmas but that won't last long so don't wait! Bring those Christmas quilt tops and backings in as soon as possible! Our Motif-of-the-Month for December is edge-to-edge Stipple (shown left) or Loop designs. You can even request a simple add-in such as loops with stars, hearts or simple flowers. Request either of these motifs when you check in a quilt top during the month of December and receive 20% off the cost of machine quilting service! Come in and let us show you the possibilities!



cornwagonquilts.com
The first big snow storm of the year seems the perfect time to share some beautiful new flannel quilts with you.

We considered calling this first one the

Mammoth Man Quilt

because it would indeed be a perfect quilt for a handsome fella but wouldn't you agree this wonderful two-ply Mammoth Flannel Quilt is ideal for anyone to wrap up in on a chilly evening? Light the fireplace, stir up some hot cocoa and snuggle in for a night of cozy comfort. Jen Tanner used a mix of Mammoth Flannel plaids by Robert Kaufman to piece this full size quilt. Machine Quilting by Emily Herrick keeps the look masculine with an edge-to-edge oak leaf motif. You'll find this one on display at the Quilter's Mercantile along with kits and a unique selection of gifts for the guys!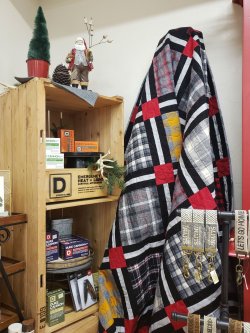 Another super soft flannel quilt, this time in beautiful jewel tones, is ready for a long winter's nap! Kathy Shinners pieced the
Butterfly Kisses
quilt using
Wool & Needle Flannels
by Primitive Gatherings. Emily Herrick added an angular edge-to-edge quilting design to finish this 76" x 85" quilt. This quilt can be found in our new thread room at the quilt shop along with kits and more wonderful flannel by the yard!
And here's Lexi demonstrating just how much joy can be found wrapping up in a flannel quilt.

Come in where it's warm and let us show you the softest quilter's quality flannels around. You'll fall in love with the neutral sophistication of Farmhouse Flannels by Primitive Gatherings available by the yard or as a Layer Cake. We're especially excited about our newest flannel arrival, Folk Art Flannel III by One Sister Designs for Henry Glass Fabrics (shown below). Plaids, pine trees, maps and woodland creatures in earthy hues would make a perfect quilt for the cabin, or for anyone who loves the outdoors!


---
Upcoming Sales & Events





Corn Wagon Quilt Co. will be CLOSED Thurs, Nov. 28 & Fri, Nov 29 for Thanksgiving.





Small Business Saturday

TOMORROW November 30th, 10 a.m. - 5 p.m.

At the Quilt Shop:
Stuff-a-Bag Sale! 20% off all regular price items you can "stuff" in your reusable Corn Wagon Bag!
Receive a coupon for a free yard of fabric with purchase of a gift card valued $50 or more!
At the Quilter's Mercantile:
All Christmas Decor 25% off!
Sewing Notions Advent Calendar $27.99 (regularly $39.99)!
At the School House:
Take Two Christmas Class with Janet Hansen for those already registered!
Marvelous Monday Sale
Monday, December 2nd - 25% off
regular price WOOL!
Some exclusions apply.
Don't forget to stop in and see what's on the porch at an extra deep discount!
Handwork Club
This weekly club is for anyone who would like to work on a hand stitching project while learning new hand stitching skills. We will learn a-stitch-a-week! This is a great opportunity to finish our own projects and relax with a fun gathering of sewing friends every Tuesday from 10:00am - Noon.
Wrong Price Wednesday
Every Wednesday our pre-cut fat quarters are only $2.25!
Regular Price $3.25.
Time Out at the Wagon
Every Wednesday, 10 a.m. - 4 p.m. in our NEW school house.
Put yourself in Time Out at the Wagon. We all need Time Out from housework, phone calls, and everyday responsibilities. Come to "Time Out at the Wagon" and do just that. Bring a project and sew the day away with friends here at the shop.


Thank you for supporting your local brick-and-mortar quilt shop!


We feel honored to be part of such a wonderful quilt-making community.



We hope you'll visit us again soon,
Jen and the Girls
at Corn Wagon Quilt Co.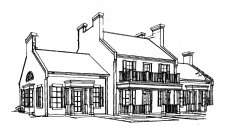 We would love to hear from you!
801-491-3551
https://cornwagonquilts.com/