Skip Navigation
Website Accessibility
The Vision of Quilting in 2020: A New Beginning Class and Trends to Watch

The vision of Quilting in 2020. You may currently have visions of sugar plums dancing in your head but Christmas isn't the only celebration we're counting down for. We're about to ring in, not only a new year, but a whole new decade! What does that mean for the world of Quilting? We're excited to experience new innovations that will surely take our favorite art form to the next level while simplifying the process. We have a feeling digital fabric printing methods will continue to take over the industry, bring you a more vibrant range of color and greater detail in design. That brings into question color. Pantone just released their color of the year for 2020: Classic Blue! It's crisp and fresh yet steeped in tradition. The Pantone website describes it this way:

"A timeless and enduring blue hue, PANTONE 19-4052 Classic Blue is elegant in its simplicity. Suggestive of the sky at dusk, the reassuring qualities of the thought-provoking PANTONE 19-4052 Classic Blue highlight our desire for a dependable and stable foundation on which to build as we cross the threshold into a new era.
Imprinted in our psyches as a restful color, PANTONE 19-4052 Classic Blue brings a sense of peace and tranquility to the human spirit, offering refuge. Aiding concentration and bringing laser like clarity, PANTONE 19-4052 Classic Blue re-centers our thoughts. A reflective blue tone, Classic Blue fosters resilience.
We expect to see the Classic Blue hue come to the surface of traditional and modern quilts alike as reflected in the incredible Quilt Festival Sapphire Celebration at International Quilt Market 2019. This stunning exhibit featured blue and white quilts of all styles and sizes from designers across the globe. Photo credit: Sherri McConnell, aquiltinglife.com
Marianne Michaels has pieced this time-honored
Manor House
quilt with varying tones of Classic Blue and a complementary barn-red accent. This beauty brings to light a current trend we expect to see carry over into the new decade, Farmhouse Vintage. It's everywhere and we don't see it disappearing anytime too soon. This quilt pattern can be found in a charming new book by Marie-Claude Picon,
French Farmhouse
. We have kits available for this scrappy patchwork wonder as well as books in-store.

We expect to see more Classic Blue dominate what is sure to be a year full of patriotism. First, 2020 a presidential election year! Second, the year 2020 marks the 100th anniversary of the passage of the 19th Amendment, guaranteeing women the right to vote! We're looking forward to this meaningful celebration and we're so excited to tell you more about a unique commemorative quilt coming to the Corn Wagon as a Block of the Month but you'll have to wait until next week's newsletter... Oh! The suspense! In the meantime, I'd like to share with you this adorable Stars and Stripes quilt made by Lexi Lamb (we have kits and patterns at the shop!) This popular pattern by Thimble Blossoms looks truly classic with this subtle grey-blue background and how about that machine quilted wave motif by Emily Herrick. Patriotic perfection!


A New Year is a great time to learn new skills! We're excited to welcome a new Beginning Quilting Class coming in 2020! Taught by seasoned quilter, Janet Hansen, this 8-part, 4-month class will teach and reinforce the basics of piecing a quilt! We will start from the beginning with cutting skills and accurate seam measurement. There will be eight different quilt blocks taught during the class, each with it's own unique techniques. You will make one block each week in class with teacher supervision, then more of the same block will be made at home as practice to perfect your skills. If you have never pieced a quilt, this class is for you!

If you have quilted for some time and would like to learn many tips and tricks to make your piecing more accurate, this is also the class for you! It is an enjoyable hands-on experience. When finished, you will have a beautiful 72" x 84" sampler quilt made from 42 traditional quilt blocks. This pattern has been designed by Janet exclusively for this class series! We chose to highlight the Vintage Farmhouse look by choosing a simple black, cream and grey scheme (shown below) using only three different fabrics from the Urban Farmhouse Gatherings collection by Primitive Gatherings. A limited number of kits will be available to those who register for the Beginning Quilting Class OR class members can choose their own fabrics, creating a unique masterpiece showcasing their new quilt block skills.

This class will be available as an afternoon or evening class beginning in February so you can choose the time that works best with your schedule. Join us every 1st and 3rd Monday afternoon, 2-4pm OR every 1st and 3rd Wednesday evening, 6-8pm. Please note this is not a children's quilting class. Attendees must be 16 or older and familiar with their sewing machine.

Please visit our website for complete details, a supply list and to register. Or stop in the shop to see this fantastic quilt in person!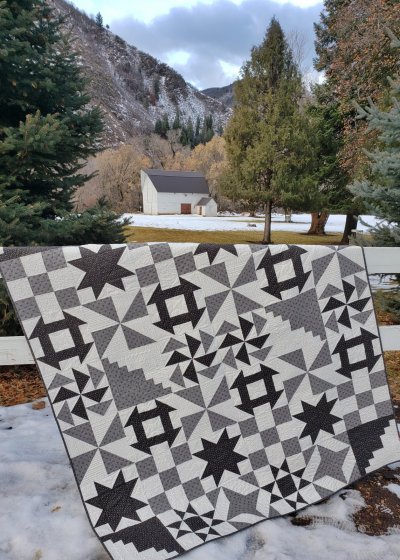 cornwagonquilts.com
Remember this cute Christmas table topper/runner we offered as our Small Business Saturday class special? We have a handful of kits remaining that are now available to purchase for just $39! One kit will make your choice of topper or runner and includes the pattern and all fabric for the top and binding of one as shown below. Some of the fabrics are even pre-cut! Wouldn't it make a great gift or fast finish for Christmas? We also have patterns available if you would prefer to choose your own fabric.



Speaking of fabric... all Christmas fabric yardage is now 25% off!

Spotted at the Merc... I want to share a couple of my personal favorites you'll find at the Quilter's Mercantile for the holidays. I love them because they are all about starting joyful new traditions. The Santa Evidence Kit is genius! Children will have an extra magical Christmas when they spot evidence that the big guy has been there and this kit makes it easy! Button, bell, glasses, glove, even a "snowy" footprint are included in this cute box ready to gift.


The "Give Back" Sack is another brilliant way to create some Christmas miracle magic. It's meant to fill with gently used toys to share with someone in need. It's a fun way to encourage children (and adults!) to let go of things in the spirit of gratitude and giving. The bag is sturdy and reusable so that the receiver may continue the cycle of giving.

AND... beginning today, all Christmas goods are 15% off at the Quilter's Mercantile!
Hurry in! They're disappearing fast!
---
Upcoming Sales & Events
Saturday Sampler Tomorrow!
Saturday, December 14th
Doors open at 9:00 a.m. for those registered. First demo begins at 9:15 a.m. and repeats every 30 minutes. Last demo begins at 12:45 p.m.
Remember, you must have last month's finished blocks with you at the shop on the day of Saturday Sampler to receive next month's kit free. Kindly note, there are no exceptions to this rule as stated upon registration.
Marvelous Monday Sale


Monday, November 11th - 25% off

NOTIONS & BATTING!


Don't forget to stop in and see what's on the porch at an extra deep discount!



Handwork Club
This weekly club is for anyone who would like to work on a hand stitching project while learning new hand stitching skills. We will learn a-stitch-a-week! This is a great opportunity to finish our own projects and relax with a fun gathering of sewing friends every Tuesday from 10:00am - Noon.


Wrong Price Wednesday
Every Wednesday our pre-cut fat quarters are only $2.25!
Regular Price $3.25.
Time Out at the Wagon
Every Wednesday, 10 a.m. - 4 p.m. in our NEW school house.
Put yourself in Time Out at the Wagon. We all need Time Out from housework, phone calls, and everyday responsibilities. Come to "Time Out at the Wagon" and do just that. Bring a project and sew the day away with friends here at the shop.


HOLIDAY HOURS


Corn Wagon Quilt Co. will be CLOSED




Tues, Dec. 24 - Thurs, Dec. 26 for Christmas.


We will close early Tues, Dec. 31st
and remain closed through Wed, Jan 1st
to celebrate the New Year.

Thank you for supporting your local brick-and-mortar quilt shop!


We feel honored to be part of such a wonderful quilt-making community.



We hope you'll visit us again soon,
Jen and the Girls
at Corn Wagon Quilt Co.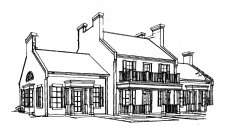 We would love to hear from you!
801-491-3551
https://cornwagonquilts.com/