Skip Navigation
Website Accessibility
Happy Valentine's Day! Stitched with Love from the Corn Wagon Quilt Co.

Happy Valentine's Day! We hope your day is filled with LOVE. We have sew enjoyed seeing lots of quilted hearts and stitched messages of love here at the shop! We have a sweet class coming up next Saturday where your project can literally be stitched with love...
A little watercolor + a little embroidery = a sweet and simple work of art. Learn this fun technique from designer Abby Hicks of Tweetle Dee Designs here at our school house, Saturday, February 22, 1:00-4:00 p.m. Your kit will include
everything
you need to create this darling stitchery including the hoop, thread, cloth, paint, brushes, needle, embroidery snips and pattern! Hang it in your own home or share it as a heartfelt gift. You can register for this
watercolor embroidery class
now on our
website
or come in and see samples made by Abby here at the shop. $15 class fee payable upon registration + $40 kit fee payable to Abby day of class. You'll get to choose from more than one kit design! We have a feeling you're going to LOVE this unique way of stitching up something special.

It's a good thing "love never fails" for this pup of mine. How many of you have one of those fabled furry family members who never fails to "participate" in your quilting endeavors. I discovered this week that I do indeed have one of those at my house. You see, my design wall is currently undergoing improvements so I had to layout my latest quilt on the living room floor. It was a matter of moments before Nanuk got herself involved. She was just trying to share in my love for quilting but considering we were in the midst of a rather rainy week, it wasn't long before she added her own "signature" to my project. See that muddy toe print on that block? It wasn't the only one. It was apparent those big paws you see in the photo evidence above were the culprit. Lucky for her, my love exceeded my frustration AND I happened to have some of Grandma's Spot Remover on hand. Thankfully that stuff really works! We carry it here at the shop for those of you who also have need of spot treating your quilted treasures. When you find this quilt hanging as a sample here at the shop in the coming weeks, see if you can spot those loving little prints. I think you'll have a hard time finding them.

It's not just my design wall that is undergoing improvements. My entire sewing room is in a bit of a mess at the moment. That's why I'm especially excited for our upcoming
Sew-It-All Weekend
here at the Corn Wagon Too Retreat Center! Two full days of sewing non-stop away from all the distractions. We have just a few seats left for Friday, February 21st - Saturday, February 22nd. Register online or in-store before those seats are taken! $65 includes lunch both days plus lots of fun sewing with friends. You'll also enjoy using our retreat discount pass at the quilt shop and mercantile while you're here! Can't make it in February? Join us August 21-22 for our next Sew-It-All Weekend! We all
needle little
sewing time and we would LOVE to have you join us!
Vintage Housewife Sew Along


Every other Monday, 10:00am-1:00pm

It might be my favorite Lori Holt Sew Along yet and we still have a few kits available! It features her latest fabric collection, Vintage Happy 2. House-wifely duties from days past, pieced and appliqued in Lori's signature style, are guaranteed to bring back fond memories of home. Added lace, buttons and vintage trim make this quilt extra fun! Now's your chance to get a kit and a seat in the club! Join us every other Monday for tips, tricks and good advice while spending the morning with friends sewing this 74" x 82" quilt.
$20 non-refundable class fee will reserve a kit in your name and hold your seat in the club. Kit purchased separately for $249.00 here at the shop will include fabric for quilt top and binding, required Simple Shapes templates, lace and vintage trim. Interfacing, buttons and sewing supplies sold separately. The Vintage Housewife pattern is a free download available now on Lori Holt's blog https://beeinmybonnetco.blogspot.com/


cornwagonquilts.com
This is just one of several long-awaited fabric collections to recently arrive at the shop. Mackinac Island by Minick & Simpson is absolutely lovely! Along with the gorgeous florals and classic small prints, you'll find a large must-have star print perfect for Americana quilts of all kinds! Come see what else is new as spring and summer goods are arriving daily!

Speaking of Stars & Stripes...
Our first Suffragette Saturday was an hour very well spent with Nancy Nielsen, designer of the
Women and the Right to Vote
quilt! We learned about two women who dedicated their lives to improving the rights of women in the United States, Elizabeth Cady Stanton and Susan B. Anthony. Sisters in purpose, they are represented by the Sister's Choice blocks in the quilt, which we learned to piece as this month's block of the month. It's not to late to join this monthly club! We still have a handful of kits available. Did you know you can participate without purchasing monthly kits? You can join the club and receive the pattern with a $35 class fee then take part in this incredible learning experience every 4th Saturday as we honor women of the movement by making this meaningful quilt.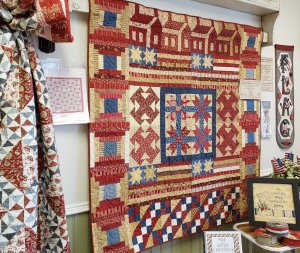 ---
Upcoming Sales & Events
Marvelous Monday Sale
Monday, February 17th - 25% off
regular price NOTIONS & BATTING!
Don't forget to stop in and see what's on the porch at an extra deep discount!
Handwork Club
This weekly club is for anyone who would like to work on a hand stitching project while learning new hand stitching skills. We will learn a-stitch-a-week! This is a great opportunity to finish our own projects and relax with a fun gathering of sewing friends every Tuesday from 10:00am - Noon.
Wrong Price Wednesday
Every Wednesday our pre-cut fat quarters are only $2.25!
Regular Price $3.25.
Time Out at the Wagon
Every Wednesday, 10 a.m. - 4 p.m. in our NEW school house.
Put yourself in Time Out at the Wagon. We all need Time Out from housework, phone calls, and everyday responsibilities. Come to "Time Out at the Wagon" and do just that. Bring a project and sew the day away with friends here at the shop.




HST (Happy Sexy Triangle) BOM




Thursday, February 20th, 6:00-7:00pm


It's time for the first meeting of our new HST (half square triangles AKA Happy Sexy Triangles) BOM! This block of the month i unique in that you get to choose your own fabrics and one of three setting options! Monthly class dues include an allowance of $215.00 total on a gift card to use at the shop for fabric and supplies that YOU get to choose! You will learn several ways to piece HSTs as well as tips and tricks for finishing as you attend nine demo sessions and master the art of HSTs!



Thank you for supporting your local brick-and-mortar quilt shop!


We feel honored to be part of such a wonderful quilt-making community.



We hope you'll visit us again soon,
Jen and the Girls
at Corn Wagon Quilt Co.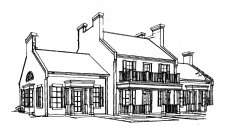 We would love to hear from you!
801-491-3551
https://cornwagonquilts.com/