Skip Navigation
Website Accessibility
Corn Wagon LIVE Sale: How to join in the fun Thursdays at 2:00 MDT!
Join us on Facebook every Thursday at 2:00 MDT for our
Corn Wagon LIVE Sale!
Get ready for a fun new way to shop with Corn Wagon Quilt Co.
Wherever you may be in the world,
we invite you to shop CW LIVE!
Every Thursday at 2:00 p.m. MDT
we're LIVE on our Facebook page
with new products, great deals and lots of smiles.

How does it work?
I'm here to give you a little training on
how to buy from our
Corn Wagon LIVE Sales.
It's easy, secure and SEW much fun!

#1 Register
Corn Wagon LIVE purchases are processed
using Comment Sold software.
It's a secure way to manage your transaction
and a safe way for us to follow the rules
of selling on social media.
A one-time registration allows you to be ready to buy from ANY of our
Live Sales and even some of our regular social media posts as noted!
Use this link to register:
https://cornwagonquilts.commentsold.com/




When you click the link,
you will see the page shown above.
Go ahead and click the blue
"Login with Facebook" button.
Continue to follow the prompts to set up your personal
Corn Wagon Comment Sold account.
Be sure to check the "Send to Messenger" box.
This will allow you to receive order updates
via Facebook Messenger.
You will be asked to reply to a message to confirm your account.
You will also receive an email with info about your account that looks like this:




You'll notice you can start shopping through your account page
without watching the CW Live Sale. Cool, right?!
So, if you don't have time to watch but want to checkout what's new,
just log into your account and click "Start Shopping" anytime!
Once you have registered and confirmed your account through Messenger,
you're ready for the CW LIVE party!
#2 Watch
Visit our Facebook Page to watch the weekly CW LIVE broadcasts.
Be sure to "LIKE" & "FOLLOW" us too so you'll see shop updates!
We're LIVE at 2:00 p.m. MST every Thursday.
Lexi, Julie, Shannon, Marianne & Jen
will show you exciting new quilt kits, fabric bundles, precuts, notions and quilter's gifts
you can buy simply by commenting on the CW LIVE video!
If you are not able to watch at 2:00 MST,
no worries!
You can watch later and still buy fantastic quilting products the same way
from our Facebook page.
View our most recent CW LIVE by clicking here.


#3 Comment "Sold..."
As we show and tell you about each product
we will give each item a number.
You will also see it at the
top right of the screen.
To purchase an item, simply type "Sold ###"
into the comment section of the video.
Let me give you an example:
Let's say Lexi is showing the quilt in the photo above and says the kit is number 123.
You are absolutely smitten with this quilt and MUST HAVE IT!
You'll quickly comment "Sold 123"
to snag one before they're gone.
This will add the kit to your cart.
You can continue watching and commenting to add more
to your cart throughout the CW LIVE Sale.
If you want two of the same item,
make two separate comments.
One Comment = Quantity One
You will receive a message and an email telling you
what's in your cart that looks something like this: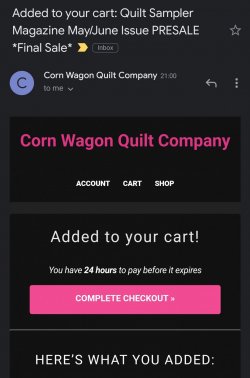 Once items are in your cart,
you have 24 hours to complete checkout.
You will receive an email reminder before your cart expires.
If you do not checkout within 24 hours of loading your cart,
it will automatically be emptied and the items will go
to the next person on the wait list.

Hold on... did you say WAIT LIST? Yes, indeed!
Many items sell out quickly.
When this happens,
items will always go to those who comment first.
If you comment on a sold-out item,
you will automatically be added
to the Wait List.
If the previous shopper doesn't complete their purchase
within 24 hours, the item will automatically be added to your cart
and you will be notified.
It isn't rare!
So, keep an eye on your messages if you are added to a Wait List!
#4 Complete Your Purchase



When you're finished shopping, check messenger and/or your email to view the items in your cart and follow the link to complete checkout
using your secure account.
You'll find yourself viewing a page that looks something like this:




From this screen you'll have a few options to choose from.
First, check to make sure the items in your cart are correct.
Edit as needed.
Second, choose Delivery (shipping fees may apply)
OR Local Pick-Up (always free).
Third, click the yellow "Pay with PayPal" button to
complete checkout.

Now this is important... It's the question we get asked most...
"How can I pay if I don't have a PayPal account?"
When you click "Pay with PayPal" you will be redirected to a PayPal screen where
you can choose to pay with your PayPal account
OR pay using a debit or credit card. No Problemo!
You'll receive an order confirmation and shipping/pickup updates.


#5 Watch for Happy Mail from the Wagon!




We do our best to fulfill orders within one business day and
ship USPS Priority Mail whenever possible.
If you choose Local Pickup,
we'll call as soon as your order is ready!

We know what you're thinking...
This all sounds complicated
but we promise it's EASY!
So easy, it's trouble! Wink! Wink!
Give it a try and see just how fun it is to shop from home
with the Corn Wagon Gals LIVE!




Contact info@cornwagonquilts.com with questions.
See you LIVE on Thursday!