Quilt Memory #704 As a little girl, I was always a bit nervous around fireworks. Maybe it was the noise. Maybe the result of being the daughter of a fireman whom often had to leave July BBQs on fire calls. Maybe from the time a wayward firework zipped right between my uncles knees while he was carrying me... Don't get me wrong; I love a good firework display and nothing says summer celebration like some backyard sparklers but as a child, there was more anxiety than amusement when it came to pyrotechnics. I remember very clearly the first time I really enjoyed a firework show. We gathered in my grandmother's front yard to watch the dazzling display to be launched from the nearby baseball diamond. I wasn't too sure I wanted to be so close to all the action. Still being quite small, I remember someone picking me up and bundling me in a quilt. I doubt it was cold, but whoever it was knew me well enough to know I might take comfort in the soft folds of a familiar quilt. They draped it around my head like a hood, muffling the loud noise and for the first time I was mesmerized by the glittering glow of fireworks in the night sky. I remember very clearly the feeling of being held in someone's arms, wrapped in that quilt, so at ease that I drifted off to sleep beneath the bursting 4th of July fireworks.


Corn Wagon Quilt Co. will be closed July 4th in honor of Independence Day.
We hope you all have the chance to celebrate the land that we love! Maybe some lazy summer afternoon stitching is in order? We have plenty of projects featuring the red, white and blue.
Chalk It Up
for July is one of twelve fantastic Buttermilk Basin designs that looks great framed
or quilted as a wall hanging. Our kits include the pattern, hand-dyed
wools for applique and cottons for piecing the background and tiny half-square triangles for $34.99. You can even order it from our website by clicking
here
. And how about those three-dimensional wool stars and bird? Pick up the pattern by Norma Whaley and a wool starter bundle so you can make a set of your own! They make for a great Americana folk art display on a shelf or in a bowl or basket. Have fun embellishing each piece with crazy stitches, buttons or trims of your choice.
Another fun monthly collectible by Buttermilk Basin, The
Hexi Door Greeter
for July is a woolie ode to Old Glory. Fireworks, pinwheels and a hat fit for Uncle Sam decorate the simple word "Flag" all in gorgeous hand-dyed wool. Of course we have kits for this one too! $59.99 includes everything you need to make this festive banner except the threads!
Glory Bee! by Under the Garden Moon
Looking for a simple project to take on your weekend road trip? This delightful new pattern by local designer, Amy McClellan is perfect for some sweet and simple needlework. Wouldn't it "bee" lovely as the top of a sewing box or sewn into a bag? Of course it would make a darling framed gift or how about piecing it into a pillow? We have kits that include the pattern for $19.99!



cornwagonquilts.com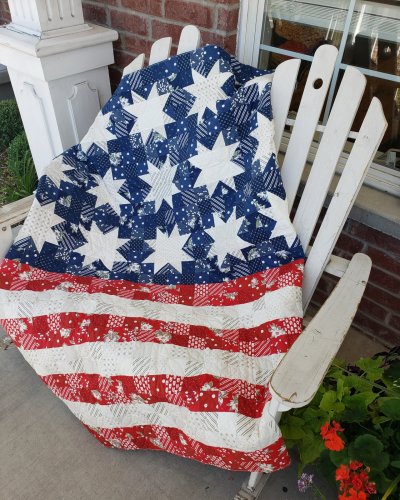 Emily Herrick has a knack for catching the hottest quilt trends and this
Betsy Ross
quilt is a prime example! She spotted this fantastic flag quilt pattern by Katie Malan, pulled a scrap-tacular mix of red, white and blue fat quarters and had this worked up over a weekend! I'm not kidding when I say we sold out of kits before she even had it bound! So - - we made more - - and sold out again! It's just that cute! Here we are two weeks later with our third round of
Betsy Ross
kits and I'm sure they won't last long! This kit includes the pattern and all the fabrics necessary to piece the 52" x 60" lap quilt top and binding for $85.99.
We have more patriotic projects and fabrics than I have space to share so we hope you can come in and see all the Americana goodness we have in-store! The Quilt Shop and Quilter's Mercantile are currently open to walk-in customers and phone orders during our temporary hours Monday - Saturday, 10:00 a.m. - 4:00 p.m. MDT. Wishing you all a Happy and Healthy 4th of July!
---
Upcoming Sales & Events
Suffragette Saturday
Tomorrow, Saturday, June 27th, 10:00 a.m. at our School House
Kits will be available for pickup in the quilt shop.
Class members are required to wear masks inside our classroom.

The instructor may or may not be wearing a mask for ease of communication as she is able to remain safely distanced from class members.
Chairs will be spaced to allow social distancing.
High touch surfaces are regularly sanitized.

Please consider your personal health and well being before choosing to attend.
Handwork Club
Every Tuesday, 10 a.m. - Noon in our School House.
This weekly club is for anyone who would like to work on a hand stitching project while learning new hand stitching skills. We will learn a-stitch-a-week! This is a great opportunity to finish our own projects and relax with a fun gathering of sewing friends.
Time Out at the Wagon
Every Wednesday, 10 a.m. - 4 p.m. in our School House.
Put yourself in Time Out at the Wagon. We all need Time Out from housework, phone calls, and everyday responsibilities. Come to "Time Out at the Wagon" and do just that. Bring a project and sew the day away with friends here at the shop.

Boston Commons


Thursday, July 9th & 16th 11 a.m. - 2 p.m. in our School House.




You can make this 80" x 88" traditional quilt in a fun, fast, and accurate way! Use EasyPiecing Border Panels by TenSisters Handicraft to create your heirloom. Instructor, Heather Dunn, works closely with and makes samples for Carmen Geddes, creator of the EasyPiecing Grid and she's excited to share with you just how easy it is to piece these 2" finished squares using a technique that guarantees perfectly nesting corners and a flat stable quilt top.

Class Fee: $50. Supplies purchased separately. Register now by calling the shop at 801-491-3551.


Because we respect the health and safety of our customers and employees, our regular discounts and promotions are suspended until further notice to discourage crowds from gathering in the shop. This includes Monday at the Merc, Wednesday's Word and Wrong Price Wednesday (fat qtr sale).

INSTEAD, we invite you to join us for some awesome discounts and deals on our Corn Wagon LIVE Sales on our Facebook page every Thursday at 2:00 pm MDT.

Watch for our NEW WORD OF THE WEEK announced only on CW Live! If you repeat the word of the week in-store the following Fri-Tues, you'll receive 20% off one regular price item of your choice!

If you miss the Live broadcast you can always view it later on our Facebook page and still shop! Click

here

to learn how it works and to register. One-time registration allows you to be ready to purchase from ANY of our Corn Wagon Live Sales and even have the ability to purchase some items from our Instagram page!




Thank you for supporting your local brick-and-mortar quilt shop!


We feel honored to be part of such a wonderful quilt-making community.



We hope you'll visit us again soon,
Jen and the Girls
at Corn Wagon Quilt Co.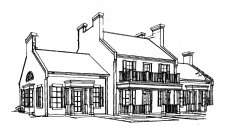 We would love to hear from you!
801-491-3551
https://cornwagonquilts.com/