Christmas in July...
It's a phrase we hear this time each year that, for me, brings memories of summer bazaars where makers brought a myriad of handmade goods
to sell with the proceeds going to charity. Crafts of all kinds were always a delight to browse as a child and I remember, even at that young age, being inspired by the talent and creativity that went into each item made to benefit those in need. I specifically remember a certain elephant made of grey wool, dressed in a red satin and tulle ballet costume that I couldn't resist spending my allowance on. The thought makes me smile today as much as it did the day I gave that handmade gift away. Now I, like many of you, look forward each year to creating my own handmade holiday gifts and so "Christmas in July" takes on new meaning as it's time to begin the creative process for those extra meaningful gifts. For quilter's it's the time of year we expect to see seasonal fabrics, patterns and fresh inspiration appear at our favorite fabric shops. Christmas quilting goods are hitting the Corn Wagon like a blizzard! I'm surprised our delivery man isn't donning his Santa hat because w

e're seeing new things come through the back door daily. Come in for some holiday cheer and get started on your gift-makers list without delay!



Yesterday, on our Facebook Live Sale we celebrated Christmas in July with our favorite Christmas elf, Lexi. When we said, "Be there with bells on," she took it literally. If you missed the live sale broadcast, you can still watch and buy over on our Facebook page by clicking this link. We offered some great deals on Christmas fabric bundles, kits, wool projects and stocking-stuffer notions! Our Facebook Live discounts are only available when you purchase through the broadcast using our secure Comment Sold checkout system so be sure to check it out! As you watch our live sales, look for our "word-of-the-week!" When you repeat the word-of-the-week at the quilt shop or quilter's mercantile Friday - Wednesday, you'll receive 20% off one regular price item of your choice! We also introduced some of our favorite NEW holiday finds you'll find in-store as well as on Facebook Live. Let's take a look...


You may recognize this nostalgic Santa panel from years past. It was so popular, Urban Chics of Moda have reprinted it for 2020! Lexi Lamb cut out the jolly fellow from the oversized digital panel and machine appliqued him onto a classic black and white polka-dot and oh my goodness, is it great! It gets even better when you turn it over to find the softest Mammoth Flannel backing. Santa himself was impressed! We have kits including the Swell Santa panel, polka-dot background and black binding! Or we have single panels you can pick up and add to your own creative Christmas project.

Perhaps our favorite new quilt for the season, Santa in the Pines by Lisa Bongean of Primitive Gatherings comes as a beautiful boxed kit from Moda for $109.99. It's so new, we haven't even made our sample yet but I couldn't wait to share it with you so this gorgeous photo is courtesy of Lisa Bongean. We highly recommend using the Block Loc half-rectangle rulers for piecing all those trees and we have the ruler sets ready to buy with your kit here at the shop!

Flannel Gnomies are in the House!
What is it about gnomes that is so endearing? They're popping up for every season, holiday and celebration! Well, they have arrived at the Corn Wagon in the softest flannel by Henry Glass & Co. We think they would make cute and cozy flannel jammies or how about this whimsical Flannel Gnomies throw quilt? It's a free pattern download and we have a limited number of kits for $92.99, ready for you to piece this happy 66" x 70" quilt in time for the chilly months ahead.
cornwagonquilts.com
If you prefer something a bit more modern for your winter sewing needs, we have just the thing! Flurry is a fabulous new collection by Ruby Star Society featuring a funky mix of snow bears and vinyl records! Lexi Lamb couldn't wait to whip up this super quick and easy 57" x 70", Fat Quarter Pile-Up quilt by Knot and Thread Design! It's seriously cute, especially with turquoise Cuddle for the backing. Come grab a kit or snag some yardage and precuts before they're gone!

Quilter's Corn-er
My, you've been busy! We're seeing a huge influx of quilts in our machine quilting department due to all of your productive quarantine quilting! Thank you for trusting us to help you finish your i-sew-lation masterpiece. Because of this burst of business, we need to move our Christmas cut-off date up. If you have plans to give quilts this Christmas, you'll need to have them checked into the quilt shop no later than September 1st to guarantee Christmas delivery. That's coming right up! Now is the time to get Santa's sewing workshop hopping. Did you know we offer binding service?
Let our quilting elves help you finish those special quilted gifts early to save you time during the holiday hustle and bustle. Let the Christmas countdown begin!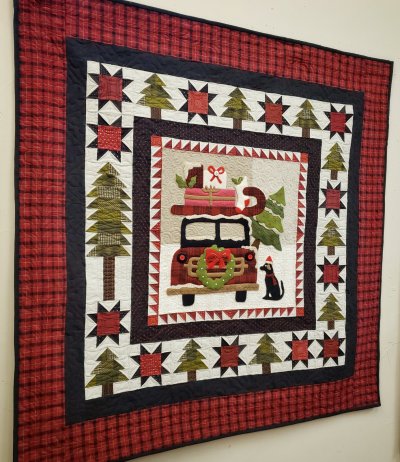 This festive favorite by Buttermilk Basin is the perfect addition to your home this season! Beautiful custom quilting by Ramona Sorensen makes it one of a kind. It's just the right size to display anywhere as a wall hanging. Our Deliver Joy quilt kit includes the pattern by Stacy West as well as

hand-dyed wool for applique and

cotton fabrics for piecing the 38" top and binding for $69.99. You really need to see this sample made by Marianne Michaels in person to appreciate all the details!

---
Upcoming Sales & Events
Saturday Sampler for 2020-21
Many of you have asked... when will our new Saturday Sampler open for registration? Saturday, August 8th at 10:00 a.m.! Sign-ups will begin the same day as our big reveal of the current Saturday Sampler mystery quilt and will remain open for one month! You'll be able to register in-store or on our website beginning on that date. Once again, this new quilt will be a mystery but we will have a fat quarter bundle ready to reveal the colors and style of our next project designed by Amy McClellan. Saturday Sampler 2020-21 kits and demos will officially begin Saturday, October 10th and will follow the same rules and regulations as previous Saturday Samplers (click the heading above to read our current rules and see what we've been working on this year). Watch for more details to come!
It's Sew Shannon's School House Retreat
THIRD SESSION ADDED!
Monday, August 31st, 10:00 a.m. - 10:00 p.m.
Tuesday, September 1st, 10:00 a.m. - 10:00 p.m.
Wednesday, September 2nd, 10:00 a.m. - 8:00 p.m.
Oh my goodness! The first two sessions filled within hours so we've added a third! If you have ever attended one of Shannon's retreats, you know you are in for some fun!! If you haven't attended one of Shannon's retreats, now is your (3rd) chance! We are SEW excited that she is hosting a retreat here at the Corn Wagon Too. At the retreat you can expect: open sew (of course!), make-and-takes, trunk show, show-n-tell and LOTS of food and treats. Details will be sent out to each attendee after the event is full. Shannon can't wait to see (and SEW) with all of you!! Register online now or in-store.

Handwork Club
This weekly club is for anyone who would like to work on a hand stitching project while learning new hand stitching skills. We will learn a-stitch-a-week! This is a great opportunity to finish our own projects and relax with a fun gathering of sewing friends every Tuesday from 10:00am - Noon.
Time Out at the Wagon
(Open Sew)
Every Wednesday, 10 a.m. - 2 p.m. in our School House.
Put yourself in Time Out at the Wagon. We all need Time Out from housework, phone calls, and everyday responsibilities. Come to "Time Out at the Wagon" and do just that. Bring a project and sew the day away with friends here at the shop. We're looking forward to being in Time Out and hope you will join us.


Crescent Tote Class
Thursday, July 30th, Noon - 5:00 p.m.
Just two seats left! This bucket-style tote is perfect for stashing any handwork project and is easy to carry anywhere. If you've been holding onto some fabric waiting for a special project, the Crescent Bag by Noodlehead is perfect! It has a zipper pocket on the front and one inside and a flat bottom so it stands alone. Uses cotton webbing for easy handles. You will love keeping this 10" x 11" tote by your side.
Instructor: Shelley Taylor
Class Fee: $45 *supplies sold separately.
Please contact the quilt shop to register.



Thank you for supporting your local brick-and-mortar quilt shop!


We feel honored to be part of such a wonderful quilt-making community.



We hope you'll visit us again soon,
Jen and the Girls
at Corn Wagon Quilt Co.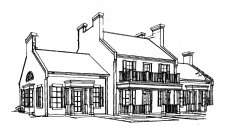 We would love to hear from you!
801-491-3551
https://cornwagonquilts.com/