Skip Navigation
Website Accessibility
Learn to Make a T-shirt Quilt! Plus more upcoming classes and sew alongs!

Raise your hand if you have a heap of t-shirts you've been saving for a quilt (or two... or twenty-two). Did your hand go up as quick as mine? I've got a large bin of t-shirts just waiting and some idea as to how I would like them to look. So what's the hold-up? I've never made a t-shirt quilt before and honestly I'm nervous about cutting into those treasured T's. After all, each one holds special meaning and what if I ruin them simply because I don't know what I'm doing. Our friend Cheryl Wallin has made many t-shirt quilts through the years and has discovered a tried and true method for creating awesome t-shirt quilts perfect for gifting! Would you like to learn? Sign me up!
Cheryl will be hosting a class Friday, October 30, 10:00 am to 4:00 pm here in one of our retreat rooms! Register today and start gathering those sentimental T's. You'll want to give them a good washing then bring them to this all-day class where you'll learn to breathe new life into something special that might other wise sit unappreciated in a drawer. Cheryl will go over everything you need to know to make your own unique t-shirt quilt. She will teach you how to figure your cutting sizes and introduce you to a super cool set of templates that simplify the process immensely! They're so cool, you'll likely want to invest in a set especially if you plan to make more t-shirt quilts in the future. You will also learn how to stabilize and configure your blocks into a pleasing layout. Then start sewing those T's together!



T-shirt quilts are a perfect gift for graduates using all those high school or college event T's and jerseys! They're also a wonderful way to wrap someone in the memory of a loved one. Maybe you have a collection of vacation shirts from your favorite destinations. How about a quilt made from those iconic collectable concert T's? My t-shirt stash includes several vintage Star Wars t-shirts worn by my sons. They've been fans since birth so the shirts vary from toddler to teenage sizes. How will this range of sizes come together in a quilt? I'm excited for Cheryl to help me figure it out so we can enjoy the memories as a family.



Lexi Lamb was recently asked to make a t-shirt quilt for a fellow SHHS Skyhawk grad. Hearing of Cheryl's expertise, she called for help and can now attest to the ease of Cheryl's technique. She'll tell you there's no better way to ensure those T's finish perfectly and now her friend can treasure those victory shirts in a new way. Once you learn how, you'll want to whip up t-shirt quilts for everyone on your list! Sign up today!


Granny's Scrappy Rows Class
Thu, Oct 8, 2020 & Fri, Oct 9, 11am-2pm

Just a few seats left for Granny's Scrappy Rows taught by Heather Dunn! A fantastic scrap buster boasting perfect 2" finished squares with every seam.
You'll have precise corners and flat, stable blocks every time! Heather is excited to show you how to use EasyPiecing Grid On-point Border Panels by TenSisters Handicraft to make this traditional quilt in a non-traditional way. It's a great class for an experienced beginner!
cornwagonquilts.com
Have you heard? The Blessed Beyond Measure Sew Along with Stacy West of Buttermilk Basin will be starting this month! In sew-along fashion, you can follow the piecing process at blog.rileyblakedesigns.com from the comfort of your own home. The pattern just arrived and we are smitten with this gorgeous red, black and cream heirloom! The full Blessed Beyond Measure fabric collection is here too and you'll find kits on our website and in-store for $144.99 (pattern sold separately) so you can start cutting and be ready to sew along with Stacy West and Riley Blake Designs! Each week they will post an image of a finished block and helpful information in making this traditional 53" x 66" sampler quilt. It hasn't started yet, but keep an eye on the Riley Blake Blog so you can sew along!

October is here and with it came lots of quilted fall goodness here at the Corn Wagon and Quilter's Mercantile. Come in for a visit and see gorgeous new quilt samples perfect for autumn. Halloween fabric is disappearing fast as are quilt kits! We just received another shipment of All Hallow's Eve fabric by Fig Tree & Co. and like a witch on a broomstick, it's already flying out the door! Come see what's new in-store and while you're here, say hello to Bone-ita who is back from her yearlong stay in the dungeon.


---
Upcoming Sales & Events
Currently the quilt shop and mercantile are OPEN to walk-in and curbside customers during our temporary hours Monday-Saturday, 10:00am - 4:00pm.


In accordance with the Utah County mask mandate, we request that our customers and employees who are physically able, please wear a mask.
Handwork Club
This weekly club is for anyone who would like to work on a hand stitching project while learning new hand stitching skills. We will learn a-stitch-a-week! This is a great opportunity to finish our own projects and relax with a fun gathering of sewing friends every Tuesday from 10:00am - Noon.
Time Out at the Wagon
(Open Sew)
Every Wednesday, 10 a.m. - 4 p.m. in our School House
Put yourself in Time Out at the Wagon. We all need Time Out from housework, phone calls, and everyday responsibilities. Come to "Time Out at the Wagon" and do just that. Bring a project and sew the day away with friends here at the shop.


Prim Sew Along
Wednesday's from 10:00am-1:00pm
Calling all Lori Holt fans...Come join the new Prim Sew Along! Lori Holt of Bee in my Bonnet has done it again and designed an absolutely darling quilt using her Prim fabric and Prim Sew Simple Shapes. Sign up now to reserve your kit and your place in the SEW ALONG. Not only will you be sewing with friends but you will also learn tips, tricks and good advice from Karen Averett while sewing this 72 x 90 stunner!!
Skill Level: Intermediate
Class Fee: $20 non-refundable fee will reserve a kit in your name & seat in the club. Kit Price: $219.99 due before the first class. Kit includes fabric for quilt top and Simple Shapes templates. Interfacing, and sewing supplies sold separately.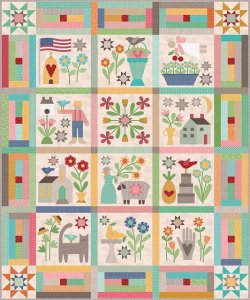 Saturday Sampler 2020/21
Beginning Saturday, October 10th
It's nearly time to begin again! The theme for our new Saturday Sampler designed by Amy McClellan is Volumes and we have opened up just 16 more seats in the club! It's your last chance to get in on the fun! Call today to register or hop on our website. Due to continued concern for Covid-19, we have decided to move forward in the same fashion as last spring. Members may pick up their blocks beginning Saturday, October 10th during our temporary hours of 10am-4pm but we encourage you to come in during the following week to help us keep individuals in the shop at a safe number. We are hoping to provide demos via YouTube. More information will be arriving in your inbox as it becomes available so stay tuned!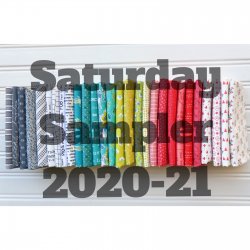 Because we respect the health and safety of our customers and employees, our regular discounts and promotions are suspended until further notice to discourage crowds from gathering in the shop. This includes Monday at the Merc, Wednesday's Word and Wrong Price Wednesday (fat qtr sale) and Stuff-a-Bag Sale. We anticipate the return of these sales when Utah enters it's "green" phase of Covid-19 recovery.

Thank you for supporting your local brick-and-mortar quilt shop!


We feel honored to be part of such a wonderful quilt-making community.



We hope you'll visit us again soon,
Jen and the Girls
at Corn Wagon Quilt Co.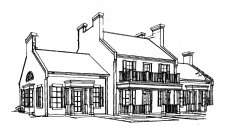 We would love to hear from you!
801-491-3551
https://cornwagonquilts.com/