Skip Navigation
Website Accessibility
Introducing another Corn Wagon Gal and her Curated Bundle!

May I introduce to you another friend at the Wagon? Meet our jolly good friend, Tami Johnson!
When asked to describe herself, Tami says she is a military brat, military wife and military mom who values family above all else. For her, quilting is an outlet as well as an avenue of connection with others. She fondly recalls tying quilts as a child with her mother. Finding herself overseas as a young married woman, Tami embarked on her first quilt block adventure in 1988 with a group of women looking to make a quilt for a friend. She checked out a book from the library and together they pieced album blocks to add signatures to and gave the finished quilt as a keepsake. This project sparked a love for patchwork that has blessed many. Tami's favorite part of the process is seeing the impact a finished quilt has on the receiver.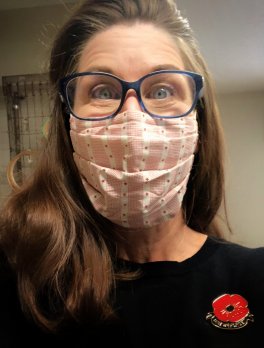 Many years ago, a tradition was started by Tami's mother. A quilt was made as a gift for her brother's 16th birthday using flannel and scraps from worn out jeans. The family traveled by trailer to a ski resort as they often did, to celebrate the special occasion. The night before the birthday, her brother fell ill and the chance to ski the following day looked slim. The quilt gift was given and Tami's brother slept that night under his new birthday quilt. He woke the next morning feeling well again as if by magic and the family was thrilled to be able to celebrate with a ski day as planned! The quilt was forever deemed "the magic quilt" and a family right of passage had begun. Since then, a magic quilt has been made by Tami and her mother for each child and grandchild to be given on their 16th birthday. Jeans are collected from the family and they enjoy personalizing each quilt using zippers and pockets for stashing treasures. Tami recently shared one of these magic quilts with us here at the quilt shop. We loved it so much we asked if we could put it on display! We pulled together a few flannel fat quarter starter bundles for you to mix with denim and follow Tami's inspiration for a wonderful quilt gift idea!



This tradition was just the beginning of quilt gifting for Tami. Growing up in a family with deep military roots, Tami has genuine patriotism flowing through her veins. She figures she has had 26 homes in locations across the country and over seas including Alaska, Hawaii, Germany and England. Witnessing the dedication of her father, husband and son in the armed forces has instilled a love for her country and a compassion toward those who serve the United States of America. In 2015, Tami resolved to gift quilts to each member of her son's special operations unit upon their return from Afghanistan. Tami made 35 quilts and recruited help from the Corn Wagon and other quilt-making friends to make 80 Quilts of Valor for her son's unit. Tami says this is her most rewarding quilt project to date and she has plans to make it happen again in the future as her son will be deployed on a new assignment. "It was amazing to see all those 'tough guys' walking with quilts draped like Superman capes around their shoulders. The love that is felt when a quilt is given is truly special."



Tami has pulled a unique bundle of fat quarters to add to our Curated by Corn Wagon collection. When coordinating fabrics, Tami likes having a specific project in mind to help her make sure scale and proportion is just right for the application. For this bundle she imagined a Lonestar quilt which along with english paper piecing, happens to be a quilting favorite for her! After living in England for a few years, she has an affinity for all things British so Tami chose to use the newest Liberty of London fabrics from Riley Blake Designs as her springboard for this bundle. This set hints at her love for the red, white and blue with an added pop of rose and amber. She blended them beautifully with a mix of woven basics to create her Lucky 13 fat quarter bundle (shown below), now available at the quilt shop for $39.99. They will provide striking contrast in her next Lonestar! Keep an eye out for Tami's Lonestar class early in 2021. She's an expert and an excellent instructor to boot!


Wool & Wax Tote Class
Thursday, November 19th, 11am - 4pm

Just a few seats left! This class will be taught by Shelley Taylor and it's perfect for a beginner. NO ZIPPERS! The tote has a slip pocket inside and divided pockets on the front. You can use leather handles, fabric or cotton webbing. You will also learn how to install rivets on the front of the bag for a unique touch. Rivets are optional and they will be provided in class at a nominal fee. We have a beautiful selection of linen/cotton canvas in-store, perfect for this tote! Pick up your pattern by Noodlehead as well as fabric, interfacing and leather handles right here at Corn Wagon and join in the fun! Masks and social distancing will be required in the classroom.
cornwagonquilts.com
The phrase "Home for the Holidays" will likely take on new meaning this year. Keep your hands busy while you stay safe and warm at home over the coming weeks by finishing this nostalgic wool applique project just in time for the Holidays. We have kits in-store and online for this and several more from the Chalk It Up collection by Buttermilk Basin. It finishes conveniently at 16" x 20" so you can easily find a ready made frame for display.

The cute Christmas quilts just keep coming! The Retro Ornaments quilt by Brittany Lloyd of Lo & Behold Stitchery caught our eye right away. Isn't it darling made up in these modern prints from the Season of Light collection by Michael Miller Fabrics. Lynette Christensen pieced this one in a dash! Emily Herrick's custom machine quilting winds through these oversized ornaments like ribbon on a Christmas tree! Kits for this jolly quilt include the pattern and fabrics as shown for piecing the 64" x 64" throw quilt top and binding for $117.99! Stop in for more Christmas quilt inspiration!


We're officially back to our regular business hours!
The Quilt Shop & Quilter's Mercantile are now open
Monday through Friday, 10:00am - 6:00pm and
Saturday, 10:00am - 5:00pm
Closed Sunday


Please, remember to wear a mask when entering our stores and classroom.



Upcoming Holiday Hours:
Monday, November 23 -- CLOSED for Inventory
Wednesday, November 25 -- Closing Early at 4:00 - Time to bake those pies!
Thursday & Friday, November 26 & 27 -- CLOSED for Thanksgiving
Thursday - Saturday, December 24 - 26 -- CLOSED for Christmas
Thursday, December 31 -- Closing Early at 2:00 - Let's Ring in the New Year!
Friday, January 1 -- CLOSED for New Year's Day

---
Upcoming Sales & Events
Saturday Sampler
Beginning Tomorrow, November 14th, 10:00am-5:00pm
Due to continued concern regarding Covid-19, we have decided to have an extended time again for you to pick up your kits. Club members may pick up the November kit Saturday, November 14th during our regular hours of 10 am - 5 pm as well as Monday through Friday, November 16-21 from 10am to 6pm.
We encourage you to come in during the week to help us keep individuals in the shop at a safe number.

On Saturday, November 14, you can pick up your kit in our classroom. There will be a door to enter (on the East side - look for the School House sign), and another door to exit (on the North side) to keep traffic flowing. If you need to pay for your kit, please go first to the shop and then bring your receipt to the classroom to get your kit.

Please be patient if you have to wait to come in as we will be monitoring the classroom and the shop to keep everyone safe. Please follow the current Utah County mandate and wear a mask!

The exclusive Saturday Sampler discount coupon (found in your kit) will be valid November 14 - 21, 2020 so you'll want to be sure and pick up this kit before Saturday, November 21st.
Handwork Club
This weekly club is for anyone who would like to work on a hand stitching project while learning new hand stitching skills. We will learn a-stitch-a-week! This is a great opportunity to finish our own projects and relax with a fun gathering of sewing friends every Tuesday from 10:00am - Noon.
Time Out at the Wagon
(Open Sew)
Every Wednesday, 10 a.m. - 4 p.m. in our School House
Put yourself in Time Out at the Wagon. We all need Time Out from housework, phone calls, and everyday responsibilities. Come to "Time Out at the Wagon" and do just that. Bring a project and sew the day away with friends here at the shop.


Prim Sew Along
Wednesday's from 10:00am-1:00pm
Calling all Lori Holt fans...Come join the new Prim Sew Along! Lori Holt of Bee in my Bonnet has done it again and designed an absolutely darling quilt using her Prim fabric and Prim Sew Simple Shapes. Sign up now to reserve your kit and your place in the SEW ALONG. Not only will you be sewing with friends but you will also learn tips, tricks and good advice from Karen Averett while sewing this 72 x 90 stunner!!
Skill Level: Intermediate
Class Fee: $20 non-refundable fee will reserve a kit in your name & seat in the club. Kit Price: $219.99 Kit includes fabric for quilt top and Simple Shapes templates. Interfacing, and sewing supplies sold separately.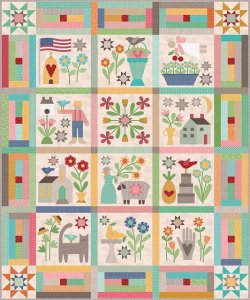 Because we respect the health and safety of our customers and employees, our regular discounts and promotions are suspended until further notice to discourage crowds from gathering in the shop. This includes Monday at the Merc, Wednesday's Word and Wrong Price Wednesday (fat qtr sale) and Stuff-a-Bag Sale. We anticipate the return of these sales when Utah enters it's "green" phase of Covid-19 recovery.

Thank you for supporting your local brick-and-mortar quilt shop!


We feel honored to be part of such a wonderful quilt-making community.



We hope you'll visit us again soon,
Jen and the Girls
at Corn Wagon Quilt Co.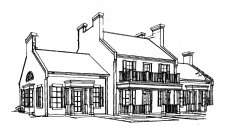 We would love to hear from you!
801-491-3551
https://cornwagonquilts.com/