Skip Navigation
Website Accessibility
Meet another friend at the Wagon and her cheerfully curated fabric bundle!

You've likely been greeted by her cheerful smile... and you've certainly seen her beautiful creations
! Our friend Natalie Smith is an absolute ray of sunshine here at the Corn Wagon and I'm happy to introduce you today. While quilts made an impression early in her life, made by her mother and grandmother, Natalie had no desire at all to make her own. Her first love? Books. As a child, Natalie moved from a highly populated, inner city location in Omaha, Nebraska to what she refers to as the sticks, in a very rural part of Wyoming. So rural, in fact, that she attended a one room school house across the state border. Her friends were her books. She immersed herself in fairy tales and grew to love romance. To this day she LOVES a good love story and a degree in French and Russian sounds romantic indeed. But around the time her fourth child was a year old, Natalie realized she needed a new hobby just for her. Time spent as a mom meant little down time for reading and when she did pick up her book, well, she was soon asleep. She had made a few quilts by this time. In her family, if you had a baby, you made a quilt and she had even hand quilted a few! She had a sewing machine that was used mostly for mending -- not fun -- so she decided maybe it was time to make the most of it. She rounded up some friends and started a quilt block exchange! It was just the social and creative charge she needed. She says she was bit by the quilting bug and it gets worse and worse as the months and years go by. She has now been quilting for 11 years and guesses (with a wink and a smile) that she may be approaching that expert level of putting in 10,000 hours. Her love for the art shows. Her quilts always reflect her joyful personality and recipients of her quilted or hand-stitched gifts are lucky indeed.


This avid romance reader married a writer of sci-fi. Actually, a "computer guy" by day and author by night which is when Natalie sneaks in a little more sewing. It's a 20-year match made in heaven. With five children at home, Natalie stays busy organizing family life but we've been delighted to have her spend a some time each week smiling behind our register and teaching classes like the Shine On Sampler beginning in January.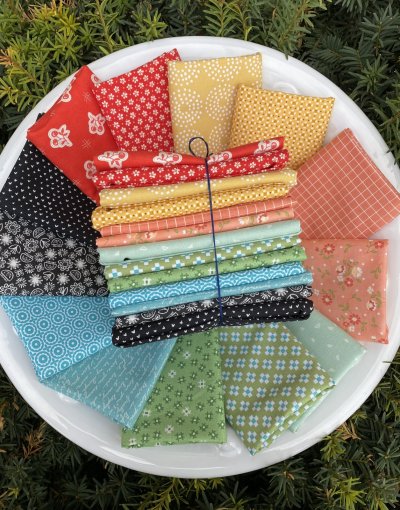 The newest addition to our Curated by Corn Wagon Collection is as sunny and bright as it's creator. Natalie has an excellent tip for selecting your own fabrics! She loves to seek out inspiring photos and use them as a spring board for coordinating her quilts. Find an image that speaks to you and build your quilt story around the colors, proportions and overall feel of that picture. Her inspiration for this bundle came from a sweet little set-up by Just Add Sunshine. It speaks "volumes" on Natalie's personality and oh, how we love the fabric pull it inspired! Another great tip from Natalie, don't be afraid to throw in a little bit of black or navy to ground those bright, happy colors! You can pick up Natalie's Lucky 13 Fat Quarter Bundle at the quilt shop for $39.99 while supplies last and be sure to give Natalie a smile while you're there!



Speaking of inspiration from Just Add Sunshine, did you know we carry Katie Sabin's adorably happy stickers? We've been slapping them on everything! Drink mugs, laptops, sewing machines, you name it! We'll sticker it with a little ray of sunshine to brighten your day. So many to choose from! Come see what we have in stock at the quilt shop today and go follow @justaddsunshine on Instagram for creative inspiration in every color of the rainbow.


Face Mask Panels in Stock Now!

Make festive face masks for all of your family and friends with the HOLIDAY EDITION Face Mask Panel by Stacy Iest-Hsu of Moda Fabrics!
We have these jolly panels in-store now along with the original Safety First Mask Panel and Ruby Star Society Mask Panel! A fine 200 thread count increases effectiveness and lends a soft feel against your face. Each panel includes instructions and makes 10 children sized & 8 adult sized face masks.

HINT: They would also make darling gift pouches! Just add a zipper!




Looking for a super cute, super quick Christmas quilt? Lexi Lamb pulled together a mix of her favorite holiday prints, cut them into 5" charm squares and stitched them right up to make this darling, classic patchwork just in time for winter snuggling. We have kits for this Charming Christmas Quilt that include everything you need to piece this 67" x 81" lap quilt and binding for $88.99. And how cute is Emily Herrick's custom quilting design on this one?! Simple, modern snowflakes make each charm square shine.

---

Registration is now open for the Homegrown Block of the Month by Sue Spargo!
This quilt masterpiece features rows of beautiful houses, each intricate and unique. Trees and flowers, with exquisite embellishment finish off this amazing wool and cotton applique quilt. The finished quilt measures approximately 41" x 41". Each month you will receive a kit with a portion of the blocks to make the finished quilt. Kits will include gorgeous hand-dyed wool, cotton and silk pieces to complete each block. Threads are not included but a thread kit will be made available for an additional cost upon request.



This 12 month Block of the Month (BOM) program includes a monthly class where we will review stitches used in these heavily embellished blocks. You will need to have some experience with wool and cotton applique. This class will be held every 3rd Tuesday at 4:00pm beginning January 19th at our School House. Masks will be required until Covid-19 restrictions are lifted.



You may register now on our website or stop in and see this stunning wall quilt in person and sign up while you're here. For this BOM there will be a $10 sign-up fee, plus $31.99 per month for 12 months. The pattern book HOMEGROWN and the reference book CREATIVE STITCHING, both by Sue Spargo, are not included in the fee. Both are required and available at the quilt shop. We hope you'll join us!


cornwagonquilts.com
---
Upcoming Sales & Events
Face masks are required in our stores, classrooms and retreat rooms.
The Quilt Shop & Quilter's Mercantile are now open
Monday through Friday, 10:00am - 6:00pm and
Saturday, 10:00am - 5:00pm
Closed Sunday

Holiday Hours:
Thursday - Saturday, December 24 - 26 -- CLOSED for Christmas

Thursday, December 31 -- Closing Early at 2:00 - Let's Ring in the New Year!
Friday, January 1 -- CLOSED for New Year's Day
Kit pick-up begins this Saturday, December 12th, 10 a.m. - 5 p.m.
Due to continued concern regarding Covid-19, we have decided to move forward in the same fashion as last month. This will likely remain the case for the foreseeable future. Club members may pick up the third kit beginning Saturday, December 12th during our regular hours of 10am - 5pm in our classroom but we encourage you to come in during the following week (12/14-12/18) to help us keep individuals in the shop at a safe number.
On Saturday, December 12th you may enter our classroom through the East door (look for the School House sign) and exit through the North door to keep traffic flowing. Please adhere to the current mandate and wear a face mask. We ask for your patience as you may have to wait to enter the classroom or shop as we monitor the number of people to maintain safe occupancy.
The exclusive Saturday Sampler discount coupon (found in your kit) will be valid December 12 - 18, 2020 so you'll want to be sure and pick up this kit before Saturday, December 19th. Instead of gathering for a demo this month, we will again provide you with the following YouTube demos by Amy McClellan.
Handwork Club
This weekly club is for anyone who would like to work on a hand stitching project while learning new hand stitching skills. We will learn a-stitch-a-week! This is a great opportunity to finish our own projects and relax with a fun gathering of sewing friends every
Tuesday from 10:00am - Noon



Time Out at the Wagon

(Open Sew)




Every Wednesday, 10 a.m. - 4 p.m. in our School House

- MASKS REQUIRED

Put yourself in Time Out at the Wagon. We all need Time Out from housework, phone calls, and everyday responsibilities. Come to "Time Out at the Wagon" and do just that. Bring a project and sew the day away with friends here at the shop.


Because we respect the health and safety of our customers and employees, our regular discounts and promotions are suspended until further notice to discourage crowds from gathering in the shop. This includes Monday at the Merc, Wednesday's Word and Wrong Price Wednesday (fat qtr sale) and Stuff-a-Bag Sale. We anticipate the return of these sales when Utah enters it's "green" phase of Covid-19 recovery.

Thank you for supporting your local brick-and-mortar quilt shop!


We feel honored to be part of such a wonderful quilt-making community.



We hope you'll visit us again soon,
Jen and the Girls
at Corn Wagon Quilt Co.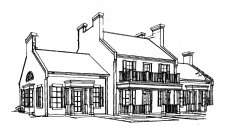 We would love to hear from you!
801-491-3551
https://cornwagonquilts.com/