Remember that one time when Coronavirus hit the Corn Wagon... It's been a week we won't soon forget.
Hopefully you all received our previous email announcing the temporary closure of our shop due to Covid-19 exposure. We miss seeing all of you! We originally planned to be closed Wed Jan 6 - Fri Jan 8 to allow our employees time and space for testing, any required quarantine and to give the shop a good deep cleaning. I'm writing to inform you that we need to remain closed an additional day. Some of our Corn Wagon Gals have not yet received their Covid-19 test results and we're afraid we will not have enough staff available to open up quite yet. Our first priority is to keep our customers and employees as healthy as we can. For this reason,
we will not be opening until Monday, January 11th.
This does affect our regularly scheduled Saturday Sampler block of the month. Members of this club may begin picking up January's kit on Monday, the 11th, and we will allow the full week, through Saturday, the 16th,
for you to bring in last month's assignment and get the newest kit. Club Members may have received an automatic class reminder this morning. Please disregard that message. Our stores will remain closed through Sunday. We are confident we will be able to greet you again beginning Monday during our regular business hours. We apologize for any inconvenience this may cause. We hope you will understand that we have carefully chosen this adjustment to ensure the safest environment we can with a full, healthy staff ready to help make your experience at the shop the best it can be.


We are SEW eager to return to a bit of normality within our beloved brick walls here at the Corn Wagon. Most scheduled events will move forward as planned beginning Monday, however
our Handwork Club will not meet for their weekly gathering on this coming Tuesday, January 12.
We anticipate their return the following week.


We have received so many kind, heartfelt well wishes from you. Thank you for being so understanding and making us smile with your messages through what has been a worrisome week. Those affected here on our staff are faring well and we look forward to seeing you all again very soon! We hope this message finds you healthy. We know we are not alone in this pandemic struggle and we are thankful to have friends like you.

While the purpose of a quilt is ultimately to provide comfort to the one who rests beneath it, we quilter's take a different kind of comfort in it's creation. How many of you have sought the solace of time behind the sewing machine through these disheartening times. It's no joke that quilting is our therapy. The conscious awareness of creating certainly does something for the soul. We hope you've all had a few moments to relish in the joy of making something beautiful this week.

Chris Chamberlain enjoyed the easy repetition of piecing this 100 Blocks Quilt. That's right; I said "100 blocks" and "easy" in the same sentence! This checkerboard-style quilt has 100 squares in each block. Strip piecing is the key to putting this rainbow of traditional fabrics together for a striking result. We have kits available in-store for this 57" x 67" beauty that includes the fabrics shown above for piecing the top and binding along with the pattern by Clothesline Quilts for $146.99.


Mini Poppins Bag Class is Back!


Thursday, January 21, 1:00-6:00 p.m.

One of our most popular bag classes is back! The Mini Poppins Bag (in all it's mini cuteness) is a class you won't want to miss. We are so lucky to have master bag maker, Shelley Taylor, teaching at the Corn Wagon. You will have so much fun making this one, that you'll want to make many more! The Mini Poppins bag takes minimal fabric, which makes this project a great stash buster! The secret to this bag are the structural stays (included with the pattern), which help keep the bag's shape and allow a wide opening. Pattern by Aunties Too is available at the quilt shop along with all the supplies you'll need for class.



Just a few seats left in this highly anticipated wool block of the month! Stake your claim in this exclusive club now by signing up on our website with a $10 registration fee. The Homegrown quilt by Sue Spargo features rows of beautiful houses, each intricate and unique. Trees and flowers, with heavy embellishment, finish off this amazing wool and cotton applique quilt. The finished quilt measures approximately 41" x 41". Each month you will receive a kit with a portion of the blocks to make the finished quilt. Kits will include wool, cotton and silk pieces to complete each block. This is a 12 month Block of the Month (BOM) program. Remember, each BOM at the Corn Wagon requires commitment to complete the program. No refunds will be given.

Intrigued by this masterpiece but intimidated by it's intricacy? No worries! This BOM program includes a monthly class where we will review stitches used in these heavily embellished blocks! You will need to have some experience with wool and cotton applique but Marinne MIchaels is here to help you learn how to add all the detail you want to make this quilt your own. Class will be held each 3rd Tuesday beginning January at 4:00pm in our School House. Just look at the gorgeous detail Marianne has been stitching on her sample center block below! You can do this too with a little guidance from our wool and embellishment expert!

For this BOM there will be a $10 class sign-up fee, and $31.99 per month (thread not included in the kit) for 12 months. The pattern book, HOMEGROWN and the reference book, CREATIVE STITCHING are not included in the fee. Both are required and available at the quilt shop. Thread kits will be available for purchase at customer request.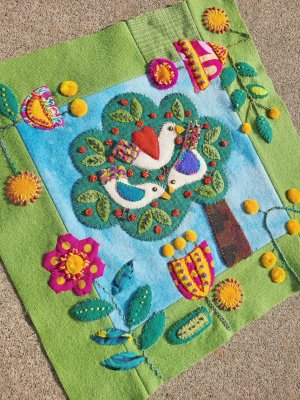 cornwagonquilts.com
---
Upcoming Sales & Events


Please remember face masks are required in our stores and classrooms.

20% off BABY!!!


Monday, January 11 - Saturday January 16


Take advantage of week-long discounts in our baby department at the quilt shop and at the Quilter's Mercantile next week. We're extending our previously advertised offer of 20% off regular price baby cottons, flannels, all Cuddle and Minky fabrics, baby quilt kits including hemstitching kits and even the darling baby goods at the Merc!

Handwork Club
Cancelled for this week. See you the following week on Tues. Jan. 19th
This weekly club is for anyone who would like to work on a hand stitching project while learning new hand stitching skills. This is a great opportunity to finish our own projects and relax with a fun gathering of sewing friends. MASKS REQUIRED.


Time Out at the Wagon
(Open Sew)
Every Wednesday, 10 a.m. - 4 p.m. in our School House
Put yourself in Time Out at the Wagon. We all need Time Out from housework, phone calls, and everyday responsibilities. Come to "Time Out at the Wagon" and do just that. Bring a project and sew the day away with friends here at the shop. Marsha is looking forward to being in Time Out and hopes lots of you will join her.

Facebook Live Sale


Every Thursday, 2 p.m.




Oh Baby, it's going to be a good time this Thursday with discounted items from our baby department! We're bringing our baby sale over to CWTV. If you haven't tried shopping our Live Sales before,

please join us! It's easy and I dare say entertaining! Simply hop on our Facebook page anytime after 2:00 MST
and comment "register" directly in the comment section of the Live Broadcast. You'll receive instructions via Messenger and/or email for account set up. Then you're all ready to shop from any of our Live Sales! For full instructions and to preregister, click here.


Thank you for supporting your local brick-and-mortar quilt shop!


We feel honored to be part of such a wonderful quilt-making community.



WELL WISHES & HAPPY QUILTING,
Jen and the Girls
at Corn Wagon Quilt Co.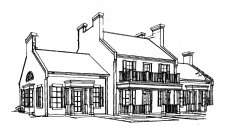 We would love to hear from you!
801-491-3551
https://cornwagonquilts.com/