With more time spent at home in the sewing room, over the past year you may have noticed you have acquired a bit of a stash. No, not of the upper-lip variety...
although... never mind. We won't go there. Of course, I'm talking about FABRIC! And kits. And patterns. And... the list goes on! We know. We're right there with ya. In fact we have a name for that. We call it S.A.B.L.E. Syndrome. S.A.B.L.E stands for Stash Accumulated Beyond Life Expectancy. It's real. But don't panic! We have the cure! Saturday, May 15th we are hosting another S.A.B.L.E Sale in our Corn Wagon Too parking lot! Rent a parking stall for $25 and set up shop 10 a.m. - 3 p.m. with fabric, patterns, kits, notions - - anything quilting related that you're wiling to part with. You set your own prices and manage your own transactions for your own S.A.B.L.E Sale! You can even get a group of friends who are also affected by S.A.B.L.E. syndrome and share a space! We'll get the word out. You bring the goods!
Reserve your parking stall today online or contact Shannon at the Quilter's Mercantile for more information. We hope you'll join us for a day of fresh air fabric shopping this May!

Are you ready for another cute Pillow of the Month pattern by Ella + Charming? March is here! Natalie Smith put together a lively mix of spring green fabrics to make four traditional Rocky Mountain Puzzle blocks for the newest addition to her quilted pillow collection. We find it especially charming here in Spring-ville nestled along the rocky Wasatch mountains. We have a limited number of kits available in-store for $27.99. Each kit includes the pattern and fabrics for the 18" x 18" pillow front and back. Be sure to peek at the back of the pillow while at the shop! It's super cute too! Pillow insert and optional zipper are not included. This pattern is available to purchase as a PDF from our website for just $4.99! You'll find the pillow cover patterns from January and February there as well so you can collect them all.


Speaking of green, we've pulled some favorite green cottons and marked them down 25% off! Whether you're one to celebrate the Luck O' the Irish or just need to replenish your stash for spring... be sure to get your greens! You'll find this lucky little shelf near the register at the quilt shop now through March 17th or until (like leprechaun magic) they disappear.
Next time you're at the Corn Wagon, see if you can spot this beautiful new quilt pieced by Marianne Michaels. Patchwork Petals by Bonnie Sullivan of All Through the Night combines pieced petal blocks with applique' stems and leaves. Marianne has put together a wonderful blend of red and green cotton prints and homespuns for this traditional-style beauty. It's available in-store as a kit and includes the pattern along with fabrics for the 72" x 72" quilt top and binding for $164.99. Ramona Sorensen added gorgeous custom quilting to each petal and leaf! You really must see it in person.


Pepin Tote

Class with Shelley Taylor
Thursday, March 18th, Noon-4:00
OR Saturday, April 17th, 10:00-2:00

Master bag maker, Shelley, is back again with the all new Pepin Tote by Noodlehead. This well designed tote will instantly become your go-to bag. This is a beginner level pattern that is quick to sew (especially with Shelley guiding the way). There are several features such as pockets and snap closures that allow you to customize your bag a bit. Finished size: 13.5"W x 12"H x 4"D. Pick out some beautiful fabric here at the Corn Wagon and come take this bag class. Even better...take this class with a friend! Register online today.
Photo Credit: Anna Graham of Noodlehead.
Fabrics shown by Rifle Paper Co.
cornwagonquilts.com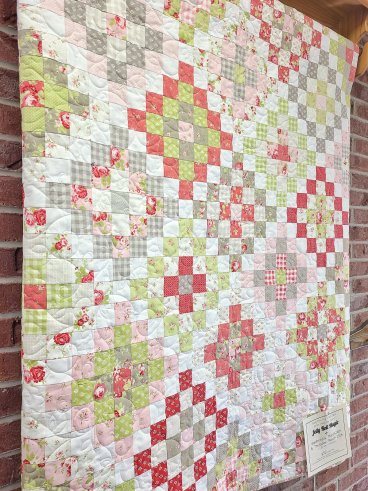 This fun EasyPiecing project can be made with Jelly Rolls! Heather Dunn will teach you how at her Jelly Roll Magic Class! This class includes two sewing sessions so you can accomplish lots! Join us Tuesday, March 23rd and Wednesday, March 24th, 11:00 - 2:00 at our School House. If you have two Jelly Rolls of the same fabric, you are in luck (or we know a place where you can come buy two -- wink, wink)! This quilt is super fun to make and will help you to become an EasyPiecing Pro! The quilt will finish 78 x 78 before adding optional borders. The pattern will be available in class and you'll find EasyPiecing Grid and Jelly Rolls here at the quilt shop. Did you know we offer 15% off your class supplies? Plus, you can take advantage of 15% off any regular price items purchased while attending class by wearing our student lanyards into the Quilt Shop or Quilter's Mercantile. It's just one of the perks!


And last, but most certainly not least...
this show-stopping
Night Sky
quilt by Jaybird Designs is truly a wonder to behold. Pieced to perfection by Julie Hancock, this quilt features Tula Pink's
True Color
fabrics. Using the Sidekick Ruler simplified the process. Don't you love the shaped edge along the top and bottom? Take a closer look at the custom machine quilting by Emily Herrick. It's unreal! She took inspiration from the radiating stars in this bold
Night Sky
and mapped out a unique celestial themed design perfect for this masterpiece. Kit's are available as well as Sidekick rulers in-store now.
---
Upcoming Sales & Events
Please remember face masks are required in our stores and classrooms.
Monday's at the Merc
Stop by the Quilter's Mercantile every Monday to take advantage of 20% off one regular price item of your choice! Located directly behind the quilt shop, The Merc has gifts and goodies for everyone on your list! Be sure to follow @cornwagonmercantile on Instagram!

Handwork Club
Every Tuesday 10:00 a.m. - Noon at our School House
This weekly club is for anyone who would like to work on a hand stitching project while learning new hand stitching skills. This is a great opportunity to finish our own projects and relax with a fun gathering of sewing friends.
Time Out at the Wagon
(Open Sew)
Every Wednesday, 10 a.m. - 4 p.m. in our School House
Put yourself in Time Out at the Wagon. We all need Time Out from housework, phone calls, and everyday responsibilities. Come to "Time Out at the Wagon" and do just that. Bring a project and sew the day away with friends here at the shop. Marsha is looking forward to being in Time Out and hopes lots of you will join her.
Saturday Sampler
Beginning Saturday, March 13th
You've got one week left (plus a few extra days) to finish up last month's assignment! Once again, we will be allowing a one-week window to bring in your finished blocks to receive your March kit free.

Thank you for supporting your local brick-and-mortar quilt shop!


We feel honored to be part of such a wonderful quilt-making community.



HAPPY QUILTING,
Jen and the Girls
at Corn Wagon Quilt Co.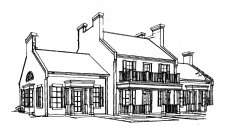 We would love to hear from you!
801-491-3551
https://cornwagonquilts.com/