New Classes for Beginners and Beyond!

Every expert was once a beginner.
Why not let today be the beginning of learning something new? We're happy to bring back our popular Beginning Quilting Class (and to offer a day and night option)! Taught by seasoned quilter, Janet Hansen, this 8-part, 4-month class will teach and reinforce the basics of piecing a quilt. We will start from the beginning with cutting skills and accurate seam measurement. There will be eight different quilt blocks taught, each with it's own unique techniques. You will make one block each week in class with teacher supervision, then more of the same block will be made at home as practice to perfect your skills. If you have never pieced a quilt, this class is for you!



If you have quilted for some time and would like to learn tips and tricks to make your piecing more accurate, this is also the class for you! It is a hands-on experience any quilter can build on. When finished, you will have a beautiful 72" x 84" sampler quilt made from 42 traditional quilt blocks. This pattern has been designed by Janet exclusively for this class series! You'll also benefit from bonus patterns and ideas such as how to start with a simple block then make one tiny change to create an entirely new look or what to do with leftover half square triangles. Learn something new and hone your quilting skills in this fun and informative class.



Beginning Quilting will be held every other Tuesday, starting April 27th for 8 sessions. Choose from two class times; 1:00-3:00pm or 6:00-8:00pm.

Janet Hansen designed this timeless quilt to be made using only two or three different fabrics. This allows class members to focus on technique rather than fabric selection. Look how striking each of these time honored blocks appear in this simple scheme! We have a limited number of kits for the red, white and blue version as shown above, available only to those registered for the class.

Interesting side note: this quilt photo was taken at the Victory Fountain here in Springville, sculpted in 1924 by Cyrus Dallin, "In memory of our soldier boys who made the supreme sacrifice in the world war." It is said that the posture of the figure atop the fountain symbolizes "victory over death and victory of the nation, built on the foundation of soldiers who died for the cause." Surrounded by fresh white blossoms, this felt an ideal location to share a patriotic quilt.

If you're thinking this quilt looks familiar, that's because it's the same pattern from our previous beginning quilt class! You might recognize it from our popular black, grey and cream, farmhouse version. Selecting your own fabrics to fit your style is easy! Simply choose a background fabric and add either one or two contrasting fabrics to make your blocks. For full details and to register, please visit our website. Once you've registered, visit the shop to purchase a kit or to select your own fabrics. We'll be happy to help you on your way to learning something new. You'll be an expert before you know it!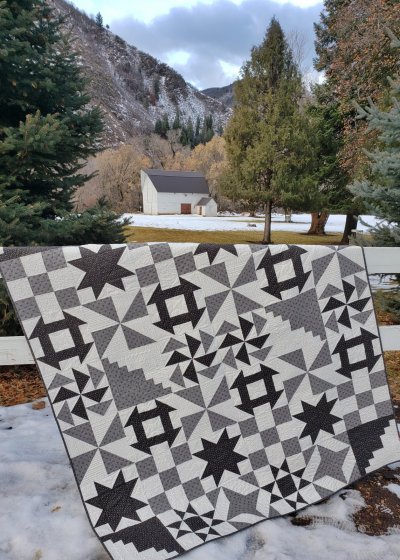 Free Wool Applique Demo
Wednesday, April 14th, 1:00-2:00pm
Interested in learning the art of wool applique? Marianne Michaels has lots of tips that she is excited to share with you. Sit in on this one hour, free demo to learn all the basics and ask questions with our wool expert. No registration or supplies needed. Simply pop into the School House!



cornwagonquilts.com
Have you ever wanted to Learn How to Paper Piece, but were intimidated to try it on your own? This two-part class is your opportunity learn from an experienced teacher. Janet Hansen will guide you step-by-step through everything you need to know to become confident in paper piecing. It's a wonderful technique that gives you accurate and precise blocks for beautiful results. We're talking perfect points every time! The method may seem a bit upside down and backwards at first, but once you get the hang of it, you'll see how easy it can be to create even the most meticulous blocks. In this course you will make a traditional Storm at Sea quilt. You will have a choice of three variations (shown above, left to right) Starlight,

Linked Hearts or Stormy. Your finished quilt will measure 40" square or can be enlarged. Register today online and attend class Thursday, May 13 and
Thursday, May 27, 6:00 pm to 9:00 pm. By the end of the course, you'll be a paper piecing pro!
Do you have a t-shirt collection just waiting to be transformed into a quilt? School or athletic t-shirt quilts make awesome graduation gifts. Concert or vacation T's can become a treasured keepsake quilt. Being wrapped in a quilt made from t-shirts saved from a loved one can feel like a welcome hug. There are so many great reasons to turn old T's into quilts. The question is how...?
This all-day class, taught by Cheryl Wallin, will go over everything you need to know to create your own heirloom t-shirt quilt. Gather at least 15 t-shirts and join us Friday, April 23rd, 10:00 a.m. - 5:00 p.m. at our retreat center for a full day of learning How to Make a T-shirt Quilt. Cheryl knows all the tricks and will even demonstrate how to use a handy set of templates to center logos and designs to fit into your own unique quilt arrangement. Lexi Lamb made the T-shirt quilt below with a little guidance from Cheryl and look how fabulous it turned out!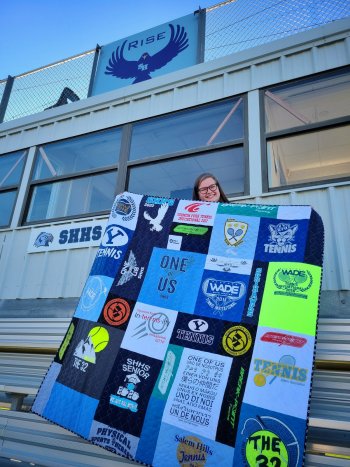 ---
Upcoming Sales & Events
Although the mask mandate will be coming to an end here in Utah, we still highly recommend face masks in our stores and classrooms. Thank you for doing your part to promote wellness in our community.
Saturday Sampler
Beginning tomorrow, Saturday, April 10th 10:00 a.m. at our School House


By now you know the routine. :-)

We will once again allow a one-week window for you to bring in your finished assignment from March to receive your April kit free. Saturday, you will find your kit in our classroom. Afterward, they will be at the register in the quilt shop. See you soon!

Monday's at the Merc
Stop by the Quilter's Mercantile every Monday to take advantage of 20% off one regular price item of your choice! Located directly behind the quilt shop, The Merc has unique gifts and delicious goodies for everyone on your list! Be sure to follow @cornwagonmercantile on Instagram!

Handwork Club
Every Tuesday 10:00 a.m. - Noon at our School House
This weekly club is for anyone who would like to work on a hand stitching project while learning new hand stitching skills. This is a great opportunity to finish our own projects and relax with a fun gathering of sewing friends.
Time Out at the Wagon
(Open Sew)
Every Wednesday, 10 a.m. - 4 p.m. in our School House
Put yourself in Time Out at the Wagon. We all need Time Out from housework, phone calls, and everyday responsibilities. Come to "Time Out at the Wagon" and do just that. Bring a project and sew the day away with friends here at the shop. Marsha is looking forward to being in Time Out and hopes lots of you will join her.

Thank you for supporting your local brick-and-mortar quilt shop!


We feel honored to be part of such a wonderful quilt-making community.



HAPPY QUILTING,
Jen and the Girls
at Corn Wagon Quilt Co.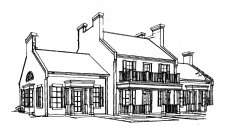 We would love to hear from you!
801-491-3551
https://cornwagonquilts.com/