It's happening again... I'm sorting through my fabric stash. So. Much. Fabric. I'm finding fabric I haven't seen in a while, fabric I forgot I had, fabric I still love and, let's be real here, some fabric I could probably live without.
And maybe a few kits, patterns, books... just a few.
Why am I sorting? I'm getting ready for the next S.A.B.L.E. Sale!
And I'm not the only one. Saturday, May 15th, the Corn Wagon parking lot will be full of quilters just like me who are ready to part with a portion of their stash. It's your chance to find some serious sewing treasures! Stop by between 10:00am and 3:00pm and browse the goods. Each vendor will set their own prices and handle their own transactions so come prepared with cash or Venmo. We're rounding up some food trucks (have you tried

Renee's Cheesecake?

Yum!) and setting up shop for a day of open-air shopping and mingling. Corn Wagon will have a large selection of clearance fabric on sale in our School House and of course the quilt shop and mercantile will be open as usual! So, help us spread the word! We're clearing out the S.A.B.L.E.s (Stash Accumulated Beyond Life Expectancy) and want all the good stuff to go to a loving quilter's home.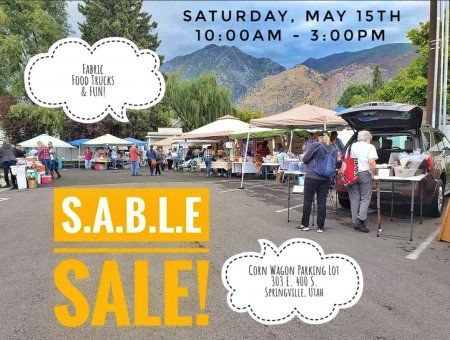 Jelly Roll Magic Class


Thursday, May 6th & Friday, May 7th
6:00 - 9:00 p.m. with Heather Dunn

That's coming right up so don't wait to register! We've had so much fun making this darling quilt, we're offering the class a third time! Join this two-day class and learn how to turn 2 Jelly Rolls and a bit of background into this beautiful quilt the EasyPiecing way here at the School House. Register online today, then swing by the quilt shop and let us help you collect your supplies.
cornwagonquilts.com
Do you find curves intimidating? We have a class for you. Learn how to make curves the easy way! This is a fun wedding ring-type quilt that utilizes the Quick Curve Ruler by Sew Kind of Wonderful to get great results with every block. In class you'll use 2.5" pre-cut strips to piece this stunning Metro Hoops quilt with the help of instructor, Cheryl Wallin. You'll be amazed by how easy curved piecing can be. Please, join us Saturday, May 22nd, 8:00 a.m. - 4:00 p.m. for a day of confidence-building quilting! For full details, registration and to view the supply list, visit our website today.


New to the quilt shop!
Geese in Flight is an eye-catching modern design by Jeni Baker of In Color Order. Lexi Lamb has had her eye on these scrumptious linen/cotton fabrics by Anna Graham for Robert Kaufman, and knew this was the perfect pattern to play with these unique prints. Emily Herrick added to the modern esthetic with a free-motion "scribble" quilting design. Our kit includes the pattern and these fabulous Driftless fabrics for the 70" x 85" quilt top and binding for $102.99. You'll also find yardage for these and many more cotton/linen prints from Robert Kaufman at the quilt shop. We love the way they add a bit of earthy texture but still have a soft hand.

Another quilt full of glorious texture,
Marianne Michaels pieced this Bronte's Stars quilt using color-saturated wovens by Giucy Giuce for Andover Fabrics. We are absolutely in love with this collection and, oh, how they shine in this modern star pattern! Ramona Sorensen created a secondary pattern with detailed custom quilting. Our kits include the
Bronte's Stars
pattern by Emma Jean Jansen as well as
Entwine
fabrics as shown above for the 60" x 72" quilt top and binding for $102.99.
---
Upcoming Sales & Events
Although the mask mandate has been lifted here in Utah, we continue to recommend wearing face masks in our stores and classrooms.
Monday's at the Merc
Stop by the Quilter's Mercantile every Monday to take advantage of 20% off one regular price item of your choice! Located directly behind the quilt shop, The Merc has gifts and goodies for everyone on your list! Be sure to follow @cornwagonmercantile on Instagram!

Handwork Club
Every Tuesday 10:00 a.m. - Noon at our School House
This weekly club is for anyone who would like to work on a hand stitching project while learning new hand stitching skills. This is a great opportunity to finish our own projects and relax with a fun gathering of sewing friends.
Time Out at the Wagon
(Open Sew)
Every Wednesday, 10 a.m. - 4 p.m. in our School House
Put yourself in Time Out at the Wagon. We all need Time Out from housework, phone calls, and everyday responsibilities. Come to "Time Out at the Wagon" and do just that. Bring a project and sew the day away with friends here at the shop. Marsha is looking forward to being in Time Out and hopes lots of you will join her.
S.A.B.L.E. SALE
Saturday, May 15th, 10:00am - 3:00pm
Our springtime parking lot sale where quilter's from across the valley de-stash their S.A.B.L.E.S (Stash Accumulated Beyond Life Expectancy) to your benefit! Bring cash or Venmo and see what treasures you might find. Be sure to grab a bite to eat at the food trucks and see what Corn Wagon has on special while you're there!
Northern Lights Quilt Class
Wednesday, May 12, & Wednesday, May 19, 6:00 - 9:00 p.m.
Piecing with Half-Square Triangles can sometimes be a bit tricky. You will love how perfectly the corners meet when using EasyPiecing Grid. Come to this two-part class and make this stunning quilt with Heather from TenSisters Handicraft.



Thank you for supporting your local brick-and-mortar quilt shop!


We feel honored to be part of such a wonderful quilt-making community.



HAPPY QUILTING,
Jen and the Girls
at Corn Wagon Quilt Co.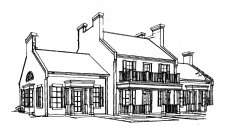 We would love to hear from you!
801-491-3551
https://cornwagonquilts.com/