Skip Navigation
Website Accessibility
NEW for MAY: A-maize-ing Artist Trunk Show, Pillow Cover and MORE!

The month of May is blooming with new inspiration! The Quilter's Mercantile has our next A-maize-ing Artist Trunk Show on display. This month we are delighted to feature our own Ramona Sorensen! We introduced her to you just a few short weeks ago with her Curated for Corn Wagon fabric bundle. You might recall that her
work has been published more than 50 times in several quilting magazines including Quilters' Newsletter, McCalls Quilting, Quilt Magazine, Fons & Porter. Quiltmaker, Quick & Easy Quilts and American Patchwork & Quilting.
We thought it would be fun to display a sampling of those designs along with a snap shop of the articles at the Merc!
Ramona enjoys spending time "doodling" on EQ (Electric Quilt Software) as well as with pen and ink. She has created file after file of original designs for quilt patterns and machine quilting designs. When Ramona submits designs to magazine editors for consideration, she drafts up a digital quilt with two or three color variations. When those designs are approved, she begins the search for just the right fabrics, often receiving sample yardage for exciting new collections before they are released.


When you see a new quilt pattern by Ramona in one of your favorite publications, the quilt photographed has not only been designed by our talented friend, but also pieced and machine quilted by Ramona, herself! Once she receives sample yardage, she pieces her work of art, then using a free-motion long arm machine, she adds custom quilting. Each quilt is her own from inception to completion! Then, into the mail it goes for a photo shoot and publication. Of course, these quilts come back to her personal collection, which as you can imagine is ever expanding, and thus we are privileged to showcase a few of her quilt masterpieces.



Next time you're at the Corn Wagon, we invite you to pop into the Quilter's Mercantile to check out this A-maize-ing Artist Trunk Show. Check back each month for fresh inspiration from local quilt artisans and friends of The Wagon!


Did you notice the beautiful baskets tucked into the trunk show? We are having so much fun carrying projects and more in these handmade baskets from Africa. They come in different sizes and shapes. Each one is unique with a variety of colors and patterns. These useful carryalls are brought to us through a Fair Trade program in Ghana, meaning your purchase effectively helps to support women working for a fair wage. Wouldn't they make a wonderful Mother's Day gift?
Speaking of Mother's Day...
the time to find the prefect gift is running out but we're here to help! Grab a gift card with a special bonus! Once again,
we're offering a coupon for a free yard of fabric when you buy a gift card valued $50 or more.
One per customer, available with in-store gift card purchase only. These cute little cards can be used toward ANY purchase at the quilt shop or mercantile! That's right, your gift can go toward fabric, fun notions, quilting service or even a class. Mom will LOVE being able to put your gift toward what she wants most; more quilting goodness!
S.A.B.L.E Sale! Saturday, May 15th!

It's your chance to find some serious sewing treasures! Stop by the Corn Wagon parking lot between 10:00am and 3:00pm and browse the goods. Each vendor will set their own prices and handle their own transactions so come prepared with cash or Venmo. We're rounding up some food trucks and setting up for a day of open-air shopping and mingling. Corn Wagon will have a large selection of clearance fabric on sale in our School House and of course the quilt shop and mercantile will be open as usual! So, help us spread the word! We're clearing out the S.A.B.L.E.s (Stash Accumulated Beyond Life Expectancy) and want all the good stuff to go to a loving quilter's home.
cornwagonquilts.com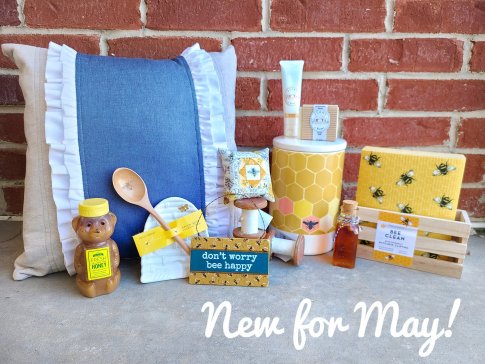 The Pillow of the Month for May is here!
This month Natalie Smith put together sophisticated solids and softened them with a delicate, white, double ruffle for the newest addition to her quilted pillow cover collection. These solids are from the Essex Linen and Peppered Cotton collections so they offer a hint of texture. Get creative with a little bit of machine quilting for added interest! Grab a kit for just $19.99 that includes the pattern by ella+charming as well as the fabrics as shown for the pillow front and back! Pillow insert and optional zipper not included. You can also buy a
PDF version
of this cute pattern on our website! Be sure to catch the pillow cover patterns from January, February, March & April so you can collect them all year long!
Plus, check out all the fun new bee-themed gifts at the Merc! Bees are everywhere right now and not just humming in your garden. It's a trend we're seeing across the market and it has us all abuzz! Shades of honey gold are a welcome addition to summer decor and the products that come from productive pollinators certainly have sweet benefits!
Before we go, we must share a new quilt!
Cymoni Whatcott pulled a mix of solids, both modern & classic, to make this popular design by Then Came June. The Campfire Glow quilt finishes 54" x 64" and is available as a kit in-store. Don't you just love the daisy chain custom quilting by Emily Herrick? Gosh, it's good!

---
Upcoming Sales & Events
Saturday Sampler Tomorrow
Beginning Saturday, May 8th, 10:00 a.m.
Once again we will allow a one-week window for you to bring your finished blocks into the shop to get your May kit free. For photos of finished blocks and links to the YouTube demos visit our website!
Monday's at the Merc
Stop by the Quilter's Mercantile every Monday to take advantage of 20% off one regular price item of your choice! Located directly behind the quilt shop, The Merc has gifts and goodies for everyone on your list! Be sure to follow @cornwagonmercantile on Instagram!

Handwork Club
Every Tuesday 10:00 a.m. - Noon at our School House
This weekly club is for anyone who would like to work on a hand stitching project while learning new hand stitching skills. This is a great opportunity to finish our own projects and relax with a fun gathering of sewing friends.
Time Out at the Wagon
(Open Sew)
Every Wednesday, 10 a.m. - 4 p.m. in our School House
Put yourself in Time Out at the Wagon. We all need Time Out from housework, phone calls, and everyday responsibilities. Come to "Time Out at the Wagon" and do just that. Bring a project and sew the day away with friends here at the shop. Marsha is looking forward to being in Time Out and hopes lots of you will join her.

Northern Lights
Wed, May 12 and Wed, May 19, 6:00 pm to 9:00 pm
It's not too late to join this exciting EasyPiecing Grid class! You'll love how perfectly the corners of all those half-square triangles meet when using the Grid. Create a flat, stable quilt top that looks great with or without borders! Come to this two-part class and make this stunning quilt with Heather from TenSisters Handicraft.



Thank you for supporting your local brick-and-mortar quilt shop!


We feel honored to be part of such a wonderful quilt-making community.



HAPPY QUILTING,
Jen and the Girls
at Corn Wagon Quilt Co.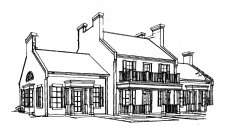 We would love to hear from you!
801-491-3551
https://cornwagonquilts.com/