Are you ready to score some seriously great quilting finds? 24 local quilters have been sorting through their S.A.B.L.E.S (Stash Accumulated Beyond Life Expectancy) to uncover the buried treasures they are ready to part with. Now's your chance to lay claim to fabulous fabrics, kits and patterns. Think of it as a quilter's flea market. Maybe you'll spot that fabric you've been searching for to finish a WIP. Could you be so lucky as to find a fat quarter bundle from your favorite designer that you have always felt sad you missed? Join us for a delightful day of open-air shopping in the Corn Wagon parking lot tomorrrow, Saturday, May 15 from 10:00am - 3:00pm!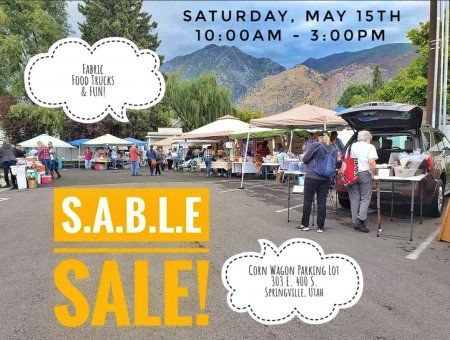 Each vendor will set their own prices and manage their own transactions so come prepared with cash or Venmo. We're making this a real party with LIVE MUSIC from the Thread Milk Band, a bluegrass vocal and mandolin duo! Renee's Cheesecake food truck will be on site so you can grab a yummy treat! Holly LeSue of Maker Valley will be one of the 24 friends parting with a portion of her glorious stash (and likely a few t-shirts to boot)! And, yes, even the Corn Wagon will have a great de-stash going on in the School House! So. Many. Bolts of fabric have been marked down to clear out! Fabrics in the classroom will be clearance priced at $4.99/yd with a one-yard minimum OR $3.99/YD if you finish the bolt! It's the best way to stock up on backings, replenish your stash or even collect yardage for charity quilts! The clearance continues into the Quilter's Mercantile where Shannon has been cleaning up shop to prepare for fun new things to arrive! Goodness, there are so many exclamation points in this paragraph because there are so many great reasons to stop by the S.A.B.L.E. Sale!

Metro Hoops Class
Saturday, May 22 -- 10:00am - 4:00pm
Do you find curves intimidating? This class is for you! Learn how to make curves the easy way with guidance from instructor, Cheryl Wallin. This fun, modern take on a traditional wedding ring quilt utilizes the Quick Curve Ruler by Sew Kind of Wonderful to get great results every time! Grab a Jelly Roll, some background fabric and an accent fabric for setting triangles and register today to build your quilting skill set with Quick Curve piecing!



cornwagonquilts.com

Calling all Jane Austen fans! If you have had the priviledge of traveling to visit the Jane Austen House in the charming village of Chawton, Hampshire, England, you were likely captivated by the coverlet hand pieced by Jane, her sister Cassandra and their mother. "It is a medallion quilt measuring 91" x 105" inches with a large central motif in chintz, cut as a diamond. This is surrounded by a central panel of 232 smaller diamonds interconnected by spotted sashing. The outer edge, 11 inches deep, is composed of tiny diamonds, each with edges of 30mm. There are over 2500 of these smaller diamonds in the border. All the patches are joined by very fine whip stitch – there are approximately 12 stitches per inch, which is quite remarkable given the lighting conditions of the period."



The fabric of Jane Austen's home life is available for the first time ever. Riley Blake Designs has reproduced these beautiful floral prints to make this extraordinary part of British history available to everyone. They've taken this opportunity one step further by publishing a pattern so you can create this masterpiece yourself and wrap yourself in a bit of this renowned author's history. You can discover more about this exciting collection at rileyblakedesigns.com



Karen Averett accepted the challenge to piece the Jane Austen Coverlet and the results are absolutely stunning. It's currently on display at the quilt shop and we have kits as well as the pattern book and reproduction fabrics available in-store! There's a secret to making this coverlet -- that outer border with 2500 tiny diamonds -- it's a convenience cloth included in the kit!



Now, if you're not up for all that piecing but you'd love to have the Jane Austen coverlet look in your home, this quilt was designed and pieced by Natalie Smith using a digitally printed panel of the center of the Jane Austen Coverlet! All you need do is add the framing borders to the panel and applique the large floral pieces! We're calling it Jane Austen's Persuasion Quilt and we have a limited number of kits for this 64" x 72" beauty too!
---
Upcoming Sales & Events

Monday's at the Merc
Stop by the Quilter's Mercantile every Monday to take advantage of 20% off one regular price item of your choice! Located directly behind the quilt shop, The Merc has gifts and goodies for everyone on your list! Be sure to follow @cornwagonmercantile on Instagram!

Handwork Club
Every Tuesday 10:00 a.m. - Noon at our School House
This weekly club is for anyone who would like to work on a hand stitching project while learning new hand stitching skills. This is a great opportunity to finish our own projects and relax with a fun gathering of sewing friends.

Time Out at the Wagon (Open Sew)
Every Wednesday, 10 a.m. - 4 p.m. in our School House
Put yourself in Time Out at the Wagon. We all need Time Out from housework, phone calls, and everyday responsibilities. Come to "Time Out at the Wagon" and do just that. Bring a project and sew the day away with friends here at the shop. Marsha is looking forward to being in Time Out and hopes lots of you will join her.

Stuff-a-Bag Sale
Saturday, May 29th, 10:00am - 5:00pm
Bring in your reusable, cotton Corn Wagon Quilt Co. bag and receive 20% off any regular priced items you can "stuff" inside. Don't have a bag yet? Purchase one for $5 and reuse it every 5th Saturday for the Stuff-a-Bag Sale!

Pretty Pineapples Quilt Class
Thu, Jun 3, 2021 & Fri, Jun 4, 2021 -- 11:00 am to 2:00 pm
OR Wed, Jun 23, & Thu, Jun 24, 2021 -- 6:00 pm to 9:00 pm
Some quilts just make you think of summer! Come learn the EasyPiecing Grid technique while making the Pretty Pineapple quilt with Heather Dunn. Change up your fabrics and you have a whole new look -- why not patriotic pineapples?!



Thank you for supporting your local brick-and-mortar quilt shop!
We feel honored to be part of such a wonderful quilt-making community.

HAPPY QUILTING,
Jen and the Girls
at Corn Wagon Quilt Co.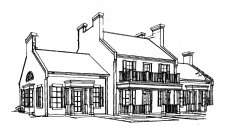 We would love to hear from you!
801-491-3551
https://cornwagonquilts.com/