Time to introduce you to another Corn Wagon Gal and her Curated by Corn Wagon fat quarter bundle! Take it away Lexi... ;-)


Well hello there! I didn't see you there! Lexi here! I'm here to tell you about my very good friend, Jen.
Jen was born and raised in Springville, Utah. Being a self proclaimed color enthusiast, prompted Jen to enter into the design world. Shortly after high school she graduated from SUU with an Interior Design/Family Consumer Science degree. Funnily enough she actually met her sweetheart Jake in a seventh grade art class. Jake and Jen were high school sweethearts and are still making art projects together today, along with their two kids, Mikey and Sims. And don't forget Nanuk! Basically the coolest dog on the planet. We're besties. (I forced Jen to include a pic of her and Nuk... Isn't she literally the cutest? The dog aaaaaand Jen).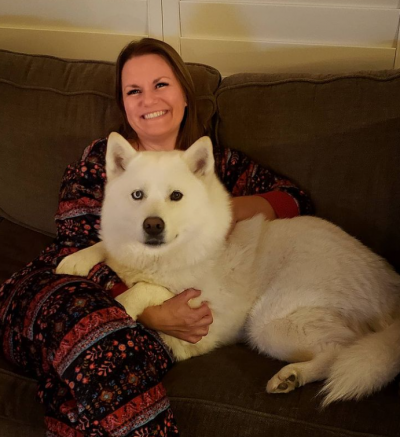 Jen has quilting running through her veins. She distinctly remembers helping her grandmother, mother, and aunts hand quilt wedding quilts. One thing that she loved about that experience was noticing how everyone had a different stitch, but they all were needed and appreciated in the long run. Although at the time Jen was a beginning quilter, her stitches were never taken out. Her paternal grandmother, Grandma Beverly, taught Jen to embroider from a young age, but the quilting bug hadn't yet bit Jen. After Jen's interior design days, she still had the desire to make and create things, but no longer had an army of professional seamstresses' to help, so she figured many projects out on her own. Due to that, and the exposure that fabric designer Kaffe Fassett offered, Jen was hooked. (I mean, have you seen the man's stripes?)
One thing that I've found interesting about Jen, is that she rarely, if ever, keeps quilts. I asked her about this and she said she has about ten quilts in rotation at her house. (I have about ten quilts in rotation in my room haha!) Knowing Jen, she likes to give away many quilts. Most of the time when she is making samples for the shop, she has a distinct someone in mind throughout the whole process, which in my opinion makes the quilt that much more special. Some quilts that made the cut for Jen's house, were Moda's Modern Building Blocks quilt from a few years back, a Kaffe pickle dish quilt she made with her mom, and her son's baby quilt that her mom hand quilted. (psst… and the Halloween quilt down a couple scrolls…)
I asked Jen what one of her favorite experiences at the Corn Wagon was, and she said the first day that I started working! … Jokes, jokes, jokes. One thing she loves is how people-oriented the Corn Wagon is. She loves the fun atmosphere and the inspiring creativity that comes through the door on a daily basis. During her time at the Corn Wagon, she's had some amazing mentors that helped her learn many things about life and quilting, MaryAnn, Marsha, and Marianne, have been a great inspiration.
Another thing I asked Jen was "what makes your heart pitter patter? (Non fabric wise…)" Some things she listed, were the outdoors, specifically gardening, earthing (a voodoo thing that I actually think is legit, go google it), mountains, the beach, and all that go along with that with the exception of long hikes. She also loves good food but doesn't like to cook it and she's a die hard chocolate and MIO lover. In fact since working here I have developed an addiction to MIO. So, thanks Jen. And I can't forget Jen's love for sushi! Jen and I work together on Thursdays, and Smiths' sushi is a must (don't knock it till ya try it). Jen also appreciates the finer things in life, like really expensive sushi. Its a good balance.
Jen is the reason that the Corn Wagon functions like a well oiled machine. She is in charge of fabric ordering, the website and newsletter, all social media, shop displays and decor and more that I probably can't think of right now. All I know is that the Corn Wagon, and the people within it, are better in many ways because of Jen and her influence. Thanks for a good 13 off and on years, Jen.
Love, your wanna be shadow,
Lex
Still Lexi here...
Thought you got rid of me, I know.
I am in love with Jen's bundle! I love how the majority of the prints are from Jill Howarth's collection with Riley Blake entitled, Tiny Treaters. Honestly, I'm not a natural Halloween lover, but this bundle is definelty tipping the scales in Halloweens favor. In other words, I already bought a bundle...shhh... In addition to the Tiny Treaters fabric, we have some Manchester wovens, a nice batik thrown in, and some Robert Kaufman and Kaffe basics. (Of course Jen had to add Kaffe, right?) If you'd like to snag this bundle for yourself, head to the shop today, or place an order over the phone 801-491-3551. This bundle rings up at $41.25 and would be a great addition to any quilters collection.
A few years ago, Jen put together her favorite Halloween quilt to date using
Spooktacular
fabrics by Maude Asbury. She fussy-cut the quirky characters and framed them following the Tango pattern by Cluck Cluck Sew. We thought it a treat to discover Maude Asbury has reprinted their best-selling Spooktacular prints so we scooped them up faster than trick-or-treaters with a bowl full of candy and put together kits! You'll find some substitutes since the quilt was made a few seasons ago but you'll get the same modern, scrappy look and color scheme. Pick one up before they sneak out the door!
You'll find plenty more Halloween fabric in store including...
cornwagonquilts.com

Introducing the Pillow of the Month for August! From Natalie Smith of Ella+Charming comes another great collectible design. This pillow of the month features a lovely Dresden design put together with some stinking adorable fabric. I'm particularly partial to the magenta petals...
One reason I love Ella + Charmings pillows, is because the all end up THE SAME SIZE. Ya know what that means? One 18" pillow form, 12 different pillows. Ingenious. (Pillow form not included in kit). If you're interested in this months pillow kit, look no further! Totalling at $24.99, you can stop into the shop in person, or give us a call at 801-491-3551 and snag one over the phone. Either way, we're thrilled to see y'all whip these pillows out.

---
Upcoming Sales & Events



Monday at the Merc!
Take advantage of 20% off one regular price item of your choice every Monday at the Quilter's Mercantile! Located directly behind the quilt shop, the Merc has gifts for everyone on your list and goodies from Ginger & Rye Bakery! Promotion excludes baked goods and other locally made goods.

Handwork Club
Every Tuesday, 10:00am - Noon
This delightful weekly club is for anyone who would like to work on a hand stitching project while learning new hand stitching skills. It's a great chance to finish our own projects and relax with a fun gathering of sewing friends. No fee to attend. Simply come and join us!

Wrong Price Wednesday is Back!
Every Wednesday our pre-cut fat quarters are only $3.00!

Regular Price $3.75.



Time Out at the Wagon (Open Sew)
Every Wednesday, 10:00am to 4:00pm
Put yourself in Time Out at the Wagon in our School House located directly behind the quilt shop! At times we all need time out from housework, phone calls, and everyday responsibilities. Bring your current sewing project to "Time Out at the Wagon" and do just that. Marsha is looking forward to being in Time Out and hopes lots of you will join her.

Thank you for supporting your local brick-and-mortar quilt shop!


We feel honored to be part of such a wonderful quilt-making community.



We hope you'll visit us again soon,
Jen and Lexi and the Girls
at Corn Wagon Quilt Co.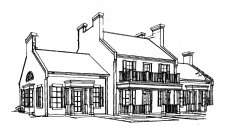 We would love to hear from you!
801-491-3551
cornwagonquilts.com