Skip Navigation
Website Accessibility
You're Invited! Open House -- September 9th-11th -- Meet the Instructors & See the Projects!

They say quilters are generous souls by nature.
Well, we've been flooded with evidence in support of the gift-giving nature of makers this week. When Jen Van Orman of Heritage Threads asked if Corn Wagon could be a drop off location for quilts going to 1300 Afghan Refugees on their way to Utah, we jumped at the chance. And you, my friends, did not disappoint! In fact we are in awe of the beautiful donations you have carried by the armload through our doors and sent by the box full through the mail. For the past two weeks, more have been delivered each day. We've shed tears together as we've discussed the need and experienced the joy of giving handmade hope. Thank you to all who have donated!



In our first week of collecting, Jen loaded her car with over 50 donated quilts. As we near the end of our 2nd week, you have brought twice that number! Considering donations are also being collected at Sewtopia in Salt Lake City and by Jen herself, we're thrilled to see the very real difference we can make when we rally our talents and share the love. BUT... we're not done yet! With 1300 refugees to help, donations are still needed. Jen has been working with the two organizations responsible for relocating the refugees, Catholic Community Services of Utah (@CCSUT) and The International Rescue Committee of Salt Lake City (@IRCSaltLakeCity), to ensure your donations go to the intended recipients in need. We are accepting finished quilts of any size, new or gently used. If used, please clean and remove any pet hair for the sake of those who may have allergies. There is no deadline for these donations but the sooner the better! Local Utah County quilters may simply drop donations off at the Corn Wagon Quilt Co., Salt Lake quilters, you may take your donations to our friends at Sewtopia. Quilts from far and wide may be mailed to us at 303 East 400 South, Springville, Utah 84663. Let's see if we can double our donations again next week!


Please note:
We will be CLOSED for Labor Day, Monday, September 6th.
cornwagonquilts.com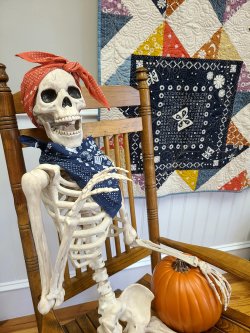 F
all Open House - September 9th-1
1th
Welcoming you with a full schedule of upcoming classes and events, Bone-ita invites you to visit the shop next week during our Open House! Thursday evening, 5:00-8:00pm, visit our Schoolhouse where you'll meet the instructors and see the project samples featured in this season's courses. We'll have refreshments and the Quilter's Mercantile will stay open late with some Open House Specials! Friday and Saturday, you'll find the class samples on display at the quilt shop! Pick up a class list, see what's new in-store and enjoy Open House discounts through Saturday, September 11th!
Wondering about the Bandana Quilt behind Bone-ita? Alexia Marcelle Abegg of Ruby Star Society designed this modern quilt to feature her bandana fabric panel and oh, how we love the look! It's simple to piece with style that spans the seasons. We have patterns and panels available or, you guessed it, kits so you can make yours just like the one Jen Tanner made for our shop for $72.99! Doesn't Bone-ita look festive in her Bandanas for fall? She's had a few wardrobe changes this week. Yesterday, Lexi loaned her a cardigan because, well, with the weather cooling, she was looking a bit chilly. What will she be wearing next?
It's Game Day! Choose your favorite University, whether it be for a new college student or your alma mater, you can show your school spirit with a quilt! It's a great gift for someone you love -- or for yourself. It is so simple to make with TenSisters EasyPiecing Grid! Make one of these four quilts in three different sizes (each quilt size may vary slightly). Just choose your grid and Heather Dunn will teach you everything you need to know to create your own Game Day Quilt in our two-part class! Register now and attend Mon, Sep 13,
and Mon, Sep 20, 6:00 pm to 9:00 pm at our Schoolhouse.


For information on more classes, clubs, block-of-the-months, sales events and holiday closures be sure to visit our
calendar
often via our website! We are so happy to be gathering in our classroom once again. All of our classes are currently offered in-person only. Face coverings are optional for customers in our stores and classrooms.
---
Upcoming Sales & Events



Corn Wagon Quilt Co. will be CLOSED for Labor Day, Monday, September 6th.

Handwork Club
Every Tuesday, 10:00am - Noon
This delightful weekly club is for anyone who would like to work on a hand stitching project while learning new hand stitching skills. It's a great chance to finish our own projects and relax with a fun gathering of sewing friends. No fee to attend. Simply come and join us!

Wrong Price Wednesday is Back!
Every Wednesday our pre-cut fat quarters are only $3.00!

Regular Price $3.75.



Time Out at the Wagon (Open Sew)
Every Wednesday, 10:00am to 4:00pm
Put yourself in Time Out at the Wagon in our School House located directly behind the quilt shop! At times we all need time out from housework, phone calls, and everyday responsibilities. Bring your current sewing project to "Time Out at the Wagon" and do just that. Marsha is looking forward to being in Time Out and hopes lots of you will join her.

Saturday Sampler
Next Saturday, September 11th, you may begin picking up your final kit. It's time for the big reveal!

We can't wait to show you the finished quilt!

Once again, we will allow a one-week window for you to bring in last month's assignment to receive this month's kit free. You have one week left to finish up those blocks! You can do it! Finishing kits will also be available beginning next Saturday and we will have details for our next Saturday Sampler to share!

Thank you for supporting your local brick-and-mortar quilt shop!
We feel honored to be part of such a wonderful quilt-making community.

We hope you'll visit us again soon,
Jen and the Girls
at Corn Wagon Quilt Co.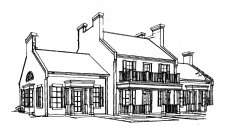 We would love to hear from you!
801-491-3551
cornwagonquilts.com