Skip Navigation
Website Accessibility
Quilter's Dreams are Made of Weekends Like These! Quilt Shows, Sewing Events & More!

There are so many things going on
in our local (did you say loco or local? Either way...) quilting scene! If you happen to be near Utah County this weekend and you have a thing for quilts (and it's safe to assume, since you're reading this, that you do) you'll find plenty to keep you busy in the coming days. Let's not waste any time. There's SEW much to do!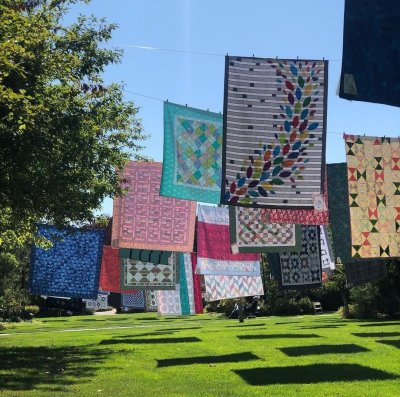 The Garden of Quilts
is going on now at Thanksgiving Point's Ashton Gardens in Lehi, Utah. It's an event unlike any other! Today and tomorrow, stroll through the 50-acre Ashton Gardens where hundreds of quilts will be on display among the foliage. Along with this stunning outdoor exhibit, the festival includes classes, vendors, trunk shows and demonstrations. Purchase tickets, view schedules and plan your visit at
thanksgivingpoint.org
and spend a day in the garden where quilts will be in full bloom September 17th and 18th.
Photo credit: Ashton Gardens, Thanksgiving Point
The 47th Annual Utah Quilt Show
is in it's final weekend at the Springville Museum of Art. Located just two blocks from the quilt shop, this exhibition showcases over 100 quilts selected by jury to be honored in this Utah tradition. You will walk in awe through this historic gallery featuring Utah quilt artisans. As a sponsor of the quilt show, Corn Wagon Quilt Co. had the honor of awarding a special ribbon. See if you can spot it! Museum entry is free of charge. Donations welcome. Visit
smoa.org
for museum hours and show details. You don't want to miss it!
While you're making the quilt show rounds, we hope you'll pop into the Corn Wagon for a visit! Stop by the Quilter's Merc and check out our
A-maize-ing Artist for September!
Remember a week or two ago when I introduced you to Shelly Taylor, bag-maker extraordinaire? Well, she is also a very talented quilt-maker and we are delighted to have a few of her favorite pieces on display at the Merc through the end of the month. Come in, grab a Ginger & Rye cookie and take a peek at Shelley's beautiful work. Then, stay tuned for more bag class dates to be announced in the near future, where you can meet Shelley and learn from the best!
National Sew a Jelly Roll Day
is this Saturday, September 18th! If you're in the mood to gather with some friends and sew this weekend, join us at the retreat center for
PROJECT: Jelly Roll
. We all have a Jelly Roll or two stacked neatly on the sewing room shelf just waiting to become something wonderful. Saturday is the day! We have a few seats left so
claim yours today
. We'll have exclusive free Jelly Roll patterns from Moda, project ideas, Jelly Roll treats and a chance to win a free Jelly Roll!
And what about next weekend?
The quilter's events continue with our
S.A.B.L.E. SALE!
That's right! It's time to gather once again and help our fellow quilter's de-stash! Saturday, September 25th, 9:00 a.m. - 3:00 p.m. more than 20 local quilters will set up shop in our parking lot. Each will set their own prices and handle their own transactions so come prepared with cash or Venmo and see what treasures you may find. Enjoy a day of open-air shopping and stay for lunch at the food trucks. J. Dawgs and Renee's Cheesecakes will both be on site! As usual, Corn Wagon will fill the Schoolhouse with clearance fabric! Entry to this event is free so swing on by and say hello. I guarantee you won't leave empty handed!
cornwagonquilts.com
My Happy Place Sew Along

Lori Holt has done it again and designed an absolutely darling quilt using her Stitch fabric and My Happy Place Sew Simple Shapes. Sign up now to reserve your kit and your seat in the SEW ALONG. Work on your quilt at the Schoolhouse every other Monday beginning September 27th from 10-1pm with Karen Averett. Enjoy sewing with friends while learning tips, tricks and good advice as you piece and applique this 76" x 88" quilt top.


$20 non-refundable reservation fee will hold a kit in your name and seat in the club. Kit must be purchased separately before the first class and includes fabric for quilt top, ric rac and My Happy Place Sew Simple Shapes templates for $289.99. Interfacing and sewing supplies sold separately. Kits will be available on or before the first date of class, depending on fabric shipping dates.
The "My Happy Place" pattern is a free download now available on Lori Holt's blog: https://beeinmybonnetco.blogspot.com/
---
Upcoming Sales & Events



Monday at the Merc!
Take advantage of 20% off one regular price item of your choice every Monday at the Quilter's Mercantile! Located directly behind the quilt shop, the Merc has gifts for everyone on your list and goodies from Ginger & Rye Bakery! Promotion excludes baked goods and other locally made goods.

Handwork Club
Every Tuesday, 10:00am - Noon
This delightful weekly club is for anyone who would like to work on a hand stitching project while learning new hand stitching skills. It's a great chance to finish our own projects and relax with a fun gathering of sewing friends. No fee to attend. Simply come and join us!

Wrong Price Wednesday is Back!
Every Wednesday our pre-cut fat quarters are only $3.00!

Regular Price $3.75.



Time Out at the Wagon (Open Sew)
Every Wednesday, 10:00am to 4:00pm
Put yourself in Time Out at the Wagon in our School House located directly behind the quilt shop! At times we all need time out from housework, phone calls, and everyday responsibilities. Bring your current sewing project to "Time Out at the Wagon" and do just that. Marsha is looking forward to being in Time Out and hopes lots of you will join her.

Thank you for supporting your local brick-and-mortar quilt shop!


We feel honored to be part of such a wonderful quilt-making community.



We hope you'll visit us again soon,
Jen and the Girls
at Corn Wagon Quilt Co.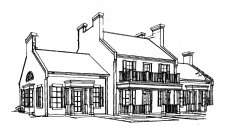 We would love to hear from you!
801-491-3551
cornwagonquilts.com