Skip Navigation
Website Accessibility
Come Sew a Pillow for Breast Cancer Warriors Today & Tomorrow!

We all know a Breast Cancer Warrior.
They form an army of some of the bravest women we know and we often wonder what we can do to support them in their battle. We've set a goal to make and donate 100 heart-shaped pillows

for local hospitals to, quite literally, support breast cancer patients and we need your help!

Today and tomorrow, October 8th & 9th, we're dedicating our Schoolhouse to our pillow making project!



The heart shape is ideal for placement under the arm for comfort and support post-procedure. Stop in our Schoolhouse this weekend where we'll provide a pattern, fabric (while supplies last), stuffing, thread and needles for pillow-making and pink treats. We will also have a great selection of PINK quilter's cotton fabrics available those days at 20% off for customers making pillows so you can make even more!

You can make three pillows from 1/2 yard of fabric so it only takes a little to make a big difference in someone's breast cancer care.

It's also a great time to choose some pink fabrics to make a lap quilt to wrap a patient in love during treatment and recovery! Bring the girls, load up the sewing machines and let's see how many pillows we can make at the Corn Wagon! No registration needed, just come and sew during our regular business hours -- open house style -- October 8th and 9th! Let's put our love for sewing together with our love for our friends who are fighting and make a difference together!



We will be accepting pillow donations through the end of October so if you can't come sew with us this weekend, we encourage you to sew some at home using one of many free patterns available online. We'll be using this free pattern from Shannon Fabrics to create a simple 100% cotton pillow (the pillow insert made using Shannon's guide) whose heart shape and size is just right for it's intended use. You'll even find a great tutorial using the link above. Many thanks to those who have already made a donation! And don't forget to schedule your mammogram!



cornwagonquilts.com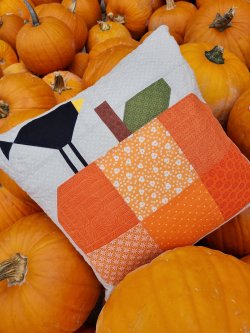 October Pillow
of the Month is Here!
A happy little blackbird is perched atop a plump patchwork pumpkin to announce that fall has finally arrived and so has the newest addition to the ella+charming Pillow Cover Collection. We have a limited number of kits for this cute 18" x 18" pillow project now available in store for $24.99. Or you can purchase the PDF pattern now on our website for $4.99 and pull together your own scrap-happy version of what's sure to become a favorite addition to your autumn decor. In fact, you can collect all of the ella+charming 18" x 18" pillow cover patterns and switch them up monthly!
Heirloom-style embroidery is back in a big way and we are delighted to offer an entirely new project experience to help you increase your stitching repertoire! Amy McClellan of Under the Garden Moon has designed a delightful Stitch Sampler Book and we are thrilled to have her offer a monthly class here at our Schoolhouse!





In this class, you will learn over 100 hand embroidery stitches. You will work the stitches on pre-printed pages that show you exactly where to stitch, so your stitches will look professional and perfect -- even if you're a beginner! Your $15 monthly kit fee includes all the unique pages, designed by Amy, as well as the various threads, beads, and any other supplies needed to complete this heirloom. After the 20 pages are stitched, you will learn how to sew them together into a beautiful reference book that you and your family will love.

To see all that this little Stitch Sampler has to offer, be sure to check out this short video by Amy!



During this year-long class, you will stitch and complete your own Stitch Sampler Book. A $90 instructor's fee covers 12 monthly in-person classes, which include 3 hours of hands-on instruction each month, totaling 36 hours of in-person instruction with a nationally recognized pattern designer and teacher in our Schoolhouse. You'll also benefit from access to online tutorials by Amy so you can revisit techniques
as you practice your newfound stitching skills.

Registration is now open! Twelve classes will be held the 2nd Tuesday of each month beginning December 14, 2021, 1:00-4:00pm. We anticipate this class filling quickly so don't wait to sign up! We think it would make a great early Christmas gift since it begins in December.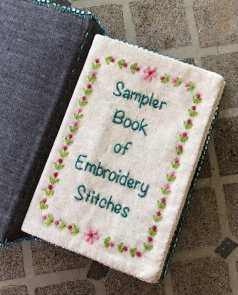 If you haven't met Amy McClellan, here's a little introduction from Amy herself:


I began sewing at the age of 8 and have always loved to create my own projects. My Mom and Dad taught me to use my hands. Throughout my childhood, my parents let me explore all areas of creativity. I learned how to sew, embroider, crochet, knit, macrame', tool leather, tie flies for fishing, draw, use a potters wheel, made jewelry, did beading painting, and even did some woodworking. They pretty much encouraged me to try everything. Some things I did well, a lot of other things, not so well, but thank you to my parents for letting me try it! It always seemed that whatever I tried or did, I always came back to fabric! I have always loved the thrill of figuring out how to do something easier or faster or different to make it fit my own needs and personality. I LOVE to applique' as well as piece. Playing with color and touching the fabrics has always been fun for me and I feel a great sense of satisfaction creating quilts and items from my favorite medium. There is just something about fabric that makes me happy! In 2006 I started my pattern company called Under the Garden Moon. I love to share what I create, and hope someone learns something whenever they make one of my patterns. I have grown over the years and feel like I learned to not be afraid to try something new or scary. A new division of my pattern line is ThreaDoodlydoos. These patterns incorporate hand embroidery, mixing of textiles and fun embellishing. I have 8 children (haha – 4 of them married my kids), 16 grandchildren and I have been married to my cute and supportive hubby for 38 years.
-Amy McClellan, Under the Garden Moon


I promised many of you
that I would let you know the moment our best-selling
Sparrows Quilt Kit
was back in stock... They're now available! You can purchase yours
here
on our website while supplies last! We want to thank you for your overwhelming response to this darling quilt coordinated and pieced by Averi Smith. It's our most "liked" quilt on Instagram by a long way! Our kit includes the popular
Sparrows
pattern by Pen+Paper Patterns as well as a gorgeous selection of Art Gallery Fabrics for the sparrows and a lovely neutral Nikko Topstitch woven by Diamond Textiles for the background for $121.99. Ask us about edge-to-edge machine quilting by Doreen Johnson for a finish just like our shop sample!
---
Upcoming Sales & Events



Monday at the Merc!
Take advantage of 20% off one regular price item of your choice every Monday at the Quilter's Mercantile! Located directly behind the quilt shop, the Merc has gifts for everyone on your list and goodies from Ginger & Rye Bakery! Promotion excludes baked goods and other locally made goods.

Handwork Club
Every Tuesday, 10:00am - Noon
This delightful weekly club is for anyone who would like to work on a hand stitching project while learning new hand stitching skills. It's a great chance to finish our own projects and relax with a fun gathering of sewing friends. No fee to attend. Simply come and join us!

Wrong Price Wednesday is Back!
Every Wednesday our pre-cut fat quarters are only $3.00!

Regular Price $3.75.



Time Out at the Wagon (Open Sew)
Every Wednesday, 10:00am to 4:00pm
Put yourself in Time Out at the Wagon in our School House located directly behind the quilt shop! At times we all need time out from housework, phone calls, and everyday responsibilities. Bring your current sewing project to "Time Out at the Wagon" and do just that. Marsha is looking forward to being in Time Out and hopes lots of you will join her.

Lonestar Primer Class
Saturday, October 16, 10:00am - 3:00pm
This primer class is a perfect way to find out just what's involved in a classic Lonestar project.

You'll make a small-scale wall quilt using Tami Johnson's easy tips and tricks to achieve matching points and a flat block.

Build skill and confidence in preparation for your next Lonestar masterpiece!



Tools of the Trade Bag Class
Monday, October 18, 10:00am - 6:00pm
Shelley Taylor will teach you how to complete this pretty bag that will keep you organized for your next quilt retreat! This sleek & sturdy carrier has room to store, protect, and carry EVERYTHING you need for a day of sewing. Practice lots of bag making skills while completing a highly functional (and really good-looking) organizer!



Thank you for supporting your local brick-and-mortar quilt shop!


We feel honored to be part of such a wonderful quilt-making community.



We hope you'll visit us again soon,
Jen and the Girls
at Corn Wagon Quilt Co.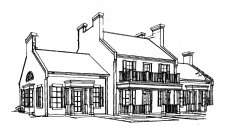 We would love to hear from you!
801-491-3551
cornwagonquilts.com