Skip Navigation
Website Accessibility
A Season of Change: New fall quilts, wool applique and upcoming classes!

It's a season of change
and nowhere is that more apparent than in my sewing room. Yes, the leaves are a glorious swath of warm colors while the hills are draped in cool clouds and the peaks capped with fresh snow. Outside, porches are filled with pumpkins and inside, homes are preparing for the haunting of Halloween. But in my sewing room the seasonal shift is thick with new inspiration and motivation. On the table over there, a pile of pink scraps are evidence Breast Cancer Awareness Month is in full swing (Have you scheduled your mammogram yet?). Next to the sewing machine you'll notice the final pieces to the block of the month I'm determined to finish on schedule. Oh, and there's the Halloween garland I started last year... Yes, I'll be able to hang it up this weekend! In the to-do pile, over on the right, yes, there are two Mammoth Flannel quilts to finish for Christmas gifts. And what's that on the design wall? A lovely autumn colored masterpiece-in-the-making. Since the weather has turned cold, my machine has hardly had a break and I am loving every minute of cozy quilting time. Turn the music up, pour your favorite drink and let's get this sewing season started!



"The moon has awoken with the sleep of the sun. The light has been broken, the spell has begun..." This quilt has us under it's spell. Be Witched is a spirited Halloween quilt pattern by The Pattern Basket. Sara Anderson chose a mix of fall fabrics including favorites from Pumpkins and Blossoms by Fig Tree & Co. to piece nine of the most fashionable witches hats all bordered in a classic black and white polka dot. Custom machine quilting by Ramona Sorensen is spellbinding. As you may have guessed, we have a few kits in-store that include the fat-quarter-friendly Be Witched pattern and fabrics for the 61" x61" quilt top and binding for $112.99.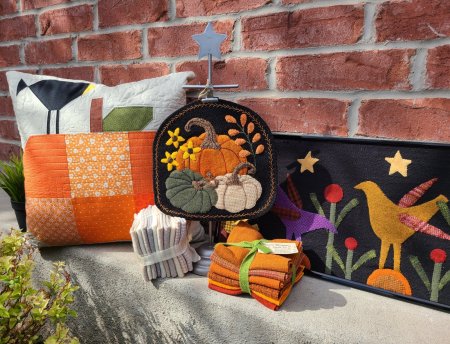 One of my favorite things about autumn is sweater weather! Time to breakout my favorite woolly hats and sweaters. It feels natural to sew with wool this time of year and oh, golly, do we have some wonderful new wool projects in store! Hand-dyed wool is our specialty and each wool kit you find here at the Corn Wagon combines wool pieces dyed and selected by our wool specialists. Our wool offerings are refreshed often so you're sure to find something new! We offer wool pieces by the ounce, by the bundle, by the yard and of course in a wide variety of kits! Shown center above, Harvest Time by Jerome Thomas Designs will look lovely on display through out the harvest season. Kits include the pattern, background and wool pieces for applique for $34.99.



Taking a closer look at the framed folk art piece to the right, Under the Stars features birds and flowers in a primitive style designed by A Piece of Work. Finishing at 10.5" x 26.5," it's ideal for framing or to sew into a pillow. It's a design that would be easy to adjust the size of by simply changing the number of birds or flowers. Kits are $34.99 and include the pattern, background and wool pieces for applique.



This wool masterpiece was made by our friend Karin Crawford who has graciously allowed us to put it on display. Karin followed along with Sue Spargo during her 2020 stitch-along to make the Squash Squad wall quilt. You really need to see it in person to appreciate the beautiful embellishment hand-stitched by Karin. Patterns are available in-store along with plenty of wool and a wide variety of threads so you can build your own palette and join the Squash Squad.

If you're seeing all these wool projects and saying to yourself, "Gosh, I really need to learn how to do this!" That chance is coming right up! Marianne Michaels will be demonstrating how fun and easy wool applique is. She has lots of tips that she is excited to share with you. Sit in on this FREE, one-hour demo to learn all the basics and ask questions with our wool expert. Once you see just how easy wool applique is to do, you will be excited to start your own project! No registration or supplies necessary. Simply join us in the Schoolhouse, October 26, 1:00-2:00.

cornwagonquilts.com
Little Poppins Bag Class
Thurs, Oct 28th, 10am-5pm
Our most popular bag class is back for fall! The Little Poppins Bag is SEW CUTE! Bet you have never made a bag like this - EVER! Structural stays, included in the pattern, plus Soft and Stable help keep its shape. Pockets inside store supplies for a sewing day with friends or use it as a fun purse for everyday use. Come learn some bag-making techniques you have likely never tried before from experienced "bagineer," Shelley Taylor. Register today online for October 28th!
More EasyPiecing Grid Classes have been added to our schedule! Four more to be exact! Some will help you prep for the Holidays, some are just for fun, all are beginner friendly! You're going to love the way the grid by TenSisters Handicraft brings your quilt top together. Four different grid sizes make it easy to make these classic quilt designs like the one shown below, in a variety of sizes.



Heather Dunn is bringing back her uber popular Jelly Roll Magic Class! This EasyPiecing quilt takes two Jelly Rolls (2.5" precut strips) a bit of background and some 2" finished grid and the result is pure magic. For a smaller version, use two Honey Buns (1.5" precut strips) and some 1" finished grid and the result is an impressive postage stamp quilt that's just as easy to piece as the larger version. We have kits available in two different color options for the 78" x 78" quilt shown above. This beauty was made by Heather using the Roselyn collection by Minick & Simpson. Our other kit features a pink and green pastel palette using the Sophie collection by Brenda Riddle. Both kits include everything you need to piece the top and binding -- even the grid is in there for you! Register today online for the two-part Jelly Roll Magic Class coming up Monday, November 1st and 8th, 6:00-9:00 p.m.



If fall has officially arrived and your sewing room is suddenly in full swing like mine, I'll bet there's some secret Santa sewing afoot. If you anticipate some Holiday crunch time quilting, we have a great opportunity for you to
step outside your sewing room and really get some sewing done! Let's Sew-It-All Weekend together at our retreat center! Think of this two-day, Sew-It-All event as a Santa's Workshop where you can bring all your last minute Christmas sewing and, well, SEW-IT-ALL Friday and Saturday, November 19th and 20th. Your registration fee includes lunch both days so you can sew non-stop at our retreat center. You will also receive a Sew-It-All pass good for discounts at the shop during the event! Bring any sewing project that needs finishing and Jen & Lexi will be there to lend advice and help you trouble shoot. With two whole days dedicated to finishing projects you really can be a Sew-It-All, even during the holidays! For full details and to register, click here.
---
Upcoming Sales & Events



Monday at the Merc!
Take advantage of 20% off one regular price item of your choice every Monday at the Quilter's Mercantile! Located directly behind the quilt shop, the Merc has gifts for everyone on your list and goodies from Ginger & Rye Bakery! Promotion excludes baked goods and other locally made goods.

Handwork Club
Every Tuesday, 10:00am - Noon
This delightful weekly club is for anyone who would like to work on a hand stitching project while learning new hand stitching skills. It's a great chance to finish our own projects and relax with a fun gathering of sewing friends. No fee to attend. Simply come and join us!

Wrong Price Wednesday is Back!
Every Wednesday our pre-cut fat quarters are only $3.00!

Regular Price $3.75.



Time Out at the Wagon (Open Sew)
Every Wednesday, 10:00am to 4:00pm
Put yourself in Time Out at the Wagon in our School House located directly behind the quilt shop! At times we all need time out from housework, phone calls, and everyday responsibilities. Bring your current sewing project to "Time Out at the Wagon" and do just that. Marsha is looking forward to being in Time Out and hopes lots of you will join her.

Thank you for supporting your local brick-and-mortar quilt shop!


We feel honored to be part of such a wonderful quilt-making community.



We hope you'll visit us again soon,
Jen and the Girls
at Corn Wagon Quilt Co.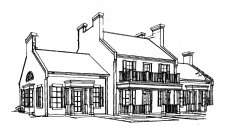 We would love to hear from you!
801-491-3551
cornwagonquilts.com