Skip Navigation
Website Accessibility
Save the Date! Celebrate Corn Wagon's 22nd at our upcoming PJ Party!

There's a party in the making...
and you're invited! We're closing in on another trip around the sun. That makes 22! Can you believe it? I wonder how many quilts have come in and out of The Wagon over 22 years. Hundreds? I dare say thousands. And how many new friends have we made since our doors opened in 1999? Goodness, we're fortunate to be a part of this quilting community. We have so much to celebrate! We hope you can join us for our annual Pajama Party at the Corn Wagon! Mark your calendars for Saturday, November 6th. We'll open early at 9:00am that day (that's where the P.J.s come in) and offer special Birthday discounts at the Quilt Shop and Quilter's Mercantile all day long! The best deals are bright and early with the discount decreasing as the day goes on, so roll out of bed, hop in the car in your P.J.s and head for the Corn Wagon first thing! Here's a breakdown of our Pajama Party Sale Schedule:
9:00 a.m. - 11:00 a.m. 30% off regular price items
11:00 a.m. - 1:00 p.m. 25% off regular price items
1:00 p.m. - 3:00 p.m. 20% off regular price items
3:00 p.m. - 5:00 p.m. 15% off regular price items
Wear your P.J.s into the shop and receive an additional 5% off!
Some exclusions apply. Discounts cannot be combined with other offers.
Isn't this quilt a party with a capital "P"? Averi Smith carefully selected a spectrum of solid cottons for this rainbow of quilt blocks. Her choices are rich, earthy hues that strike a balance between modern and classic. The
Origami
quilt designed by Chelsi Stratton is generously sized at 81" x 81." When you stop by to see it in person, notice how fun the variegated thread looks for the custom machine quilting by Ramona Sorensen. Kits are now available in-store for $132.99.
cornwagonquilts.com

October is almost over, but we're still stitching PINK for Breast Cancer Awareness Month! We've almost met our goal of making 100 breast cancer pillows for donation to our local breast cancer hospital unit. We will continue to accept donations through the end of October. Here is another great
tutorial
, this time from
Riley Blake Designs
, on how to make a simple heart-shaped pillow perfect for support post-procedure. We have lots of stuffing here at our Schoolhouse we have set aside for you to use to fill your pillows with.
2021 Stitch Pink UPDATE!
Due to shipping delays, Moda has rescheduled their Stitch Pink Sew Along with Sherri McConnell to allow fabric arrival at local quilt shops. Sherri will be hosting a series of
tutorial videos
now beginning October 26th, to guide us through her heartfelt quilt design. These videos will be available for free on
A Quilting Life YouTube channel
, with updates on the
Moda Inspiration Center!
We are one of the lucky shops who has received a full shipment of Sherri and Chelsi's
Sincerely Yours
fabrics. That means we have kits now in stock for the Stitch Pink
Together
Quilt! Order yours today on our
website
, or stop in and pick one up at the shop for $149.99. Our kit includes the
Together
pattern by Sherri McConnell and fabrics from the
Sincerely Yours
collection as shown for piecing the 64" x 75" quilt top and binding.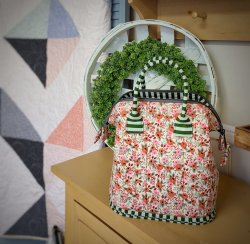 Little Poppins Bag Class
Thursday, October 28, 10am-5pm
We have a couple of seats open for one of our most popular bag classes! The Little Poppins Bag by Aunties Two is both pretty and functional! Structural stays, included in the pattern, plus Soft and Stable help keep its shape. Pockets inside store supplies for a sewing day with friends or use it as a fun purse for everyday use. Come learn some bag-making techniques you have likely never tried before with instructor, Shelley Taylor!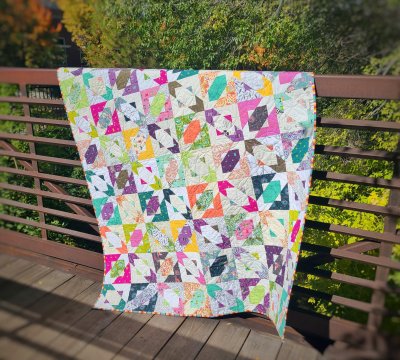 Have you been wanting to try the Stripology Ruler Technique? The Nova Quilt by G.E. Designs is an excellent opportunity to give it a whirl and it's so much fun to make! You sew an easy block, slice it up, and sew it back together for a really interesting look! You will learn several new techniques and ways to use the Stripology Ruler from Cheryl Wallin.
Choose from 5 different quilt sizes (crib, lap, twin, queen or king) and join us in the Schoolhouse, Friday, November 5th, 10:00-5:00 for a day of sewing. Register online today!
Another fantastic EasyPiecing Grid Class! Heather Dunn teaches the Scrappy Garden Path - Christmas Edition class as part of our Tensisters EasyPiecing Grid series! The pattern comes from the Quilts for Kids book by Carmen Geddes (sold separately at Corn Wagon Quilt Co.) and makes a beautiful quilt in any color combination you choose. It's especially festive in Christmas prints! Various sizes are available, depending on what grid size you use. For example; use the 2" Finished Grid for a generous 100" x 112" quilt like the beauty shown above or chose the 1.5" Finished Grid to make a 75" x 84" quilt or make a small 50" x 56" lap quilt with the 1" Finished Grid. I like to think of them as quilts for Papa Bear, Mama Bear and Baby Bear -- except at my house, Mama Bear wants the BIG QUILT!

Bring your pre-cut squares and sewing machine to class where you will learn the EasyPiecing Grid method, and work on your new favorite Christmas quilt! Register now for this two-part class held in-person at our Schoolhouse Mon, Nov 15, and Mon, Nov 29, at 6:00 pm to 9:00 pm.


Last Call for Saturday Sampler 2022 Sign-Up!
The registration window for our next Saturday Sampler Block of the Month closes October 31st! Click here to sign up or stop by the shop and we'll help you join in-store.
We are excited to join forces with Suzanne Jackman of Splendid Speck to offer an exciting new Saturday Sampler at Corn Wagon Quilt Co! Suzanne has designed an original mystery quilt for this 10-month program beginning January 2022. We can't show you what the finished quilt will look like, but we can share the fabric palette we have worked together to coordinate. We can also tell you the finished quilt includes a variety of blocks so it's an opportunity to strengthen your skills. If you know basic quilting techniques, you can do this! You will definitely have fun! Live demos will not be a part of this program, however, occasional YouTube demos may be provided. Monthly patterns have excellent instructions with illustrations and are easy to follow. Our Saturday Sampler kits will be available beginning the second Saturday of each month. We will allow a one-week window for club members to bring in the previous month's assignment finished to receive the next kit free! Kits can be picked up in-person or sign-up for our shipping subscription!
---
Upcoming Sales & Events



Monday at the Merc!
Take advantage of 20% off one regular price item of your choice every Monday at the Quilter's Mercantile! Located directly behind the quilt shop, the Merc has gifts for everyone on your list and goodies from Ginger & Rye Bakery! Promotion excludes baked goods and other locally made goods.

Handwork Club
Every Tuesday, 10:00am - Noon
This delightful weekly club is for anyone who would like to work on a hand stitching project while learning new hand stitching skills. It's a great chance to finish our own projects and relax with a fun gathering of sewing friends. No fee to attend. Simply come and join us!

Wrong Price Wednesday is Back!
Every Wednesday our pre-cut fat quarters are only $3.00!

Regular Price $3.75.



Time Out at the Wagon (Open Sew)
Every Wednesday,10 am - 4 pm, put yourself in Time Out at the Wagon in our Schoolhouse located directly behind the quilt shop! We all need TIME OUT from housework, phone calls, and everyday responsibilities. Come to "Time Out at the Wagon" and do just that. This a free sewing time where you can work on any project you want! Marsha is looking forward to being in Time Out and hopes lots of you will join her.

Thank you for supporting your local brick-and-mortar quilt shop!


We feel honored to be part of such a wonderful quilt-making community.



We hope you'll visit us again soon,
Jen and the Girls
at Corn Wagon Quilt Co.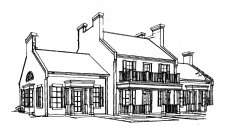 We would love to hear from you!
801-491-3551
cornwagonquilts.com