Skip Navigation
Website Accessibility
Learn Something New in 2022! New classes now open for registration!

At the stroke of midnight,
just like that, we're on to 2022. Let's learn something new! We're kicking off the New Year at Corn Wagon Quilt Co. with lots of exciting classes where you can try new techniques, expand your skill set, meet new quilting friends and take steps toward reaching your quilting goals. Join us for our New Year Open House next Friday and Saturday, January 7th and 8th in-store at the Quilt Shop and discover our new class list, view new project samples and enjoy discounts like 15% off class supplies and 20% off one regular price item of your choice!

Registration is now open on our website or we would love to help you sign up at the shop. Please note; all of our classes are offered in-person only.

From bag making classes to EasyPiecing Grid techniques, block-of-the-month clubs and a new seasonal table runner series; there's a class for every quilter on the schedule for 2022.


We will close early today at 3pm and remain closed through Sunday to welcome 2022.
Party plans for New Year's Eve? Maybe a date with your sewing machine?
We only have a couple of these party-worthy
'Step This Way'
kits left in store! It's a free pdf pattern from Moda fabrics you'll find on our
website
. It's a fabulous pattern for any Jelly Roll but we especially love this happy polka dot version with
Fairy Dust
by Tula Pink for background made by Chris Chamberlain. It's like confetti in a quilt!
2nd Wednesday Club 2022:
Our longest running club here at the Corn Wagon, The 2nd Wednesday Club has roots in our earliest days of business more than 20 years ago. Some of these quilters have been with us since the beginning, others are new members, all are friends with a common love for quilt-making. By participating in a block-of-the-month program, this 12-month club focuses on making a new quilt each year. Fun extra's include: on-time drawing, show-and-tell and yummy treats to share! This year we will be making the Rose in Bloom block-of-the-month sampler quilt by Vanessa Goertzen of Lella Boutique. The finished quilt is 84″ x 84″; the fabric is Love Note also by Vanessa Goertzen for Moda Fabrics. Lead by Marsha Harward and Chris Chamberlain, you're sure to learn something new with this delightful group of fellow quilters beginning Wednesday, January 12th and reoccurring every 2nd Wednesday, 6:00-8:00pm at the Schoolhouse.
Club Fee: New members, $35.00/year
Returning members $20.00/year
Complete Kit Exclusively Available to Club Members: $239.99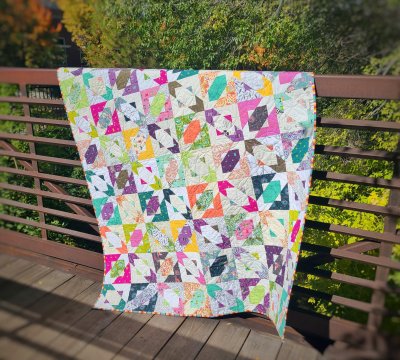 The Nova Quilt Class is an exciting project by G.E. Designs Iceland made using a clever technique you're going to have so much fun with! Modern starbursts are made using 10" precut squares. In this class you'll learn to piece an easy block, slice it up, and sew it back together for a really interesting look! It's a great pattern for showing off your favorite fabrics. You will learn several new techniques with instructor Cheryl Wallin (you're gonna love her!) Register now for $70. This all-day class is Friday, January 14th, 10:00-5:00 at the Schoolhouse. The quilt pictured above was made by Cheryl using a mix of Tula Pink fabrics and blenders. Jen is pulling together a fabulous kit with the new Fabric from the Attic collection that just arrived from Giucy Giuce (shown below) that will be ideal for this class!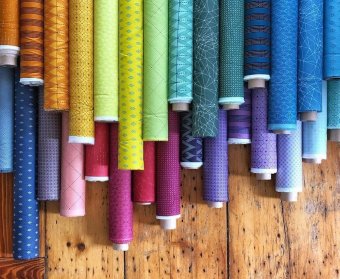 The Mini Poppins Bag Class: Bet you have never made a bag like this - EVER! The Poppins Bag series by Aunites Two Patterns has become a favorite among "bagineers." Structural stays, included in the pattern, plus Soft and Stable help keep its unique shape. Pockets inside store supplies for a sewing day with friends or use it as a cute purse for everyday use. Come learn some bag-making techniques you have likely never tried before with bag-maker extraordinaire, Shelley Taylor! Two class dates to choose from: Thursday, January 20, 10:00 am to 5:00 pm or Thursday, March 24, 10:00 am to 5:00 pm. Be sure to check out our website to take a peek at FOUR MORE fabulous bag classes coming up in 2022 including the popular Bag Making 101!
Seasonal Table Runner Classes: Join Natalie Smith as she takes you through the year in this class series all about Table Runners! This class is the first in a series of 5 classes from the Tabletastic 2! book by Doug Leko. It's a blue, white and gray WINTERY table runner -- just the thing to complement almost any size table or hearth. Quick quilters can sew the entire top in class, with tips and a printed guide to help you make your table runner quickly and easily. Kits are available in-store for each runner in the series so you can make yours just like Natalie's or you may choose your own combination. It's a perfect project to begin with the New Year that has something to look forward to throughout 2022!
T-Shirt Quilt Class: It's something every quilter should learn. Cheryl Wallin has perfected the art and is ready to spend a day sharing all the best tips and tricks for piecing a no-stress t-shirt quilt. She will demonstrate how using the Too Cool T-shirt Quilt template system simplifies planning your own unique quilt layout for perfectly fitting blocks regardless of t-shirt size or logo type. Learn the right way to use interfacing to stabilize your shirts and have fun turning your treasured T's into an heirloom quilt. Register now for Friday, January 28th, 10:00-5:00 and start gathering at least 15 shirts to include in your quilt. I made the quilt shown below as a graduation gift for my High School Senior while taking Cheryl's class! I was amazed at how easily I was able to work in all of my son's school shirts beginning with Kindergarten up through his senior year. Since taking Cheryl's class I have made two more t-shirt quilts and wouldn't want to make them any other way!

Piccadilly Squares EasyPiecing Class: We're bringing back one of our most popular classes to date! During this two-day class you will make this traditional on-point quilt in a non-traditional way! Learn to use EasyPiecing Border Panels by TenSisters Handicraft for a fun, fast, and accurate project. You'll love the way the grid eliminates the possibility of stretching when piecing on-point! It is very simple to make this design larger. Instructor Heather Dunn is ready to show you how. You'll be amazed at how beautifully these 2" finished squares come together using the grid method. This is a great SCRAPBUSTER! Heather will have an additional Valentine's Day option with "hugs and kisses" available for class members as well! $60 class fee includes two class periods of instruction at our Schoolhouse, Monday, January 31 and Monday, February 7 at 6:00 to 9:00 pm.



Seven Brothers Panel of the Month: Have you ever wanted to make a traditional sampler quilt? Now you can make one in an easy, non-traditional way! Instead of piecing block-by-block, you will piece panel-by-panel for a fun month-to-month project using the Tensisters EasyPiecing Grid! Join Heather Dunn at our Schoolhouse for this Panel-of-the-Month Class! We will meet the first Saturday of each month, February through September, and complete 1-2 panels each month following the Seven Brothers Block Party Book by TenSisters Handicraft. You'll have 14 hours of in-class time throughout this series, and by the end of the 7 sessions you'll have your own beautiful sampler quilt! Heather, a Tensisters Easypiecing Grid expert, will give you all the tips and tricks to complete this unique quilt!



cornwagonquilts.com
Saturday Sampler 2022 is almost here!
We can hardly wait to begin the Thoroughly Modern Mystery Quilt by Suzanne Jackman! For 2022 we will once again allow a one week window beginning the 2nd Saturday of each month for club members to bring in their previous month's assignment finished to receive the next month's kit free. The first kit is free to all those registered and will be ready for pickup beginning next Saturday, January 8th at 10:00am. Remember, if you don't pick up your kit by the end of each month, your credit card will automatically be charged and you may pickup at your convenience. Get ready for some serious sewing fun!

---
Upcoming Sales & Events



Monday at the Merc!
Take advantage of 20% off one regular price item of your choice every Monday at the Quilter's Mercantile! Located directly behind the quilt shop, the Merc has gifts for everyone on your list and goodies from Ginger & Rye Bakery! Promotion excludes baked goods and other locally made goods.

Handwork Club
Every Tuesday, 10:00am - Noon
This delightful weekly club is for anyone who would like to work on a hand stitching project while learning new hand stitching skills. It's a great chance to finish our own projects and relax with a fun gathering of sewing friends. No fee to attend. Simply come and join us!

Wrong Price Wednesday is Back!
Every Wednesday our pre-cut fat quarters are only $3.00!

Regular Price $3.75.



Time Out at the Wagon (Open Sew)
Every Wednesday, 10:00am to 4:00pm
Put yourself in Time Out at the Wagon in our School House located directly behind the quilt shop! At times we all need time out from housework, phone calls, and everyday responsibilities. Bring your current sewing project to "Time Out at the Wagon" and do just that. Marsha is looking forward to being in Time Out and hopes lots of you will join her.

Open House!
Friday and Saturday, January 7th & 8th during regular business hours.
You're invited to join us for our seasonal open house here at the quilt shop where you can discover our newly released class schedule, view new samples and enjoy discounts such as 15% off class supplies and 20% off one regular price item of your choice! Stop in and see what's new this season!

Thank you for supporting your local brick-and-mortar quilt shop!


We feel honored to be part of such a wonderful quilt-making community.



We hope you'll visit us again soon,
Jen and the Girls
at Corn Wagon Quilt Co.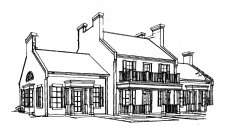 We would love to hear from you!
801-491-3551
cornwagonquilts.com