Skip Navigation
Website Accessibility
New Curated by Corn Wagon Bundle + New "Be My Valentine" Class!

We're waaaaay overdue for another Curated by Corn Wagon bundle!
Our newest fat quarter set was coordinated by Kris Money. Have you met her? You may have crossed paths at the Mercantile or maybe she has cut fabric for you at the quilt shop? Kris has handwork in her heritage. Both of her grandmothers were well versed in quilting and handcrafts. She is lucky to have a few afghans, tatting and quilts made by both matriarchs and wishes now that she had appreciated their handwork more. She remembers her grandmother being close by when she made her own first quilt at just 11 years old. It was a 4H project that included a pigment transfer of a little boy. Kris finished it with hand quilting and prairie points. She still has it! Kris' favorite quilt project to date was the Harvest Roadside quilt she made for us here at the shop. It was a good challenge and she loves the way it came together. So do we!



Kris was raised not far from the Corn Wagon, in Salem, Utah. When asked where her happy place is, she thought for a moment of many places she likes to be but decided her true happy place is with her husband. Together they've raised four children and continue to run a beef cattle ranch. When she's not sewing, Kris is often watching her five adorable grandchildren.



When choosing fabrics for her Curated by Corn Wagon bundle, a bold orange homespun caught her eye. From there, she added a few floral prints from Rifle Paper Co. then played with some basics to balance the mix. Check out that cute little bicycle print! It's especially fitting paired with the florals in Kris' bundle because she has an old bike worked into her flower garden at home. Aren't these colors beautiful dappled in morning sunlight? I had to laugh when I realized the shoes I was wearing while snapping the photo matched -- then I just had to add this bundle to my own collection! You can too! Our Lucky 13 Fat Quarter Bundles are $45 while supplies last at the quilt shop. Be sure and give a wave to Kris while you're here!



cornwagonquilts.com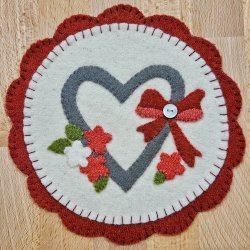 Free Wool Applique Demo
Marianne Michaels will be demonstrating how fun and easy wool applique is Thursday, January 27th, 11:00 a.m. at our Schoolhouse. She has lots of tips that she is excited to share with you. Sit in on this one hour, free demo to learn all the basics and ask questions with our wool expert. Once you see just how relaxing wool applique is to do, you will be excited to start your own project! This cute mini table mat is great for a beginner and we have kits in-store!




We've added a fun new class to the schedule just in time for Valentine's Day!
Join Heather Dunn for a special "Be My Valentine" EasyPiecing class on Saturday, February 12th, from 9:00-1:00
You get to choose from five different Valentine EasyPiecing projects! Select the project that speaks to your heart and Heather will show you how easy it will come together using the grid by TenSisters Handicraft. If you want a quick and easy project, the "Scrappy Heart" (above) or "Valentine" (below) 2-panel wall hangings may be just right.
If you're sweet on a larger sized quilt, choose a 6-panel or 12-panel lap quilt like "Candy Hearts" shown below. Check out our website for all the info including two more quilt options and sign-up today! This class will be held in the Sunrise room at our retreat center. Once registered, you can choose the quilt you want to make then simply contact Heather for supply and prep instructions. As always, we'd love to help you choose your fabrics and we have plenty of EasyPiecing Grid in stock. Whatever you choose, you are going to LOVE what you create!


The pattern for the quilt shown above is currently available free of charge for a limited time from
www.tensisters.com
where you'll also find great tutorials and lots more EasyPiecing Grid patterns by Carmen Geddes.
Firefly Tote Class
coming right up! Let Shelley Taylor guide you in making this easy-to-use tote or project bag designed by Anna Graham of Noodlehead. The tote size is perfect for a day trip or work bag, and the project size is great for taking knitting, crochet, or EPP projects to a ball game. Both sizes feature a useful drawstring closure and an interior slip pocket, with a handy outside pocket with an additional zippered pocket so you don't lose your keys. This bag is fun to sew and fun to take with you on your next outing! Pattern and supplies sold separately at Corn Wagon. This class will be held in-person at the Schoolhouse. Choose from two different class dates: Thursday, February 3rd, 10:00 a.m. - 3:00 p.m. OR Thursday, April 7th, 10:00 a.m. - 3:00 p.m.
---
Upcoming Sales & Events



Monday at the Merc!
Take advantage of 20% off one regular price item of your choice every Monday at the Quilter's Mercantile! Located directly behind the quilt shop, the Merc has gifts for everyone on your list! Promotion excludes baked goods and other locally made goods.

Handwork Club
Every Tuesday, 10:00am - Noon
This delightful weekly club is for anyone who would like to work on a hand stitching project while learning new hand stitching skills. It's a great chance to finish our own projects and relax with a fun gathering of sewing friends. No fee to attend. Simply come and join us!

Wrong Price Wednesday is Back!
Every Wednesday our pre-cut fat quarters are only $3.00!

Regular Price $3.75.



Time Out at the Wagon (Open Sew)
Every Wednesday, 10:00am to 4:00pm
Put yourself in Time Out at the Wagon in our School House located directly behind the quilt shop! At times we all need time out from housework, phone calls, and everyday responsibilities. Bring your current sewing project to "Time Out at the Wagon" and do just that. Marsha is looking forward to being in Time Out and hopes lots of you will join her.

Thank you for supporting your local brick-and-mortar quilt shop!


We feel honored to be part of such a wonderful quilt-making community.



We hope you'll visit us again soon,
Jen and the Girls
at Corn Wagon Quilt Co.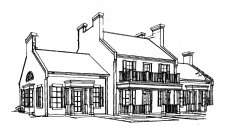 We would love to hear from you!
801-491-3551
cornwagonquilts.com