Who's ready for a retreat?
I'm writing this week's newsletter from the historic Ruby's Inn at Bryce Canyon, Utah. Usually a stay in my favorite National Park involves hiking through the red rock hoodoos, observing wildlife and admiring the night sky. This trip is a whole new experience for me as a lucky guest at Quilty Friends Winter Retreat. Corn Wagon was invited by the Quilty Friends to set up shop here at the lodge with three more local quilt shops so retreat guests can enjoy some convenient fabric shopping right here at the retreat. What a beautiful location to gather with sewing friends for a week of quilt classes, trunk shows and plenty of sewing time. Temps may be below freezing outside but we'd never know it! We're too busy visiting and laughing to the hum of sewing machines. It's a welcome opportunity to step back from the everyday and focus on our creativity with other makers who love quilting as much as we do. Are you one of the Quilty Friends registered to attend the Spring Retreat session in March? If so, we look forward to seeing you there!


Do you have a group of quilt makers in need of some sewing time away? Reserve a room at our retreat center! Come for the day or set up for the week in one of our state-of-the-art sewing rooms located at Corn Wagon Too. You'll love the open space, motorized tables, great lighting and design walls. Having the Mercantile downstairs and Quilt Shop right across the parking lot is so convenient plus you'll get to enjoy our retreat discount of 15% off your purchases at both shops during your stay! View pricing and a full list of amenities
here
and give Shannon a call (801-491-3551) to book your dates. The 2022 calendar is filling up fast so don't procrastinate your plans for fun-filled hours of sewing with your best quilting friends.
cornwagonquilts.com
Ramona Sorensen Made the Cover!
She's done it again! Our talented machine quilter, Ramona Sorensen has made the cover of Fons & Porter's Love of Quilting magazine with her Feather Love quilt. The quilt featured on the cover of their March/April 2022 issue was designed, pieced and quilted by Ramona. Do you see hearts or feathers? For this quilt, choose six favorite fabrics to showcase and then have some fun practicing your feather quilting. If you subscribe to this popular publication, keep an eye out for Ramona's pattern! You can also purchase the pattern as a download from www.quiltingdaily.com




Have you seen it?
The new
Traverse
quilt by Tara Faughnan? We were immediately smitten by this row quilt made using 60 different Artisan Cottons by Windham Fabrics and ecstatic to find it's being organized as a block of the month -- or should we say row of the month? We're bringing this
12 month program
to the Corn Wagon beginning in August but registration is open now! Every 4th Wednesday beginning August 24th, Chris Chamberlain and Jen Tanner (that's me!) will be teaching a one-hour demo at the Schoolhouse for those registered. Kit will be available for pickup or for shipping and we're trying something new -- for our friends at a distance, we'll be posting a short YouTube video with recommended techniques monthly.
Windham fabrics describes this project as "a take on traditional row by row quilts, but with a decidedly modern look and a brilliant display of colors. The eye catching palettes from Tara Faugnhan live between harmony and discord, but always with a sweet, pleasing feel. Rows demonstrate a wide range of techniques that will build the skills of novice quilters and be a fun play day for the experts. Techniques include strip piecing, curves, and a new way to paper piece!"
A $30 registration fee will hold your spot and pay for the pattern, which you will receive at the beginning of the program. Then, each month during the first week of the month, you will be charged $28.95 (plus tax and shipping) to pay for monthly kits. The first billing cycle will be the first week of August, and class will be the fourth Wednesday. There will be no charge for July 2023, but we will still hold class that month for a finishing celebration and Show & Tell. This program will sell out quickly so
jump on board
right away and count down the days until we begin the
Traverse!


We have a few seats open for the essential
Bag Making 101
course taught by bagineer, Shelley Taylor! Are you scared to death by zippers? Why are there SO MANY interfacings, and how do you use them? Which ones are used to give the bag structure? So many questions! Shelley will help take the fears away --
just join this three-part class today!
You will learn the anatomy of zippers, how and where to use interfacing, learn about the different notions that are available to aid in the bag making process and have fun learning with a group of sewists at our Schoolhouse. Learn the ropes at the first two classes, Thursday, February 10 and Thursday, Feb 17, 6:00 to 7:00 pm. In the third class you'll make the MIni Duffle Bag by Bodobo Designs using the skills you've learned.Thu, Feb 24, 6:00 to 8:00 pm. Don't be scared! Come and discover just how fun (and addicting) bag making really can be!
---
Upcoming Sales & Events



Monday at the Merc!
Take advantage of 20% off one regular price item of your choice every Monday at the Quilter's Mercantile! Located directly behind the quilt shop, the Merc has gifts for everyone on your list and goodies from Ginger & Rye Bakery! Promotion excludes baked goods and other locally made goods.

Handwork Club
Every Tuesday, 10:00am - Noon
This delightful weekly club is for anyone who would like to work on a hand stitching project while learning new hand stitching skills. It's a great chance to finish our own projects and relax with a fun gathering of sewing friends. No fee to attend. Simply come and join us!

Wrong Price Wednesday is Back!
Every Wednesday our pre-cut fat quarters are only $3.00!

Regular Price $3.75.



Time Out at the Wagon (Open Sew)
Every Wednesday, 10:00am to 4:00pm
Put yourself in Time Out at the Wagon in our School House located directly behind the quilt shop! At times we all need time out from housework, phone calls, and everyday responsibilities. Bring your current sewing project to "Time Out at the Wagon" and do just that. Marsha is looking forward to being in Time Out and hopes lots of you will join her.

Saturday Sampler 2022 - Thoroughly Modern Mystery
Beginning Next Saturday, February 12
You have one week to finish up the first month's assignment! You can do it! Kit #2 will be available beginning next Saturday, February 12 at 10am. Remember, you have a one-week window to bring in the previous month's finished blocks to receive this month's kit free! See you all soon!

S.A.B.L.E. SALE!
Saturday, May 21st, 9:00 am - 3:00 pm
S.A.B.L.E stands for Stash Accumulated Beyond Life Expectancy. It's real. We know from experience and we want to help you out! We've rounded up 20+ S.A.B.L.E. vendors and we are hosting a S.A.B.L.E Sale in our Corn Wagon Too parking lot! They'll have fabric, patterns, kits, notions - - anything quilting related that they're wiling to part with. Think of it as a fabric flea market of giant de-stash where you're sure to find some true trasures. Vendors will set own their prices and manage your own transactions so come prepared with cash or Venmo. Mark your calendar! It's always a great time!

Thank you for supporting your local brick-and-mortar quilt shop!


We feel honored to be part of such a wonderful quilt-making community.



We hope you'll visit us again soon,
Jen and the Girls
at Corn Wagon Quilt Co.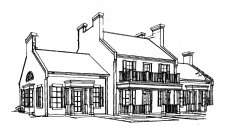 We would love to hear from you!
801-491-3551
cornwagonquilts.com