There must be something in the water; h
ere in Utah we are surrounded by
an abundance of talented makers. From textile artists to pattern designers, our great state has a wealth of innovative sewists that contribute on all levels of the quilting industry. One of those dynamic designers is Jill Finley and we are lucky enough to call her neighbor. You may recognize her as Jillily; the woman behind our favorite Poke-A-Dot sticky thimbles, creator of Appli-Glue and the author of several quilt patterns and books. Jill is a master of the creative sewing arts.
From Jillily Studio's
website
, "Jill has been designing quilts for over 15 years and currently designs and sells quilt fabric, patterns, kits and notions. Her quilt designs show off her fresh style using high contrast fabrics and usually have a bit of applique to soften and finish each design. Jillily Studio produces the popular notions: Appli-Glue, Poke-A-Dots, Maker Paper, Starch Brushes and Quilter's Digits along with numerous kits and patterns.
Jill is a Master Designer for Aurifil Threads and is also a BERNINA Ambassador. Her designs have been featured in several magazines including American Patchwork and Quilting, Quilter's Home and McCall's Quilting. She stays busy traveling and teaching about her quilt designs and applique methods. Jill designs fabric with Riley Blake Designs. Creating fabric collections for quilting has been one of Jill's favorite projects."
We are honored to have three of Jill's quilts currently on display at the shop, all from her recent release,
Petals and Pedals
for Riley Blake Designs. This collection combines two summertime favorites, flower gardens and bicycles and we are delighted to offer a selection here at the shop.
The Pedal Pusher's Remix quilt (below) is a clever design using Jill's darling panel for the bicycle blocks surrounded by pieced "wheel" blocks echoing the colors in the flowers. RicRac creates the spokes in the blocks for a whimsical effect. This kit comes packaged in a sturdy keepsake box with magnetic closure for $149.99. Available in-store now.


Next on display, we have
Poppy Fields
. Finishing at 40" square this cutie makes a great summer table topper or wall hanging. Jill's striking poppy print dominates while a sweet applique scalloped border adds a delicate touch. We have patterns in-store along with yardage so you can pull together your own take on this garden beauty.
And finally, we have my favorite of her current collection,
Posy Party!
Just look at all those dottie little blooms! Graphic black and white forms the framework for 16 identical blocks embellished with a variety of circular applique posies. The result is a 63" x 75" summer celebration throw quilt. Our kit's includes the pattern and Jill's beautiful
Petals and Pedals
collection as shown below for piecing the top and binding.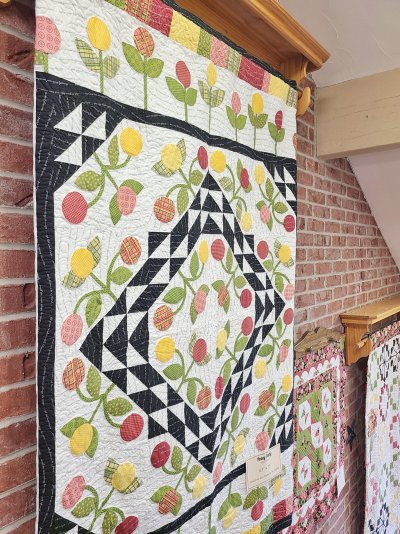 ISO Longarm Machine Quilter!
Would you like to be one of the gals at The Wagon?
Do you have experience with free-motion longarm quilting? Would you be interested in learning more about the art? We are looking to add another quilter to our team. You would be quilting for customers here at the quilt shop using our wonderful Bernina longarm machine. Hours are somewhat flexible. If you're interested you may email a resume to chris.chamberlain@cornwagonquilts.com
The BIG Bag Class: It IS a BIG bag! Just like it's name. And Shelley Taylor is here to help you make one of your very own. Great for travel, retreats, shopping or sewing day with friends. Has two pockets that you can customize, long straps for ease in carrying and it's big and roomy. If you have some specialty fabric you have been waiting to use, such as linen or cotton canvas, The BIG Bag by Bodobo Bags is the perfect project! For our shop sample, Shelley pieced the outside of her BIG Bag using a scrappy mix of Rifle Paper Co. fabrics. Cork adds stability and style to the base and straps. Let Shelley help you personalize your BIG Bag at the Schoolhouse Thursday, March 10, 10am - 5pm.
We have a few seats and two kits still available for
the new "Chicken Salad" Sew Along. Lori Holt of Bee of my Bonnet has done it again and designed a fun, new quilt using her Cook Book fabric and Chicken Salad Sew Simple Shapes. Sign up now to reserve your seat at the Schoolhouse for the Sew Along! You will be sewing every other Monday from 10-1pm with Chris Chamberlain beginning March 7th. Not only will you be sewing with friends but you will also learn tips, tricks and good advice while sewing this 64" x 80" quilt.
Remaining kits are available in-store now. We welcome you to
join the Sew Along
whether or not you purchased a kit from the Corn Wagon. The Pattern is now available as a free download from
https://beeinmybonnetco.blogspot.com/
where you can also follow along for all the Chicken Salad goodness.
---
Upcoming Sales & Events





Mercantile Clearance Continues!


Discounts are going deeper this week. Beginning Monday, February 21st take 35% off regular price items at the Quilter's Mercantile! Christmas decor is now 75% off! Promotion excludes handmade goods such as pottery, African baskets and baked goods. Come h

elp us make more room to sew at Corn Wagon Too!



Handwork Club
Every Tuesday, 10:00am - Noon
This delightful weekly club is for anyone who would like to work on a hand stitching project while learning new hand stitching skills. It's a great chance to finish our own projects and relax with a fun gathering of sewing friends. No fee to attend. Simply come and join us!

Wrong Price Wednesday is Back!
Every Wednesday our pre-cut fat quarters are only $3.00!

Regular Price $3.75.



Time Out at the Wagon (Open Sew)
Every Wednesday, 10:00am to 4:00pm
Put yourself in Time Out at the Wagon in our School House located directly behind the quilt shop! At times we all need time out from housework, phone calls, and everyday responsibilities. Bring your current sewing project to "Time Out at the Wagon" and do just that. Marsha is looking forward to being in Time Out and hopes lots of you will join her.

S.A.B.L.E. SALE!
Saturday, May 21st, 9:00 am - 3:00 pm
S.A.B.L.E stands for Stash Accumulated Beyond Life Expectancy. It's real. We know from experience and we want to help you out! We've rounded up 20+ S.A.B.L.E. vendors and we are hosting a S.A.B.L.E Sale in our Corn Wagon Too parking lot! They'll have fabric, patterns, kits, notions - - anything quilting related that they're wiling to part with. Think of it as a fabric flea market of giant de-stash where you're sure to find some true treasures. Vendors will set their own prices and manage their own transactions so come prepared with cash or Venmo. Mark your calendar! It's always a great time!

Thank you for supporting your local brick-and-mortar quilt shop!


We feel honored to be part of such a wonderful quilt-making community.



We hope you'll visit us again soon,
Jen and the Girls
at Corn Wagon Quilt Co.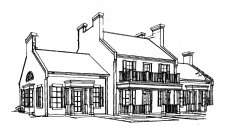 We would love to hear from you!
801-491-3551
cornwagonquilts.com