Skip Navigation
Website Accessibility
All the Dirt... Shop Hop, Retreat Rooms and New Class Updates!

So many fun plans are in the making and we want to keep you in the loop so get out your calendar, gather the quilting gals and look forward to some fun! Perhaps our most asked question right now at the quilt shop is, "Will there be a Shop Hop this year?" After two years of missing our favorite quilt party, we are thrilled to announce the Utah Shop Hop is on!


In order to ensure we can move forward safely, the Utah Shop Hop has made some adaptations for 2022. We are calling it Shop Hop Lite! This means:
Shop Hop will last LONGER! You'll have an entire week to visit all 12 participating shops Friday, May 6 - Saturday, May 14 (Closed Sunday's).
All stores will be open Monday - Friday 10am - 6pm and Saturday 10am - 5pm.
NO Passports, Pins, Youth Projects or Finishing Prizes
A free pattern will still be given out at each shop
We won't be handing out fabric charm squares to children
EACH store will have a drawing for 3 prizes:

25 Fat Quarters
Gift Basket valued at $100
Gift Card for that Shop valued at $250

An additional ticket will be given to anyone who visits the Logan and Springville shops (that's us)! These tickets will be put in a separate drawing for a $250 gift certificate that can be used in ANY of the shops.

All drawings will be held on May 25, 2022 and winners will be notified.
We couldn't be more excited! Think of this Shop Hop as a fabric filled amusement park with each shop a different attraction. Which "ride" will the Corn Wagon Quilt Co. be? You'll have to come and see! Hint: You're going to
LOVE
it. The past two years have been a "wild ride" to say the least. We're more than ready to bring back your favorite quilter's "thrill ride" as you hop from shop to shop along the Wasatch! Follow www.utahshophop.com to see the plans as they unfold including a list of participating shops and an interactive map so you can plan your route for your own "wild ride!"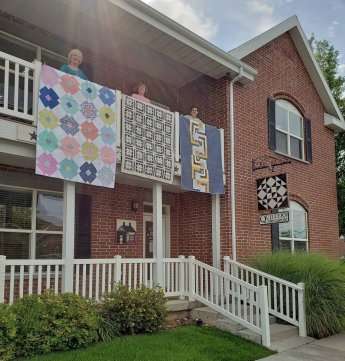 Plans for our new premiere retreat room
coming to Corn Wagon Too are rolling right along! We're shooting for an opening date of May 1, 2022 for this new ground level sewing space. It's flexible enough for retreats, guild meetings, trunk shows and classes! As part of this update we will be restructuring our rental rates. Please click
here
to view our new fee schedule that will take effect May 1, 2022. Retreats
booked
before May 1, 2022 will be charged the current rates so reach out to Shannon at the quilt shop and schedule some dates before rental fees increase.
We've loved seeing so many of you at our Mercantile Clearance Sale and we appreciate your support. The discounts are going deeper next week!
Beginning Monday, March 7th, take 40% off regular price items at the Quilter's Mercantile! Christmas decor is now 75% off! Promotion excludes handmade goods such as pottery, African baskets and baked goods. Come h

elp us make more room to sew at Corn Wagon Too!
Firefly Tote Class with Shelley Taylor
Friday, March 18, 10:00am - 3:00pm
Don't miss your chance to learn how to put this clever bag together using your own beautiful fabric combination! Choose from two different sizes. The "Tote" size is perfect for a day trip or work bag, and the "Project" size is great for taking projects to a ball game. Both sizes feature a useful drawstring closure and an interior slip pocket. There's a handy outside pocket with an additional zippered pocket so you don't lose your keys. This bag is fun to sew and functional to carry on your next outing! Pattern by Noodlehead and supplies sold separately at Corn Wagon.
*Image from the cover of the Firefly Tote pattern by Anna Graham for Noodlehead.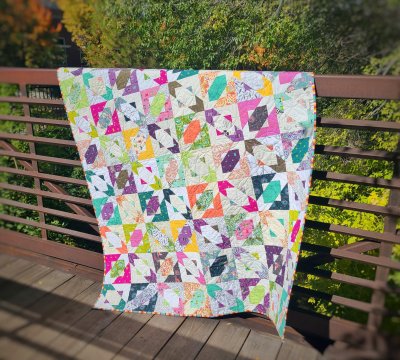 The Nova Quilt Class
has been added back to the schedule so if you missed it the first time around, now's your chance to catch it! This exciting project by G.E. Designs Iceland is made using a clever technique you're going to have so much fun with. Modern starbursts are made using 10" precut squares. In this class you'll learn to piece an easy block, slice it up, and sew it back together for a really interesting look! It's a great pattern for showing off your favorite fabrics. You will learn several new techniques with instructor Cheryl Wallin. Register now for our all-day class Friday, April 1, 10:00-5:00 at the Schoolhouse. The quilt pictured above was made by Cheryl using a mix of Tula Pink fabrics and blenders
.
We've put together a kit for this quilt using a bold pairing of fabrics by Guicy Guice and low volume backgrounds by Tim Holtz or we'd love to help you choose your own unique combination of fabrics
.


We've altered the set up for the
Seven Brothers Block Party EasyPiecing Grid Class,
making it a three session course instead of a panel of the month club and lowering the price. We hope you'll join us Mon, Apr 11, Mon, Apr 25, and Mon, May 16, 6:00 pm to 9:00 pm. Learn how to make this traditional sampler quilt in a non-traditional way with EasyPiecing Pro, Heather Dunn.
Instead of piecing block-by-block, you will piece panel-by-panel for a fun sampler project using the Tensisters EasyPiecing Grid.
Class members are encouraged to bring plenty of scraps to class, or purchase yardage requirements listed in the pattern (available at the Corn Wagon). Either way, you'll come away with a one-of-a-kind showpiece sewn with precision. You will need to do a bit of prep before the first class, so please
register early
to allow yourself plenty of time to cut out your squares.
The Twisted Flowers Class is another great opportunity to learn how to use the EasyPiecing Grid by TenSisters Handicraft with half square triangles, this time on a smaller scale. In this two-part class you'll make a beautiful, scrappy, twisting flowers quilt without any curves! You can choose from three different sizes: 58" x 58", 43" x 43" or 29" x 29" before borders. Depending on your fabric choices, there are endless possibilities for the look of this quilt. You will be amazed how it all comes together and with guidance from Heather Dunn, you'll learn everything you need to know to work with the grid on future projects. Class dates are Mon, May 2 and Mon, May 9, 6:00 pm to 9:00 pm at the Schoolhouse. Check out our class listing to see other fabric combination ideas in quilts made by Heather Dunn!

---
Upcoming Sales & Events





Mercantile Clearance Continues!


Discounts are going deeper this week. Beginning Monday, March 7th take 40% off regular price items at the Quilter's Mercantile! Christmas decor is now 75% off! Promotion excludes handmade goods such as pottery, African baskets and baked goods. Come h

elp us make more room to sew at Corn Wagon Too!



Chicken Salad Sew Along
Begins Monday, March 7th, 10am - 2pm
Do you have your Chicken Salad Kit ready for Lori Holt's next Sew Along? Bring it to the Schoolhouse Monday for our first Chicken Salad gathering! We still have a few seats available so reserve yours today online for $20, then join us every other Monday through May 23rd to work on this adorable new quilt. We'll even have Chicken Salad for lunch!

Handwork Club
Every Tuesday, 10:00am - Noon
This delightful weekly club is for anyone who would like to work on a hand stitching project while learning new hand stitching skills. It's a great chance to finish our own projects and relax with a fun gathering of sewing friends. No fee to attend. Simply come and join us!

Wrong Price Wednesday!
Every Wednesday our pre-cut fat quarters are only $3.00!

Regular Price $3.75.



Time Out at the Wagon (Open Sew)
Every Wednesday, 10:00am to 4:00pm
Put yourself in Time Out at the Wagon in our School House located directly behind the quilt shop! At times we all need time out from housework, phone calls, and everyday responsibilities. Bring your current sewing project to "Time Out at the Wagon" and do just that. Marsha is looking forward to being in Time Out and hopes lots of you will join her.

Saturday Sampler 2022 - Thoroughly Modern Mystery
Beginning Next Saturday, March 12
You have one week to finish up this month's assignment! You can do it! Kit #3 will be available beginning next Saturday, March 12 at 10am. Remember, you have a one-week window to bring in the previous month's finished blocks to receive this month's kit free! See you all soon!

S.A.B.L.E. SALE!
Saturday, May 21st, 9:00 am - 3:00 pm
S.A.B.L.E stands for Stash Accumulated Beyond Life Expectancy. It's real. We know from experience and we want to help you out! We've rounded up 20+ S.A.B.L.E. vendors and we are hosting a S.A.B.L.E Sale in our Corn Wagon Too parking lot! They'll have fabric, patterns, kits, notions - - anything quilting related that they're wiling to part with. Think of it as a fabric flea market of giant de-stash where you're sure to find some true treasures. Vendors will set their own prices and manage their own transactions so come prepared with cash or Venmo. Mark your calendar! It's always a great time!

Thank you for supporting your local brick-and-mortar quilt shop!


We feel honored to be part of such a wonderful quilt-making community.



We hope you'll visit us again soon,
Jen and the Girls
at Corn Wagon Quilt Co.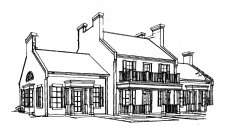 We would love to hear from you!
801-491-3551
cornwagonquilts.com