Skip Navigation
Website Accessibility
Flannel Frenzy! Winter Fibers to Finish Off the Cold Season

The erratic nature of Utah weather is the subject of many local tales, jokes and, yes, frustrations. This latest wave of winter storms falls right in line with what is known here as "Third Winter" (see schedule below). The skier in me rejoices. The gardener in me laments. But the quilter in me is content to sew through all the varied and unpredictable weather patterns along the Wasatch Range. In fact "Third Winter" is one last wave of opportunity to appreciate the fabrics we love most during the frosty months. Of course, here at The Wagon wool and flannel are always in season.


Wool is the fiber of winter. It's warmth compares to no other textile and it's usefulness has been proven through the ages. As quilters, we're familiar with it's beauty in applique as well as pieced quilts but have you tried your hand at Primitive Rug Hooking? As the name suggests, it's a primitive art form used for centuries to create a dense covering to insulate and decorate floors or walls. Wool scraps are cut into long, narrow strips that are then pulled though a sturdy linen backing using a small hook. Traditionally the designs are a means of preserving family stories passed down from generation to generation. Today's designs often reflect heritage but may also appear as modern, geometric or abstract patterns. Whether hung on the wall, used on the floor or made into a pillow, ottoman or chair pad; rug hooking becomes an heirloom that connects the world we live in today with our rich past.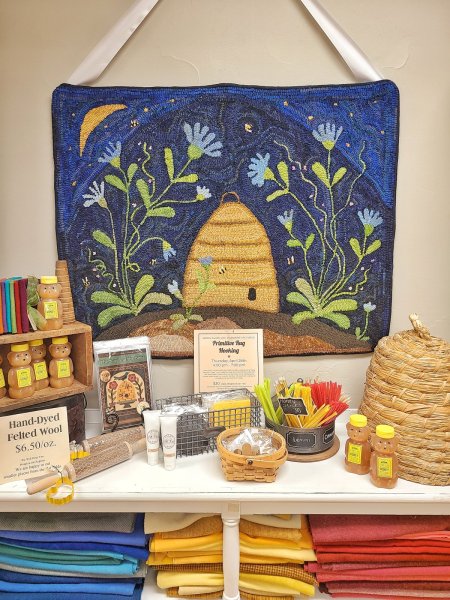 Learn more about this intriguing art and discover how to create your own rug hooking in our
Primitive Rug Hooking Class
with our wool expert, Marianne Michaels Thursday, April 28 at 4:00 pm to 7:00 pm here at the Schoolhouse.
Register now
for $30. Supplies sold separately. Choose from several different kits available at the shop to work on in class then come and enjoy a discussion on the history of Primitive Rug Hooking while you work on your project with guidance from Marianne. The Beehive piece shown above was designed by Maggie Bonanomi and hooked by Marianne Michaels.
Free Wool Applique Demo
Tuesday, March 15, 2:00 - 3:00 p.m.
OR Tuesday, May 3, 5:00 - 6:00 p.m.


Come to one of two Wool Applique Demos where Marianne Michaels will be demonstrating how fun and easy wool applique is! She has lots of tips that she is excited to share with you. Sit in on this one hour, free demo to learn all the basics and ask questions with our wool expert. Once you see just how relaxing wool applique is to do, you will be excited to start your own project!

No supplies or registration necessary. Simply pop in the Schoolhouse and see what wool applique is all about!

The beautiful Wool Whig Rose wall hanging shown above is available in-store as a kit for $99.99 and includes the pattern by Primitive Gatherings, background, binding and a gorgeous range of hand-dyed, felted wool for applique. Choose from a light grey cotton background (as shown) or a dark grey cotton background; whichever strikes your fancy! Finished size is 40" x 40" making it a great project for a beginner or some on-the-go stitching!



When it comes to snuggling up in a quilt on a frosty day, nothing feels like flannel
.
Quilters quality flannel is a soft, woven cotton with a slightly napped or brushed finish that makes it "fuzzy." To many, it resembles the soft woven shirts that grandad wore but flannel does indeed have a history in the quilting world. Because flannel tends to be a bit heavier and warmer than regular cotton fabrics, it was often made into simple utility or camp quilts used by men working on the road. Very few of these remain as they were truly put to good use and worn out but their cozy feel and masculine charm continues to hold a place in contemporary quilting. Currently we can't get enough of them here at the Corn Wagon!
Karen Averett made the quick and easy flannel quilt above to give as a graduation gift! She's calling it her "Glad for the Grad Quilt." Sashing large 10" squares in school colors is a great way to make a personalized throw quilt perfect for snuggling! We have kits!
We recently received a colorful line of yarn-dyed flannel plaids in a new collection of
Mix and Mingle
Primo Plaids
by Marcus Bros Fabrics, some of which are shown above but you really need to stop in and see the full spectrum! Striking colors have a buttery soft hand excellent for clothing or quilts! We also carry
Mammoth Flannels
by Robert Kaufmann. These flannels are two-ply meaning they are brushed on both sides and they come in a wide range of colors and styles ranging from large-scale Buffalo Checks to small-scale
Mammoth Jr.
pastel plaids. You can even pick up
Mammoth Flannel
precuts in 10" stackers or fat quarter bundles!
If you're loving all these scrumptious flannels as much as we are but you aren't quite sure what to make with them, we just received a new pattern book by Primitive Gatherings with eight awesome quilts made using yarn-dyed flannels!
Urban Homestead Gatherings
by Lisa Bongean is an excellent resource with homespun quilts for beginners and advanced quilters alike. You'll find this spiral bound mini book in-store or on our website for just $20! Stop in for more cozy quilt ideas for keeping warm and see our full selection of wool and flannel today!
---
Upcoming Sales & Events



Mercantile Clearance Continues!
Discounts are going deeper. Take 40% off regular price items at the Quilter's Mercantile! Christmas decor is now 75% off! Promotion excludes handmade goods such as pottery, quilt ladders, African baskets and baked goods. Come h

elp us make more room to sew at Corn Wagon Too!



Saturday Sampler 2022 - Thoroughly Modern Mystery
Beginning Tomorrow, Saturday, March 12
Kit #3 will be available beginning next Saturday, March 12 at 10am. Remember, you have a one-week window to bring in the previous month's finished blocks to receive this month's kit free! For your reference, we provide photos of each month's block assignments on Instagram, Facebook and on our website. Be sure to follow along!

Handwork Club
Every Tuesday, 10:00am - Noon
This delightful weekly club is for anyone who would like to work on a hand stitching project while learning new hand stitching skills. It's a great chance to finish our own projects and relax with a fun gathering of sewing friends. No fee to attend. Simply come and join us!

Wrong Price Wednesday!
Every Wednesday our pre-cut fat quarters are only $3.00!

Regular Price $3.75.



Time Out at the Wagon (Open Sew)
Every Wednesday, 10:00am to 4:00pm
Put yourself in Time Out at the Wagon in our School House located directly behind the quilt shop! At times we all need time out from housework, phone calls, and everyday responsibilities. Bring your current sewing project to "Time Out at the Wagon" and do just that. Marsha is looking forward to being in Time Out and hopes lots of you will join her.

S.A.B.L.E. SALE!
Saturday, May 21st, 9:00 am - 3:00 pm
S.A.B.L.E stands for Stash Accumulated Beyond Life Expectancy. It's real. We know from experience and we want to help you out! We've rounded up 20+ S.A.B.L.E. vendors and we are hosting a S.A.B.L.E Sale in our Corn Wagon Too parking lot! They'll have fabric, patterns, kits, notions - - anything quilting related that they're wiling to part with. Think of it as a fabric flea market of giant de-stash where you're sure to find some true treasures. Vendors will set their own prices and manage their own transactions so come prepared with cash or Venmo. Mark your calendar! It's always a great time!

Thank you for supporting your local brick-and-mortar quilt shop!


We feel honored to be part of such a wonderful quilt-making community.



We hope you'll visit us again soon,
Jen and the Girls
at Corn Wagon Quilt Co.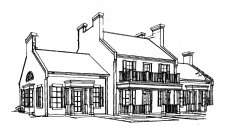 We would love to hear from you!
801-491-3551
cornwagonquilts.com