Skip Navigation
Website Accessibility
The Man Behind the Quilt -- and the Awesome New Quilts He's Holding!

Photographing quilts is part of my job. With the advent of social media, sharing pretty pictures of quilts has grown to become part of quilting culture. My family no longer finds it strange when I say, "Oh, that's a great place for a quilt snap!" and my backseat always has quilt cargo so I can hop out for a photo op when inspiration strikes. To date, I've taken thousands of pictures in all sorts of places but who, you may wonder, is holding all those quilts? My kids and best friends do get roped into it but most often, it's my husband.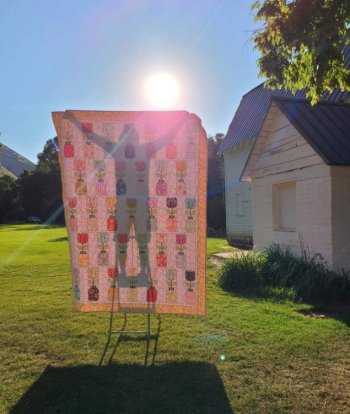 He's the man behind the quilts -- for me, in more ways than one. He knows what it means when I say I
really
need to sew. He makes dinner when it's clear I'm lost in a project. He compliments precise points and gives his opinion when I ask for it. He enjoys driving long scenic roads as much as I love stitching the miles away in the passenger seat. And when I ask if he can hold some quilts, he turns on our favorite playlist and asks, "Where to?" Yes, he is indeed the perfect partner -- and he's taken. Together we've basked in many a sunset while chasing the light for a quilt shot.
He sometimes finds himself in unique positions for just the right photo angle; crouching, climbing, clinging... all while keeping the quilt safely out of the mud. If you've ever looked closely at our past quilt photos, you may recognize his toes peeking from below a quilt or his "man bun" above. Here and there a photo snafu will allow a glimpse of his handsome mug or an odd silhouette as shown above. We joke that the wind
only
blows when he's holding a quilt.
The earth toned quilt above, made by Cymoni Whatcott was perfectly suited for one of our favorite bridge-scapes in Mapleton, Utah. Of course with a constant canyon breeze, it took some patience to catch a shot where the full quilt could be seen hanging smoothly. Good thing he has strong arms. If you look close, there you'll see him standing stoically in the shadow of this quilt.
Perhaps it's appropriate then that this quilt is called
Fly Free
. You'll find the pattern as a free download from
White Plains Quilts
. Cymoni used two 10" precut stackers of the
Gloria
collection by Art Gallery Fabrics and we have kits in-store for $116.99!
The striking modern quilt below, made by Suzanne Jackman, looks to be floating against a scenic rural farm but it's another example of my husband's quilt holding skills. I'm telling you, he's a pro! Of course it's another new quilt we have available as a kit including the Milky Way pattern by Satomi Quilts and a gorgeous array of solid fabrics for piecing the 64" x 80" quilt top and binding for $158.99.


When my husband dropped the corner of this quilt unexpectedly, I caught this surprise shot of his cute face and I felt it was the perfect chance to introduce you to the man behind the quilts. He prefers to remain out of the spotlight but I couldn't pull off this quilting gig with out his support -- literally and figuratively.
And once in a while I can convince him to pose for a pic on purpose. This is us; Jake and Jen Tanner. We make a pretty good team.

As I've posted photos through the years, I've come to appreciate a few social media #hashtags where inspirational quilt photos can be found on the regular. I highly recommend following #quiltsinthewild #urbanquilts #quiltsontheporch and my personal favorite #husbandsholdingquilts

If you find yourself entering the world of quilt photography, whether it be for your personal catalog or to share on the interwebs (Please do! We all want to see your inspiration!) here are a few essential rules of etiquette to follow:
Respect property boundaries -- only photograph in public spaces or get property owner's permission to photograph and to share online.
Do not reveal personal information in your images (addresses, license plates, etc.)
Respect wild spaces. Do not disrupt natural environments for the sake of a photo.
Give fabric and pattern designers credit for their art. Their talent and livelihood is the reason we are able sew up beautiful things. Site them, tag them as the artist.
Do not re-share other's photos without permission or without giving credit to their work and demand the same respect of your own images.
Celebrate the unique perspective of all our fellow quilters with complimentary comments and "likes." This encourages success throughout the quilting world!
Mini Poppins Bag with Shelley Taylor
Thursday, March 24, 10:00am - 5:00pm
Our most popular bag class has just a four seats left!
The Mini Poppins Bag is SEW CUTE! Bet you have never made a bag like this before! Structural stays, included in the pattern, plus Soft and Stable help keep its unique shape. Pockets inside store supplies for a sewing day with friends or use it as a fun purse for everyday use. Come learn some bag-making techniques you have likely never tried before with instructor, Shelley Taylor at the Schoolhouse! There is a bit of prep to do before class so don't wait until the last minute to register.
Let's SEW!



We've altered the set up for the
Seven Brothers Block Party EasyPiecing Grid Class,
making it a three session course instead of a panel of the month club and lowering the price. We hope you'll join us Mon, Apr 11, Mon, Apr 25, and Mon, May 16, 6:00 pm to 9:00 pm. Learn how to make this traditional sampler quilt in a non-traditional way with EasyPiecing Pro, Heather Dunn. Instead of piecing block-by-block, you will piece panel-by-panel for a fun sampler project using the Tensisters EasyPiecing Grid. Class members are encouraged to bring plenty of scraps to class, or purchase yardage requirements listed in the pattern (available at the Corn Wagon). Either way, you'll come away with a one-of-a-kind showpiece sewn with precision. You will need to do a bit of prep before the first class, so please
register early
to allow yourself plenty of time to cut out your squares.
---
Upcoming Sales & Events





Mercantile Clearance Continues!


Discounts are going deeper this week! Beginning Monday, March 21st take 50% off regular price items at the Quilter's Mercantile! Christmas decor is 75% off! Promotion excludes handmade goods such as pottery, quilt ladders, African baskets and baked goods. Come h

elp us make more room to sew at Corn Wagon Too!



Handwork Club
Every Tuesday, 10:00am - Noon
This delightful weekly club is for anyone who would like to work on a hand stitching project while learning new hand stitching skills. It's a great chance to finish our own projects and relax with a fun gathering of sewing friends. No fee to attend. Simply come and join us!

Wrong Price Wednesday!
Every Wednesday our pre-cut fat quarters are only $3.00!

Regular Price $3.75.



Time Out at the Wagon (Open Sew)
Every Wednesday, 10:00am to 4:00pm
Put yourself in Time Out at the Wagon in our School House located directly behind the quilt shop! At times we all need time out from housework, phone calls, and everyday responsibilities. Bring your current sewing project to "Time Out at the Wagon" and do just that. Marsha is looking forward to being in Time Out and hopes lots of you will join her.

S.A.B.L.E. SALE!
Saturday, May 21st, 9:00 am - 3:00 pm
S.A.B.L.E stands for Stash Accumulated Beyond Life Expectancy. It's real. We know from experience and we want to help you out! We've rounded up 20+ S.A.B.L.E. vendors and we are hosting a S.A.B.L.E Sale in our Corn Wagon Too parking lot! They'll have fabric, patterns, kits, notions - - anything quilting related that they're wiling to part with. Think of it as a fabric flea market of giant de-stash where you're sure to find some true treasures. Vendors will set their own prices and manage their own transactions so come prepared with cash or Venmo. Mark your calendar! It's always a great time!

Thank you for supporting your local brick-and-mortar quilt shop!


We feel honored to be part of such a wonderful quilt-making community.



We hope you'll visit us again soon,
Jen and the Girls
at Corn Wagon Quilt Co.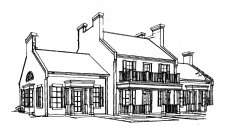 We would love to hear from you!
801-491-3551
cornwagonquilts.com