"Who quilts all of your quilts?"
is a question we hear often at the shop and the answer is... our own wonderful team of machine quilting experts! Did you know Corn Wagon offers machine quilting services? We have three talented quilting professionals with years of experience ready to help you finish your quilt masterpiece. They are true artists with an eye for detail. Choose from custom, hand guided quilting or computer guided, edge-to-edge designs. A variety of edge-to-edge designs ranging from traditional to modern styles are available or you may request a custom design that highlights individual borders and blocks. Every quilt is treated as a unique work of art!
Let's meet the team...
Utah native,
Ramona Sorensen
, is a nationally recognized quilter. She has been with the Corn Wagon for 17 years and we are indeed lucky to have her as part of our team. Her original quilt patterns and machine quilting designs have been published in more than 50 periodicals including Quilters' Newsletter, McCalls Quilting, Quilt Magazine, Fons & Porter and American Patchwork & Quilting. She is known to lay a quilt out for a time and allow it to tell her what it needs. Her specialty is free-motion, hand-guided machine quilting which she executes beautifully using our Gammill long arm right here in-house. Ramona would be happy to sit down and have a quilt consultation with you to discuss the possibilities!
The beautiful quilt above was custom machine quilted by Ramona Sorensen. Zoom in to see how she added flowers to some blocks and swirling leaves to others, enhancing the detail of each element. Kris Money chose a striking neutral palette from the
Through the Woods
collection by Sweetfire Road for Moda Fabrics to piece the
Blue Smoke
pattern by It's Sew Emma. This 68" x 91" stunner is available as a kit in-store for $169.99.
You'll find another example of Ramona's quilting talent in her original
Summer Blossoms
design for our exclusive shop pattern featured in
Quilt Sampler Magazine
(shown below). We recently pulled together more kits for this one, available now in-store and on our
website
so if you missed one during it's original release, now's your chance!
New to our team of machine quilters, we welcome
Tonya Colbert!
Tonya was born and raised in Ogden, Utah with a love for sewing that easily evolved into a passion for quilting. She recalls viewing some beautiful quilting one day with her husband and told him, " I want to do that." So she did! She purchased her own long arm machine and went to work. That was in 2009. Now, with years of experience she has mastered the art of hand guided machine quilting on her Handiquilter. We are thrilled to have her now accepting orders through Corn Wagon Quilt Co.
Would you believe the quilt above is actually a panel? Tonya put her free-motion quilting skills to work in a way that fools the eye into believing this quilt was pieced. Each block is addressed separately, telling a unique quilt story for one of our customers. The quilt below has a gorgeous repeating pattern that carries the eye steadily across the rows. Pieced by Tami Johnson and custom quilted by Tonya, the artistry of these two sewists creates an heirloom quality quilt. What ideas do you have for quilting your next masterpiece? Tonya can help you make those dreams come true!
Dorene Johnson
is a wizard with computerized quilting designs and we are delighted to share her services through the Corn Wagon. Trained by Gina Perkes, world renowned quilter and owner of The Copper Needle in Arizona, Dorene fell in love with the precision of computerized quilting and has since become an expert. Dorene owns an INNOVA quilting machine that produces high-quality digital designs for beautiful edge-to-edge quilting. From simple meanders to themed designs, traditional looks to modern geometrics, Dorene's library of options is sure to have just the design your quilt needs.
The scrap happy quilt below was pieced by Jen Tanner using
Winkipop Lollies
by Jen Kingwell and the Cake Mix Recipe technique. It's a a classic railroad quilt with a twist! Dorene Johnson worked her edge-to-edge magic with a computerized design called Dizzy Izzy and it's perfect for this quilt's spunky personality. We have kits for the 77" x 77"
Lollies Sweetie Railroad
quilt in store for $179.99 that include the pattern by Miss Rosie as well as the Cake Mix Recipe required.
Another fun example of Dorene's computerized quilting is found on Cymoni Whatcott's
Celtic Crossing
quilt. A selection of fabrics from Sharon Holland's
Kismet
collection for Art Gallery Fabrics is showcased in this clean and simple pattern by Lo & Behold Stitchery. Dorene's use of large-scale edge-to-edge quilting is an ideal accent to the modern design.
Our quilter's are currently only three weeks
out
but that can change quickly so don't wait to bring your quilt into the shop for a consultation where we can show you design options and walk you through the choices that will make your quilt one-of-a-kind. You may call the shop during regular business hours to visit with our lead quilter or schedule a time to speak with one them in person. If you live far away or would prefer a quicker drop-off experience, we have an
order form
online that you may print - - call ahead, fill out the form completely and send your quilt directly to the shop. (303 E. 400 S., Springville, UT 84663) We will contact you to discuss details that will ensure your quilt is finished at it's finest. Visit the
"Services" tab on our website
anytime for up to date information on pricing, batting options, backing requirements, and other services provided at the Corn Wagon.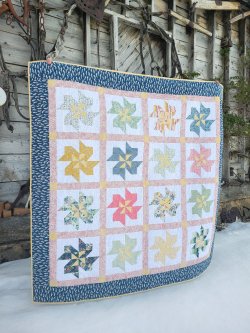 Twisted Flowers EasyPiecing Class
Friday, March 18, 10:00am - 3:00pm
Make this beautiful, scrappy, twisting flowers quilt without sewing any curves! You will enjoy learning this fun, new technique using TenSisters EasyPiecing Grid from grid expert, Heather Dunn. She will show you the basics as well as how easy it is to incorporate half-square triangles with your grid quilts. Choose from 3 different sizes for this quilt: 58" x 58", 43" x 43" or 29" x 29" before borders. Depending on your fabric choices, there are endless possibilities for the look of this quilt. Visit our
website class listing
to see more ideas from Heather!
The Spring Cleaning Sale continues

through this weekend!

Through Saturday, April 23rd you'll find select fabric departments 20% off in-store! How about quilter's cotton yardage from our Civil War collection, Children's department and our selection of Low Volume prints at 20% off regular prices! Discounts cannot be combined with other offers. Stop in and look for the Spring Cleaning signs throughout the shop!
---
Upcoming Sales & Events





Handwork Club
Every Tuesday, 10:00am - Noon
This delightful weekly club is for anyone who would like to work on a hand stitching project while learning new hand stitching skills. It's a great chance to finish our own projects and relax with a fun gathering of sewing friends. No fee to attend. Simply come and join us!

Wrong Price Wednesday!
Every Wednesday our pre-cut fat quarters are only $3.00!

Regular Price $3.75.



Time Out at the Wagon (Open Sew)
Every Wednesday, 10:00am to 4:00pm
Put yourself in Time Out at the Wagon in our School House located directly behind the quilt shop! At times we all need time out from housework, phone calls, and everyday responsibilities. Bring your current sewing project to "Time Out at the Wagon" and do just that. Marsha is looking forward to being in Time Out and hopes lots of you will join her.

Stuff-a-Bag Sale!
Saturday, April 30th
Bring in your reusable, cotton Corn Wagon Quilt Co. bag and receive 20% off any regular priced items you can "stuff" inside. Don't have a bag yet? Purchase one for $5 and reuse it every 5th Saturday for the same great Stuff-a-Bag Sale!
Utah Shop Hop 2022
Friday, May 6 - Saturday, May 14


S.A.B.L.E. SALE!
Saturday, May 21st, 9:00 am - 3:00 pm
S.A.B.L.E stands for Stash Accumulated Beyond Life Expectancy. It's real. We know from experience and we want to help you out! We've rounded up 20+ S.A.B.L.E. vendors and we are hosting a S.A.B.L.E Sale in our Corn Wagon Too parking lot! They'll have fabric, patterns, kits, notions - - anything quilting related that they're wiling to part with. Think of it as a fabric flea market of giant de-stash where you're sure to find some true treasures. Vendors will set their own prices and manage their own transactions so come prepared with cash or Venmo. Mark your calendar! It's always a great time!

Thank you for supporting your local brick-and-mortar quilt shop!


We feel honored to be part of such a wonderful quilt-making community.



We hope you'll visit us again soon,
Jen and the Girls
at Corn Wagon Quilt Co.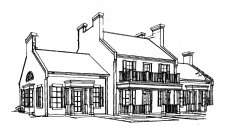 We would love to hear from you!
801-491-3551
www.cornwagonquilts.com