It's been a looooooooong wait, but it's nearly time for the Utah Shop Hop to begin! The past couple of years have been a WILD RIDE! After a two-year pandemic pause, we couldn't be more excited to once again team up with 11 fabulous Utah quilt shops to bring you the Utah Shop 2022! Think of this year's shop hop as a fabric filled amusement park with each shop a different attraction. When you visit the Corn Wagon one week from today, you'll find it has transformed into one of the most nostalgic amusement park rides of all time; The Tunnel of Love. We've spent the past two years searching for the most romantic quilts and we're confident we found them. Our employees have been busy sewing up all new samples that will be on display for the first time during shop hop. As always, the Corn Wagon gals are ready to party!
In order to ensure we can move forward safely, the Utah Shop Hop has made some adaptations for 2022. We are calling it Shop Hop Lite! This means:
Shop Hop will last LONGER! You'll have an entire week to visit all 12 participating shops Friday, May 6 - Saturday, May 14 (Closed Sundays).
All stores will be open Mon - Fri 10am - 6pm and Sat 10am - 5pm.
No Passports, Pins or Finishing Prizes
A free pattern will still be given out at each shop
Utah Shop Hop binders are now available to buy in-store for $3.00 to collect and organize your free patterns as you hop the shops!
We will not be handing out fabric charm squares to children
EACH store will have a drawing for 3 prizes:
We can't wait to bring back your favorite quilter's "thrill ride" as you hop from shop to shop along the Wasatch! Check out www.utahshophop.com for all the details including a countdown ticker and downloadable list of participating shops so you can plan your route for your own wild ride! Here at the Corn Wagon, we'll be showing our customers the love with a different department on sale 20% off each day of the Shop Hop as well as a gift with purchase for the first 400 customers to come through our register! We're letting you in on our sale schedule now, just in case you want to plan your trip south to coordinate with the discount that fits your fancy. Please note: discounts will be available in-store only, day of sale on in-stock, regular price items. May not be combined with other discounts or promotions. Some exclusions may apply.
Friday, May 6 - 20% off Sewing Notions

Saturday, May 7 - 20% off Books & Patterns

Sunday, May 8 - Closed - Happy Mother's Day!

Monday, May 9 - 20% off Children's Cotton & Flannel Fabric Yardage

Tuesday, May 10 - 20% off Homespun Cotton and Woven Flannel Yardage

Wednesday, May 11 - Wrong Price Wednesday Fat Qtr Sale & 20% off Precuts

Thursday, May 12 - 20% off Solid Cotton Yardage

Friday, May 13 - 20% off Kits - some exclusions apply

Saturday, May 14 - Red Dot Sale Fabric reduced to $4.99/yd

Here's a sneak peek at just one of the love-ly quilts you'll find on display during shop hop! We thought a spring bike ride through a flower garden sounded romantic indeed so here we have the Pedal Pushers Remix quilt by Jillilly Studio. Notice how the colorful blocks resemble blooms while the black blocks form bike wheels. The cute bicycles with flower baskets may look like applique but they're cut from a panel! Sara Anderson pieced this darling quilt using Jill Finley's Petals and Pedals collection from Riley Blake Designs. It's available as a kit beautifully packaged in a collectors box for $158.99. We're especially fond of Ramona Sorensen's custom machine quilting!


Free Wool Applique Demo
Tuesday, May 3rd, 5:00pm - 6:00pm
Marianne Michaels will be demonstrating how fun and easy wool applique is! She has lots of tips that she is excited to share with you. Sit in on this one hour, free demo to learn all the basics and ask questions with our wool expert. Once you see just how relaxing wool applique is to do, you will be excited to start your own project! No registration or supplies necessary. Simply meet us in the Schoolhouse located directly behind the quilt shop.

We're ready to unveil our NEW premeire retreat room!
Say hello to the Horizon Room.
This versatile space is located on the ground floor of Corn Wagon Too where the Mercantile was formerly.
You're going to LOVE spending time here with your quilty friends for sewing retreats, guild gathierings, trunk shows and more events! This bright space boasts fixtures that are easy to adapt to your special quilting event. Sturdy, wheeled tables, comfortable desk chairs
,
cutting tables, ironing boards, even areas for you to serve food or display items! As manager of our retreat center, Shannon White has spared no detail in making this exciting new gathering space ideal. We are now accepting reservations for the Horizon Room beginning May 1st! For a full list of room rental prices and amenities, visit the
"Retreats" page on our website
. Remember, rental prices will increase for our other great retreat rooms as of May 1, 2022. We will honor the current pricing on all retreats booked before May 1st so now is the time to call and make a reservation.
801-491-3551


---
Upcoming Sales & Events

Stuff-a-Bag Sale -- Saturday, April 30th
Bring in your reusable, cotton Corn Wagon Quilt Co. bag and receive 20% off any regular priced items you can "stuff" inside. Don't have a bag yet? Purchase one for $5 and reuse it every 5th Saturday for the same great Stuff-a-Bag Sale!

Handwork Club
Every Tuesday, 10:00am - Noon
This delightful weekly club is for anyone who would like to work on a hand stitching project while learning new hand stitching skills. It's a great chance to finish our own projects and relax with a fun gathering of sewing friends. No fee to attend. Simply come and join us!

Wrong Price Wednesday!
Every Wednesday our pre-cut fat quarters are only $3.00! Regular Price $3.75.

Time Out at the Wagon (Open Sew)
Every Wednesday, 10:00am to 4:00pm
Put yourself in Time Out at the Wagon in our Schoolhouse located directly behind the quilt shop! At times we all need time out from housework, phone calls, and everyday responsibilities. Bring your current sewing project to "Time Out at the Wagon" and do just that. Marsha is looking forward to being in Time Out and hopes lots of you will join her.

Saturday Sampler 2022 - Thoroughly Modern Mystery
Beginning Saturday, May 14
A few of you have asked if we will still begin pickup for May kits on our usual second Saturday since the Shop Hop will be in full swing. The answer is yes, we will move forward in May as scheduled. As usual, you will have the following week to bring in last month's finished blocks to receive May's kit free.

S.A.B.L.E. SALE!
Saturday, May 21st, 9:00 am - 3:00 pm
S.A.B.L.E stands for Stash Accumulated Beyond Life Expectancy. It's real. We know from experience and we want to help you out! We've rounded up 20+ S.A.B.L.E. vendors and we are hosting a S.A.B.L.E Sale in our Corn Wagon Too parking lot! They'll have fabric, patterns, kits, notions - - anything quilting related that they're wiling to part with. Think of it as a fabric flea market of giant de-stash where you're sure to find some true treasures. Vendors will set their own prices and manage their own transactions so come prepared with cash or Venmo. Mark your calendar! It's always a great time!

Thank you for supporting your local brick-and-mortar quilt shop!
We feel honored to be part of such a wonderful quilt-making community.

We hope you'll visit us again soon,
Jen and the Girls
at Corn Wagon Quilt Co.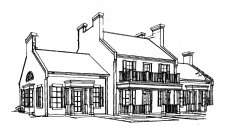 We would love to hear from you!
801-491-3551
cornwagonquilts.com