Skip Navigation
Website Accessibility
""It's a Wild Ride!" Utah Shop Hop going on NOW!

We're hopping and shopping all along the Wasatch! It was so much fun to see so many of our quilting friends lined up at our door bright and early this moring as they embarked on a "Wild Ride." The Utah Shop Hop is officially in full swing! Visit 12 fabulous quilt shops between now and Saturday, May 14th to see which amusement park attraction they have chosen as their theme. Corn Wagon was transformed overnight into The Tunnel of Love! Stop by and see the 20 NEW QUILTS on display just for shop hop all of which tie in with our romantic theme.

What do you think of when you hear "Tunnel of Love?" Love songs? Swan boats? Your sweethert by your side? Maybe even a little kissing going on? You'll find all of the above (although the kisses will be in the form of chocolate) this week at the Corn Wagon Quilt Co. When you float on in through our balloon tunnels, you'll find we've been doing some moving and shaking with some changes to our shop's organization and we think you're going to love what you find.

How many quilts can be made featuring heart blocks? A whole shop full! From Traditional to modern styles, we can't wait to show you some serious quilt love. Sending You Love (above) is a darling modern design by Satomi Quilts. Cymoni Whatcott used her knack for putting together modern color palettes to make the version you'll find on display in our new modern section. Edge to edge heart quilting by Dorene Johnson provides just the right finishing touch. Kits for the 76" x 76" Sending You Love quilt are available in store for $112.99 or you can pick up a pattern and pull a color combo to fit your personality.

Speaking of modern color combos... Chris Chamberlain knew what she was doing when she pulled the perfect mix of solids to play against a Speckled background for the new Graffiti Hearts quilt (above) by Patchwork & Poodle. Ramona Sorensen's free-motion graffiti quilting is an appropriate choice. This 52" x 68" cutie is waiting to greet you as you enter our backdoor and, good news, we have kits for $112.99!



And here is the quilt we have been waiting two years to unveil. Each shop participating in the hop has designed their own unique project to collect as a free pattern while on your "wild ride." We even have a Utah Shop Hop binder you can purchase for $3 to collect and store your patterns. At the Corn Wagon, our own Ramona Sorensen designed the Quilters Have Big Hearts quilt especially for The Utah Shop Hop 2022. A large lattice heart made from the graceful Roselyn collection by Minick & Simpson is pieced using a simple technique. You must visit the store in person to pick up a free pattern for this exclusive design. We also have kits available for $129.99.
Here's a quick breakdown of all the Utah Shop Hop details one more time:
You'll have an entire week to visit all 12 participating shops

Fri, May 6 - Sat, May 14 (Closed Sundays)

All stores will be open Monday - Friday 10am - 6pm and Saturday 10am - 5pm.

NO Passports, Pins, Youth Projects or Finishing Prizes

A free pattern will be given out at each shop

We won't be handing out fabric charm squares to children

EACH store will have a drawing for 3 prizes:

25 Fat Quarters

Gift Basket valued at $100

Gift Card for that Shop valued at $250

An additional ticket will be given to anyone who visits the Logan and Springville shops (that's us)! These tickets will be put in a separate drawing for a $250 gift certificate that can be used in ANY of the shops.

At Corn Wagon, you may enter two additional free drawings by playing our Who's Who game (can you recognize us in our wedding/engagement photos?) or following us on social media.

All drawings will be held on May 25, 2022 and winners will be notified.

We're letting you in on our Shop Hop sale schedule
just in case you want to plan your trip south to coordinate with the discount that fits your fancy. Please note: discounts will be available in-store only, day of sale on in-stock, regular price items. May not be combined with other discounts or promotions. Some exclusions may apply.
Friday, May 6 - 20% off Sewing Notions

Saturday, May 7 - 20% off Books & Patterns

Sunday, May 8 - Closed - Happy Mother's Day!

Monday, May 9 - 20% off Children's Cotton & Flannel Fabric Yardage

Tuesday, May 10 - 20% off Homespun Cotton and Woven Flannel Yardage

Wednesday, May 11 - Wrong Price Wednesday Fat Qtr Sale & 20% off Precuts

Thursday, May 12 - 20% off Solid Cotton Yardage

Friday, May 13 - 20% off Kits - some exclusions apply

Saturday, May 14 - Red Dot Sale Fabric reduced to $4.99/yd
Mother's Day Gift Card with a BONUS!

Now through Saturday, May 7th, receive a coupon for a free yard of fabric when you purchase a gift card valued at $50 or more! Grab one for mom, grandma, or yourself.
Promotion available in-store only. One coupon per customer.
HAPPY MOTHER'S DAY!


New Teacher Alert! We're delighted to have JaNean Frandsen teaching at the School house. I'll allow her to introduce herself:

Hi there friends! My name is JaNean and I love to make quilts. I have been sewing since 2008 when I discovered that quilts could have bright and bold colors and striking designs. I thought it might be a way for me to make inexpensive gifts for friends (ha!) and a way to spend my extra time. Quilting, especially piecing, has become an obsession and I won't be stopping anytime soon! I love to try new things and make the process more streamlined and efficient so I can get the most out of my time while caring for my four kids. I love to blend old and new techniques to make beautiful modern quilts. I hope you'll join me in class!
Buffalo Plaid Quilt Class:
Everyone loves a Buffalo Plaid/Gingham quilt! This classic beginner friendly quilt pattern will teach you all the skills you need to know to make this striking quilt! The pattern uses simple 4 patch blocks to build a vibrant and stunning gingham design that looks great in any room in your home. JaNean will teach you how to chain piece, spin seams, and plan your quilt like a pro. Choose from two different class dates: Friday, May 20, 10am-2pm or Saturday, June 25, 10am-2pm.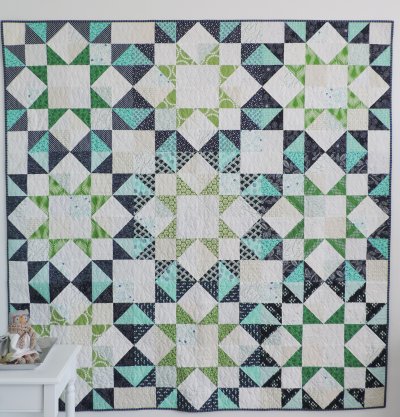 Candor Stars Quilt Class:
The Candor Stars quilt pattern uses a unique method of making half square triangles that require NO TRIMMING! The big blocks (24" or 36") come together in a flash and create fun secondary patterns when sewn together. Your instructor will teach you how to use the endlessly handy Half Square Triangle rulers for this quilt and how to adapt any pattern to construct HSTs this way. As a bonus, the pattern and class cover how to spin your seams to make your points sharp and keep your quilt square. You will come away from class ready to level up all future projects with your new skills! Choose from two different class dates: Friday, June 24, 10am-3pm or Saturday, July 30, 10am-3pm.
---
Upcoming Sales & Events



Handwork Club
Every Tuesday, 10:00am - Noon
This delightful weekly club is for anyone who would like to work on a hand stitching project while learning new hand stitching skills. It's a great chance to finish our own projects and relax with a fun gathering of sewing friends. No fee to attend. Simply come and join us!

Wrong Price Wednesday!
Every Wednesday our pre-cut fat quarters are only $3.00!

Regular Price $3.75.



Time Out at the Wagon (Open Sew)
Every Wednesday, 10:00am to 4:00pm
Put yourself in Time Out at the Wagon in our School House located directly behind the quilt shop! At times we all need time out from housework, phone calls, and everyday responsibilities. Bring your current sewing project to "Time Out at the Wagon" and do just that. Marsha is looking forward to being in Time Out and hopes lots of you will join her.

Saturday Sampler 2022 - Thoroughly Modern Mystery
Beginning Next Saturday, May 14
Many of you have asked if we will still begin on the 2nd Saturday since it's the last day of shop hop and the answer is yes. You have one week to finish up this month's assignment! You can do it! Kits will be available beginning next Saturday, May 14 at 10am. Remember, you have a one-week window to bring in the previous month's finished blocks to receive this month's kit free so if you would prefer to avoid the crowds, plan to stop in the following week. See you all soon!

S.A.B.L.E. SALE!
Saturday, May 21st, 9:00 am - 3:00 pm
S.A.B.L.E stands for Stash Accumulated Beyond Life Expectancy. It's real. We know from experience and we want to help you out! We've rounded up 20+ S.A.B.L.E. vendors and we are hosting a S.A.B.L.E Sale in our Corn Wagon Too parking lot! They'll have fabric, patterns, kits, notions - - anything quilting related that they're wiling to part with. Think of it as a fabric flea market of giant de-stash where you're sure to find some true treasures. Vendors will set their own prices and manage their own transactions so come prepared with cash or Venmo. Mark your calendar! It's always a great time!

Thank you for supporting your local brick-and-mortar quilt shop!


We feel honored to be part of such a wonderful quilt-making community.



We hope you'll visit us again soon,
Jen and the Girls
at Corn Wagon Quilt Co.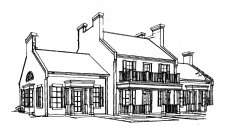 We would love to hear from you!
801-491-3551
cornwagonquilts.com