Skip Navigation
Website Accessibility
Join us for the Art City Days Quilt Show! Plus: More Classes for Summer Fun!

Ferriswheel, Fireworks, Grand Parade and QUILTS!
It's time for city celebrations across the state and for Springville, Utah, that means Art City Days! Some of my fondest memories are tied to Art City Days. Growing up on Main Street here in town, it was a happy day when the fire station across the street opened it's bays for a week of delicious pancake breakfasts served by our volunteer fire crew. Watching the colorful carnival trucks roll into town was always exciting and soon afterward the air would fill with the mixed aroma of cotton candy, scones and all the other goodies unique to the food stands in the park. Hot air balloons filled the early morning skies. Locals began staking out their parade seats a few days before the big march down the main thoroughfare. Music from local artists and the high school band formed the soundtrack of those summer nights and the pop of fireworks closed out the week-long festival. Mingled amongst these memories is our annual visit to the Art City Days Quilt Show. It was always a welcome break from the noisy, hot summer celebration outside to walk into the quiet showcase where the textile artistry of many neighbors was on display. I loved finding familiar names and looking at all the color and pattern in each piece.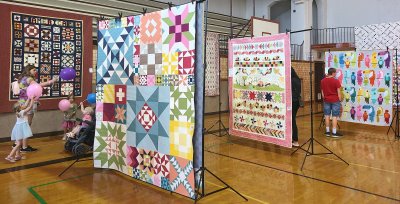 I'm happy to say that thanks to some of our best quilting friends here in town, this local show lives on! Admission is free for this two day event where the public can view this beautiful collection of quilts and handcrafted items and vote for their favorites. The annual Art City Days Quilt Show is held on Friday and Saturday, June 10 and 11. at Cherry Creek Elementary North Gym (directly behind the Springville Museum of Art -- just a two blocks from the Corn Wagon) 485 South 200 East, Springville. If you live in Utah County or happen to be in town for a visit, it's well worth a stop at the Art City Days Quilt Show. While you're here, check out some of the other fun activities that make Springville City celebrations some of the best around! Visit
www.springville.org/art-city-days
for a full schedule of events taking place Saturday, June 4 - Saturday, June 11.
Any Springville or Mapleton resident who sews is invited to submit an entry to display during Art City Days! This is a non-juried show. Quilts of all sizes, skill levels and from makers of all ages are welcome. Other sewing projects such as hand made clothing, bags and rugs will also be accepted. For more information about entering your quilts and handiwork, please contact Heidi Udall heidiudall@gmail.com or Cathie Erickson (801) 836-6452. Submissions must be received no later than Wednesday, June 8th.
Corn Wagon Quilt Co. will open
at Noon on
Saturday, June 11th
Because the Art City Days Parade route passes in front of the Corn Wagon, the shop will not open until noon on Saturday, June 11th. This is indeed the 2nd Saturday of the month meaning it's the first day to pick up Saturday Sampler kits for June. Please make note of this schedule change. As usual, we will allow a one week period for those registered to bring in their previous month's assignment finished to receive June's kit free!
Back by popular demand, our Camp Sew Fun quilting class is sure to be just that -- SEW FUN!!! Sign up for 3 days of sewing (and fun!) where you will be able to make an awesome 60" x 72" quilt top just for you! This summer we will be making the Hannah Quilt by Erica Taylor Jackman (shown below) with instruction and support from Chris Chamberlain and Suzanne Jackman. Come choose a jelly roll, add a background, and you will be able to make this quilt for your very own self! Please, cut your fabric (with help!) before you come to the first class so you can spend your time sewing. All you need to do for this class is cut (10) 4 1/2" x WOF strips from your background fabric. If you need help cutting your fabric, please let us know at Corn Wagon and we will help you. Please bring a drink for yourself and a snack to share if you would like. Yeah! SEW FUN!!!



Choose from two different Camp Sew Fun sessions:
Mon, Jul 18, Wed, Jul 20, and Thu, Jul 21 at 1:00 pm to 5:00 pm OR
Mon, Aug 1, Wed, Aug 3, and Thu, Aug 4 at 1:00 pm to 5:00 pm
Camp Tuition is $105.00 per student. Pattern and supplies must be purchased separately and are available at Corn Wagon Quilt Co. Register your child today online or stop in and see us at the shop!


We have two super cute bag classes taught by Shelley Taylor coming right up -- the only dilemma is deciding which to sign up for -- why not take both!
First we have the Divided Basket Class. You'll love this versatile pattern by Noodlehead. It's a great basket for storing all sorts of goodies. This structured basket has a divider

sewn in on both sides as well as bottom, no gaps for anything to slide through! A

front pocket is perfect for showcasing a favorite fabric. There are two handle variations to choose from. Finished size: 11" W x 6" D x 10.5" H including handles.
Shelley Taylor will teach you all the best skills for a professional finish. Register today to join us at the Schoolhouse Thursday, June 16th, 10:00 a.m. - 1:00 p.m and come away with a cute new storage basket!
Next we have the Ferris Bag Class. We can't get over how adorable this "fanny pack" by Sallie Tomato patterns is! It's a bag unlike any you've ever sewn before! It's a useful waist carryall or cross-body sling in three sizes – fitting for ANYONE; guys, gals, kids and grownups! This simple bag features a zipper pocket, zipper top closure, adjustable strap and is fully lined. Looks complicated but learning with Shelley Taylor makes it easy! Sign up now and come pick up your pattern and choose your supplies then we'll see you in class Friday, June 17, 10:00am-4:00pm!
---
Upcoming Sales & Events





Handwork Club
Every Tuesday, 10:00am - Noon
This delightful weekly club is for anyone who would like to work on a hand stitching project while learning new hand stitching skills. It's a great chance to finish our own projects and relax with a fun gathering of sewing friends. No fee to attend. Simply come and join us!

Wrong Price Wednesday!
Every Wednesday our pre-cut fat quarters are only $3.00!

Regular Price $3.75.



Time Out at the Wagon (Open Sew)
Every Wednesday, 10:00am to 4:00pm
Put yourself in Time Out at the Wagon in our School House located directly behind the quilt shop! At times we all need time out from housework, phone calls, and everyday responsibilities. Bring your current sewing project to "Time Out at the Wagon" and do just that. Marsha is looking forward to being in Time Out and hopes lots of you will join her.

Thank you for supporting your local brick-and-mortar quilt shop!


We feel honored to be part of such a wonderful quilt-making community.



We hope you'll visit us again soon,
Jen and the Girls
at Corn Wagon Quilt Co.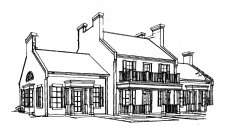 We would love to hear from you!
801-491-3551
cornwagonquilts.com