Utah is alive with local quilt talent and we often have serendipitous quilt celebrity sightings here at The Wagon. Makers and artists abound along the Wasatch and yet we're still a bit star struck anytime a designer walks through our doors. We're ardent admirers of those who heed the call to put their talent into the art of stitching in such a way that it brings us all together and we're especially fond of supporting those who do so locally. They inspire and encourage us to move forward in our own artistic expressions and for that we are grateful. Today I want to introduce you to four Utah designers who are currently contributing in big ways to the quilt world, all of whom have something to offer right here through Corn Wagon Quilt Co.



We recently met Shauna Little while she was experimenting with hand-dyed wool options here at the shop. Shauna and her daughter, Afton Harding are the dynamic, mother daughter duo behind Clara Jean Design. They currently design fabrics for Dear Stella with a unique, whimsical, watercolor style. From their website, "Shauna, founder and owner, is a talented clothing designer. Afton, creative director, is an artistic genius. Together they create a plethora of charming designs applicable to any surface. Focusing mainly on textiles, their art can be seen on many other mediums including wallpaper, sporting goods, children's clothing paper goods and greeting cards."
Read more about their story and see their inspiring work here. We love their fresh upbeat designs and you'll currently find their winter collection, Snow Much Fun on our shelves and online. Thanks for stopping in, Shauna!



We fell in love with a new collection of fabrics called Clara Jane (not to be confused with Clara Jean, above) and ordered them from Cotton+Steel straight away, only to soon discover it was designed by one of our regular customers! Chelsea Ekberg describes herself as, "a Jane of All Trades, Mom Boss, folk art obsessed, typography nerd, musical theatre loving, crazy quilter, latter-day saint, lipstick wearing girl who loves design almost as much as I love cats...almost!" Learn more about Chelsea and her work on her super cool webpage. Here she is with a few of her fabrics on our shelves.

Chelsea's designs are described as a sophisticated take on folk art and we are thrilled to offer her fabric, patterns and to have her as an instructor this fall at our Schoolhouse! She'll be teaching an embroidery class tomorrow (and lucky for you, it's not to late to get in on it by signing up here) featuring her beautiful Clara Floral pattern. You'll learn embroidery basics like how to transfer a pattern, how to stitch from the ground up and how to finish your hoop for display. It's a fun opportunity for beginners and advanced embroidery artists alike to enjoy an afternoon of stitching together. We are excited to offer more of her designs in-store and online in the near future!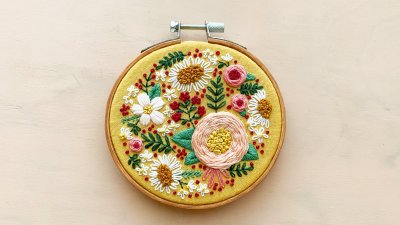 When it comes to quilting, Chelsea's surface designs are inspiring and her portfolio of patterns is ever expanding. She will be teaching one of her most popular quilt patterns, Mod Blooms, here at the Schoolhouse in a two-part class Thursdays, November 3rd and 10th, from 6:00pm - 9:00pm. By learning to piece two modern flower blocks, she'll show you how to make half-square triangles, flying geese and snowballed corners. With 6 hours of instruction and sewing time you'll be able to complete much of this unique quilt top with Chelsea's professional guidance in class. Register today online or in-store and stop in to see her fabrics and beautiful quilt on display at the shop!
Another impressive pattern designer from our neck of the woods, JaNean Frandsen has been sewing since 2008 when she discovered quilts could have bright and striking designs. Quilting, especially piecing has since become an obsession! She loves the challenge of making the process more streamlined and efficient so she can get the most out of her sewing time while caring for her four children. Follow JaNean's blog and learn more about her designs
here.
You can learn some of JaNean's favorite time-saving techniques right here at our Schoolhouse with two different class options! The first is her
Candor Stars Quilt Class
. You may have seen this energetic design on display at the shop but did you know it was made using a unique method of piecing half-square triangles that requires NO TRIMMING? That's right! It's just one of the great piecing techniques you'll learn from JaNean in class on Saturday, October 22nd, 10am-3:00pm.
The second class JaNean has on our schedule is her
Buffalo Plaid Quilt
. This classic, beginner-friendly design is currently all the rage! JaNean will teach you how to chain piece, spin seams and plan your quilt like a pro while piecing simple four-patch blocks that will come together in a simple gingham design. Register today
online
or in-store and join us for a day of simple sewing at the schoolhouse, Saturday, November 12, 10:00am - 2:00pm.
And finally, I'd like to introduce you to Suzanne Jackman. Yes, indeed, she's already a familiar face at the Corn Wagon. We're fortunate to have her on staff here at the shop but did you know she is also a talented quilt designer and pattern writer? Does the name Splendid Speck ring a bell? Suzanne is the creative wizard behind the brand. She's known for her love of clean, modern quilts with a traditional block feel. Take a closer look at her designs
here.
If you've been a part of our Saturday Sampler this year, you know her as the mastermind behind the
Thoroughly Modern Mystery BOM.
After ten months of piecing beautiful red, white and blue blocks, we recently revealed how they all come together in this stunning 69" x 69" quilt top! Thank you, Suzanne, for your countless hours of design time, organization, pattern writing, testing and ultimately finishing this awesome program for over 360 quilters through Corn Wagon Quilt Co.!
We are delighted to have Suzanne on board once again as the designer of our
Saturday Sampler 2023: Choose Your Own Adventure!
Registration is now open for this exciting new mystery Block of the Month. It's going to be different than anything we've done yet and we have a feeling you're going to love it! Visit our website for full details, photos of our style options and to register.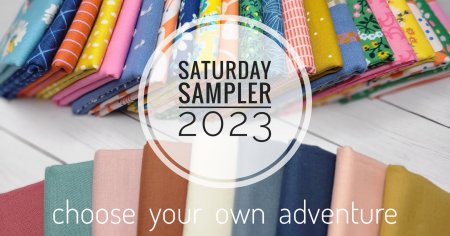 Corn Wagon Birthday P.J. Party Sale


Saturday, November 5, 2022 from 9am - 5pm


Save the Date! We're celebrating 23 years of quilting with our traditional P.J. Party Sale here at the quilt shop and... We've got exciting news to share as part of our celebration! What could it be? Any guesses? Stay tuned to see if your Corn Wagon Birthday wish comes true!



Our friend, Shelley Taylor is an award-winning teacher and bag-making extraordinaire. Shelley teaches bag classes at several quilt shops and retreats around Utah, including Corn Wagon Quilt Co. She loves to watch students attempt a new technique that they have never tried before, and to see the excitement when they finish a bag they didn't think they could make. Check out a few of our classes with Shelley and enjoy the journey of bag making. You'll be surprised how quickly you can become a fellow Bagineer!

As always, you can view class supply lists and register online. Class supplies listed are 15% off for class members. BONUS: you can enjoy 15% off all regular price purchases while here for class by wearing a Schoolhouse lanyard into the quilt shop!
Make the
Night & Day Mini Tote
at our Schoolhouse Saturday, October 22, 10:00-3:00. Learn some great sewing skills including working with interfacing, making straps and adding an interior zipper pocket from a professional bag-maker extraordinaire! Bonus: this functional little tote can be reversible for two fun looks: a quilted side or a non-quilted side with a welt pocket! It's another great design from Patterns by Annie. We would love to help you collect your class supplies and choose your own unique fabric combo.
This fun-to-make
Sidesaddle Pouch
by Aneela Hoey is sturdy with a spacious, box-shaped interior. The zipper allows it to open into a wide basket shape when the pouch is in use. There are two zippered pockets -- one each side of the pouch that will hold lots of additional tools and supplies. The construction is a little tricky, so joining our expert Shelley Taylor is a must for this fun and useful pouch. Sign up and meet us at the Schoolhouse Thursday, November 10, Noon to 5 pm.
---
Upcoming Sales & Events





Magic Word Monday
Check our Instagram or Facebook page every Monday morning to find the Magic Word in our most recent post!

Repeat the Magic Word at the register the same day it is posted and show us you follow us on social media to receive 20% off one regular price item of your choice!

Some exclusions may apply. The Magic Word can only be used once per customer each Monday. Cannot be combined with other offers. Must be present in store or purchase by phone day of sale to receive discount. We will not hold items or pre-cut yardage for this special offer.



Handwork Club


Every Tuesday, 10:00am - Noon
This delightful weekly club is for anyone who would like to work on a hand stitching project while learning new hand stitching skills. It's a great chance to finish our own projects and relax with a fun gathering of sewing friends. No fee to attend. Simply come and join us!

Wrong Price Wednesday!
Every Wednesday our pre-cut fat quarters are only $3.00!

Regular Price $3.75.



Time Out at the Wagon (Open Sew)
Every Wednesday, 10:00am to 4:00pm
Put yourself in Time Out at the Wagon in our School House located directly behind the quilt shop! At times we all need time out from housework, phone calls, and everyday responsibilities. Bring your current sewing project to "Time Out at the Wagon" and do just that. Marsha is looking forward to being in Time Out and hopes lots of you will join her.

Wool Applique Demo
Thursday, October 20, 2022 at 11:00 pm to Noon


Marianne Michaels will demonstrate how fun and easy wool applique is! She has lots of tips that she is excited to share with you. Sit in on this one hour, free demo to learn all the basics and ask questions with our wool expert. No registration or supplies needed. Simply pop in!



Thank you for supporting your local brick-and-mortar quilt shop!


We feel honored to be part of such a wonderful quilt-making community.



We hope you'll visit us again soon,
Jen and the Girls
at Corn Wagon Quilt Co.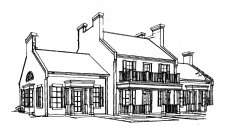 We would love to hear from you!
801-491-3551
cornwagonquilts.com