Skip Navigation
Website Accessibility
Quilts for Christmas & Small Business Saturday Sewing Retreat!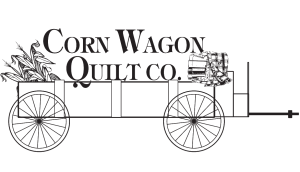 Oh, the weather outside is frightful, but the FABRIC is so delightful, and since we've no place to go, let us sew, let us sew, let us SEW! We've had our first wave of winter storms here in Utah and we couldn't resist the urge to put up the tree and deck the Wagon for the holidays. We've been busy finishing up Christmas quilts and wool projects just in time for the season and they're all on display at the shop! Come in where it's warm and see what Santa has in store for you at the Corn Wagon.



Have a Holly Jolly Christmas with this rosey cheeked Santa surrounded in plaid. Shannon White put this quilt together faster than the jolly old elf can fly up the chimney using a panel and fabrics from the Holly Jolly collection by Urban Chiks. Jen Tanner jumped in with a cheerful matching table topper (right) using the Cutie Patootie pattern by Kati Cupcake. Marianne Michaels created a wool version of Nancy Halvorsen's Merry Christmas project from her I Believe book and we're in love with the bold wool typeface! We have kits for all three of these projects in-store but they're going fast so grab yours now before they dash away! Dash away! Dash away all!



Oh Christmas Tree, Oh Christmas Tree... how lovely are your stitches. Karen Averett had a jolly time making this festive pine forest. Using a stack of 10" precut squares of the Old Fashioned Christmas collection by My Mind's Eye allows for a variety of different prints to adorn each tree. The Christmas Pines kit finishes at 72" x 80" and includes the Plaid Pines pattern and acrylic Tall Triangle Template both by Lori Holt, a 10" Precut Stacker, green Swiss Dot background and binding for $179.99. You can snag yours here!
You better watch out, you better not cry...
(as sung by Bruce Springsteen)
you better not pout, I'm tellin' you why...
(because that's Lexi Lamb's all-time favorite Christmas song and she made this quilt)
Santa Claus is coming to town! From Art Gallery Fabrics comes
Christmas in the City
and it's bustling with holiday nostalgia. Each print in this collection is so good that Lexi didn't want to cut them apart so she used the
Brickyard
pattern by Amy Smart to frame each fabric in a delicious gingerbread colored C+S Basic. It's a modern quilt with throwback style and we are here for it! Kits available in-store and
online
for $101.99.
It's the Most Wonderful Time of the Year!
If you aren't singing along with the Christmas songs in this newsletter yet, you will be after this quilt.
Cheer and Merriment
was inspired by classic Christmas carols! Shannon White chose a metallic Essex Linen as a glimmering background for piecing simple squares, stripes and panel pop-outs. Using a panel and fabric by Fancy That Design House for Moda is what guarantees it's timeless charm. Kits for this 58" x 76" quilt include the pattern and yardage as shown for $118.99 and are available in-store or
online
.
Browse our selection of Christmas fabrics, kits, wool projects and ideas online!
THANK YOU FOR CELEBRATING 23 YEARS!

We loved seeing so many of you at the P.J. Party last Saturday and want to thank you for your support. So many of you asked about the sweatshirts our staff was wearing that we've decided to offer them as a limited-edition pre-sale for $29.99! Inspired by our Corn & Beans barn quilt designed by Abbie Hicks, this classic black, unisex cut sweatshirt will be a favorite. Order now through Nov 30th here and select pickup or shipping at checkout. We estimate they'll arrive in time for Christmas!

BONUS: Wear your Corn Wagon sweatshirt in the shop and receive 10% off regular price items!

Small Business Saturday EasyPiecing Retreat! We all know Black Friday as a hectic day when big stores take Christmas shopping to a whole new level, but did you know the day afterward is set aside to support small businesses during the biggest shopping season of the year? As a family owned brick-and-mortar quilt shop, we like to mark this day with a special sewing event each year to encourage you to take a break from all the runaround, sit with some quilting friends and relax with a Saturday of sewing while supporting small business.

This year we are excited to welcome Heather Dunn for a Small Business Saturday EasyPiecing Retreat! Choose one of TEN different EasyPiecing Christmas projects to work on and receive detailed instruction and all-day support from our expert "EasyPiecer!" Check out some of the options below and view all of them under the class listing online. You could start with something small and simple like Christmas stockings, a table runner or wall quilt. If you're up for a challenge, go for something bigger like a
Christmas Scrappy Garden Path Quilt
(above) or
Snuggly Snowflake
throw quilt (below).
Natalie Smith put a Christmas twist on the
Easter Bloom Table Runner
by TenSisters Handicraft and
we're offering kits!
With a Scandinavian feel, this timeless table runner features solid fabrics in bright, classic Christmas colors (shown below). The pattern is currently free from
www.tensisters.com
along with many more EasyPiecing designs! Our kit includes the layout diagram and yardage for the 21" x 41" table runner top and binding as well as the required 1" Finished EasyPiecing Grid. Remember, you can take 15% off any supplies you buy for class as well as any regular price items you purchase while here for the retreat!
Our Small Business Saturday Retreat will take place November 26, 2022 from 10:00 a.m. until 4:00 p.m. at our Corn Wagon Too retreat center. Registration is $60. To see a
gallery of all ten project options, click here
or stop by the shop and see them on display. You'll also want to take a look at our wide variety of Christmas fabric for the project you choose.
You'll love learning how the EasyPiecing Grid simplifies design layout and allows seams to align with precision. Did you know that EasyPiecing Grid is produced right here in Utah County by TenSisters Handicraft? So you'll be supporting more than one small, local business with an afternoon of sewing. Come and kick off your holiday making with us!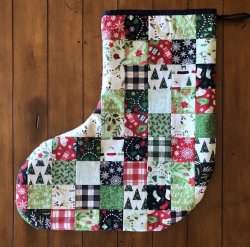 ---
Upcoming Sales & Events
Saturday Sampler 2023 Registration Closing
Saturday, November 19, 2022


Choose Your Own Adventure with our next mystery block-of-the-month running January-October 2023. Designed by Suzanne Jackman of Splendid Speck, this unique bom allows you opportunities to choose a style that speaks to you. Will you choose a quilt made with bright prints or rich solids? See our website under "classes" for full details, fabric options and to register. This year's patterns will include some full-color diagrams and we will be offering a monthly video demo with instruction for each month's assignment for those registered!

Magic Word Monday Check our Instagram or Facebook page every Monday morning to find the Magic Word in our most recent post!

Repeat the Magic Word at the register the same day it is posted and show us you follow us on social media to receive 20% off one regular price item of your choice!

Some exclusions may apply. The Magic Word can only be used once per customer each Monday. Cannot be combined with other offers. Must be present in store or purchase by phone day of sale to receive discount. We will not hold items or pre-cut yardage for this special offer.



Handwork Club


Every Tuesday, 10:00am - Noon
This delightful weekly club is for anyone who would like to work on a hand stitching project while learning new hand stitching skills. It's a great chance to finish our own projects and relax with a fun gathering of sewing friends. No fee to attend. Simply come and join us!

Wrong Price Wednesday!
Every Wednesday our pre-cut fat quarters are only $3.00!

Regular Price $3.75.



Time Out at the Wagon (Open Sew)
Every Wednesday, 10:00am to 4:00pm
Put yourself in Time Out at the Wagon in our School House located directly behind the quilt shop! At times we all need time out from housework, phone calls, and everyday responsibilities. Bring your current sewing project to "Time Out at the Wagon" and do just that. Marsha is looking forward to being in Time Out and hopes lots of you will join her.

Thank you for supporting your local brick-and-mortar quilt shop!


We feel honored to be part of such a wonderful quilt-making community.



We hope you'll visit us again soon,
Jen and the Girls
at Corn Wagon Quilt Co.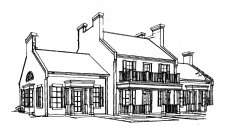 We would love to hear from you!
801-491-3551
cornwagonquilts.com