"What are you thankful for?" It's a tradition at my in-laws every Thanksgiving. We gather around and each share one thing we are thankful for. Mind you, there are no fewer than 40 members of our immediate family so this could take some time. Find a seat and get comfortable for this one. With four generations present you'll hear it all from silly and simple to words of wisdom. It's a tender tradition (even though we're clearly pushing through nap time) that we jokingly loathe but honestly love. I'm realizing this year will be my 25th time at this Thanksgiving table -- 24 things I have openly expressed thanks for this way. And here I am, wondering if this is the year I admit, "I am Thankful for Fabric" Will they think I,m crazy? They already know I am. Will they think me ungrateful? They don't understand what this textile medium does for my soul. They're not quilters (yet I love them all the same, wink, wink) but YOU are and YOU know what I mean.




This just happened to pop up on my social media feed today. Shared by Art Gallery Fabrics, this little note summarized exactly why I do indeed have gratitude in my heart for fabric. You see, it goes so much deeper than the substrate. Textiles inspire me to unlock my creativity, to make something with my own two hands, to give and to share what I create. It draws me to a community of friends who also find joy in making. It tells a story of past and present and it leads my mind to places I hope to arrive in the future. And pared down to it's most basic purpose, it's what clothes and protects us. In fact, at this moment, on this cold winter evening, I feel deep gratitude, on so many levels, to be wrapped in a handmade quilt.

So... I am Thankful for Fabric. And I think it's time I admit it in front of the in-laws.
At the top of my thankful list, right next to fabric, is my appreciation for nature's wild and open spaces. When friends ask where our family is traveling, the answer is often, "to the middle of nowhere." Quilts usually come along for the ride. What is the old saying about great art begins where nature ends? I love pairing landscape to quiltscape! The following three quilts made lovely companions for my latest journey through the Southern Utah desert (and my husband is a terribly good sport, holding quilts as the opportunities arise -- one more reason to be thankful).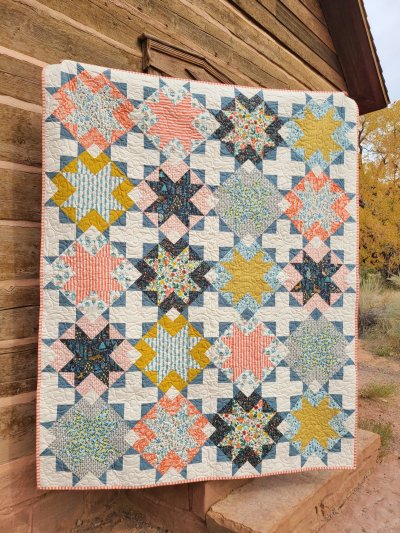 A closer look at the quilt above reveals
fabrics from Rifle Paper Co.
Those unmistakable florals have become a staple at our shop. Averi Reilly mixed them up and set them off with a gorgeous deep aqua against an unbleached neutral for
The Maggie Quilt
by Kitchen Table Quilting. Just look at that Rifle stripe binding! Be still my beating heart! Kits are available in store and online for $139.99. Speaking of Rifle Paper Co.... the new Bramble collection has arrived!
Another beauty among the red rocks, this version of the
Luminaries
quilt by Cotton and Joy features pretty prints from the
Elegance
collection by Corrine Wells for Riley Blake Designs. Made by Kathe Torgerson, this 58" x 72" quilt is a beginner friendly using 10 fat quarters to piece 20 blocks that offer a window to each unique print. It's on display now at the shop or pick one up right
here online
.
It was an honor to take John Wayne on our road trip through the desert. Yes, this quilt pieced by Kris Money is an ode to The Duke and it just didn't seem right to take a snapshot anywhere else. This is the second fabric collection by Riley Blake Designs to honor the Hollywood icon, this time titled
Go West with John Wayne
. A rider on horseback is silhouetted against a western desert landscape in six panels. Traditional pieced blocks and borders feature John Wayne quotes and bandana prints. Packaged in a collectable storage box, the quilt finishes at 61" x 71" and includes the pattern and binding for $73.99.
Keeping with the Thanksgiving theme, I'll leave you with one of John Wayne's famous quotes;
"

If you can't be thankful for what you have, be thankful for what you have escaped.

"

WE'RE WOOLIE THANKFUL!
Looking for a something to stitch during the holiday? Our wool department has some woolie great projects for the season. Applique a wall hanging, table topper or pillow by Jerome Thomas designs using our scrumptious hand-dyed wool. We have everything you need to whip up something wonderful. Stop in and see all the seasonal project kits in-store or browse them online here.
Did someone say Small Business Saturday? Corn Wagon will be closed on Black Friday (we'll be busy sewing while the family has Thanksgiving leftovers to fuel them) but we'll be open with a

SALE for Small Business Saturday on November 26th, 10 a.m. - 5 p.m.

We will fill you in next week on what special discounts we'll be offering for Small Biz Saturday but we can't wait to kick-off the holiday shopping so let's get things started! Right now, you'll find our Christmas themed fabric is 20% off in-store and

online!





Beginning today, we're offering our

"Free Yard of Fabric" Bonus Coupon

to Gift Card purchases valued $50 or more! It's the easiest way to shop for your best quilty friends (and easiest hint to give). For the first time we're making this offer available in-store AND online! Did you know you can buy Corn Wagon Gift Cards from our Homepage? Scroll to the bottom, choose the amount you'd like to give and complete the checkout process. The gift card will be sent right to your inbox. Spend $50 or more on gift cards online and we'll email you a coupon code for one free yard of fabric the following business day! One coupon per customer. Coupon cannot be combined with other offers. Offer ends December 23, 2022. As always, you can stop by the shop for the same great deal. That's one gift you can check off the list!


New to the Class Schedule!
Come enjoy an evening with friends while learning the basics of embroidery, plus a few new stitches! Chelsea Ekberg of On the Mark Designs has created the prettiest collection of embroidery patterns including this Christmas cutie, sized to hang on the tree! In this class you will learn how to transfer a pattern, how to stitch a design from the ground up, and how to finish off your hoop for display. It's perfect for beginners all the way to advanced embroidery artists who want to have a fun time enjoying some slow stitching. We have a limited number of kits available at the shop to give you a jump start or feel free to use your own supplies and color selection. Remember to take advantage of 15% off your class supplies at the shop!
---
Upcoming Sales & Events





Magic Word Monday
Check our Instagram or Facebook page every Monday morning to find the Magic Word in our most recent post!

Repeat the Magic Word at the register the same day it is posted and show us you follow us on social media to receive 20% off one regular price item of your choice!

Some exclusions may apply. The Magic Word can only be used once per customer each Monday. Cannot be combined with other offers. Must be present in store or purchase by phone day of sale to receive discount. We will not hold items or pre-cut yardage for this special offer.



Handwork Club


Every Tuesday, 10:00am - Noon
This delightful weekly club is for anyone who would like to work on a hand stitching project while learning new hand stitching skills. It's a great chance to finish our own projects and relax with a fun gathering of sewing friends. No fee to attend. Simply come and join us!

Wrong Price Wednesday!
Every Wednesday our pre-cut fat quarters are only $3.00!

Regular Price $3.75.



Time Out at the Wagon (Open Sew)
Cancelled for Wednesday, November 23rd for Thanksgiving.

Thank you for supporting your local brick-and-mortar quilt shop!


We feel honored to be part of such a wonderful quilt-making community.



We hope you'll visit us again soon,
Jen and the Girls
at Corn Wagon Quilt Co.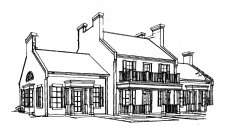 We would love to hear from you!
801-491-3551
cornwagonquilts.com