There's nothing quite like wrapping a little one in a quilt. From brand new babes to busy big kids, quilts are a handmade hug that becomes a familiar part of growing up. When tots need some comfort and security, what's more cozy than a quilt made by someone who cares for them dearly? It's the ultimate safehaven. When playtime comes along, quilts are a necessity. Building a fort? Hosting a picnic? You know that trusty quilt will be part of the fun. I remember my son gathering all the stuffed animals he could find around his favorite quilt for the ultimate tea party. Many joyful memories from his childhood are centered around that quilt. As the years roll by, that quilt becomes a keepsake that reminds them that they are loved.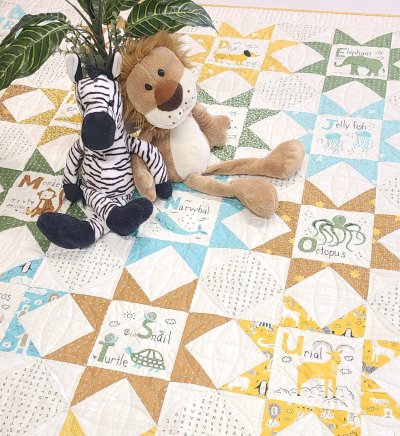 Our children's department is filled with fresh ideas for creating something special for little ones. Quilter's cottons, flannels and minky are all available for the choosing in our lower level and online. Did you know we offer hemstitching service for receiving blankets and burp cloths? Yes, indeed! And as always, we have some new kits ready to simplify the process of selecting just the right thing.
This playful quilt features one of our current favorite collections. Animals from A to Z will delight your little ones! Designed by Stacy Iest Hsu for Moda in a modern, earthy color story, this one's a winner for any child! Kit comes packaged in a cute box and includes pattern and fabrics from Stacy's ABC...xyz collection for the 66" x 66" quilt top and binding for $149.99. This one was pieced by Karen Averett for one of her grands and custom machine quilted by Tonya Colbert.
Moving right through the alphabet, next we have D is for Dinosaur. From Allosaurus to Zuniceratops, your little paleontologist will be in dino heaven with a quilt made from this line! The newest collection from Paint Love Studio for Dear Stella is sure to make your little ones ROAR with delight. Yardage is now available in-store and online. You're going to love the dino-mite panel that goes along with this line. Turn it into blocks or just add some simple borders and... presto...you have a quilt that any kiddo would love.



Another current favorite, Lucky Rabbit by Heather Ross is here! We just can't get enough of her adorable designs. Speaking of quilt forts, this collection features a pajama-clad bunny reading by flashlight in his own quilt fort. Cymoni Whatcott pulled together supporting prints from the line to piece the Chain Reaction pattern by Cluck Cluck Sew (below).

A fast and fun quilt perfect for framing the darling

Lucky Rabbit

fabrics.

Our kit includes the pattern

as well as all yardage needed for piecing the 56" x 68" quilt top and binding for $99.99. Super cute edge-to-edge machine quilting by our own Dorene Johnson.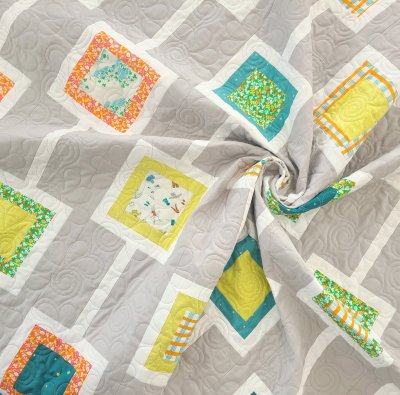 Our children's department offers more than fabric. Add some fun accessories to your baby quilt gift! Right now, our baby clothes and accessories such as teething rings, bows, serving utensils and knit swaddlers, are all 40% off! You'll find them in-store only, in the lower level of the quilt shop.
For something more on the feminine side, the Marquee Quilt, below, is fresh as a spring morning. Chris Chamberlain coordinated nine fat quarters to frame in a crisp, white-on-white background for this sweet 53" x 68" throw quilt. Backed with Minky, it makes an ideal snuggler! You'll find this pattern in one of our best-selling books (seriously, we've made so many samples from this one)

Fat Quarter Style

by It's Sew Emma. Kits for this cutie are just $78.99! Because we know many of you already have this book, it is sold separately. Custom machine quilting by our own Ramona Sorensen.
LOCAL QUILT SHOP DAY!
TOMORROW! SATURDAY, JANUARY 28TH
Let's celebrate with a SALE! We've selected some quilter must-haves to mark down so you can stock up! It's our way of thanking you for making us a part of the best quilter's community around! Enjoy 30% off factory precuts, Aurifil machine thread, all rulers and Sewline products in-store! Get the same great deals online by using coupon code LQSDAY at checkout Saturday & Sunday, January 28 & 29!
---
Upcoming Sales & Events





Magic Word Monday
Check our Instagram or Facebook page every Monday morning to find the Magic Word in our most recent post!

Repeat the Magic Word at the register the same day it is posted and show us you follow us on social media to receive 20% off one regular price item of your choice!

Some exclusions may apply. The Magic Word can only be used once per customer each Monday. Cannot be combined with other offers. Must be present in store or purchase by phone day of sale to receive discount. We will not hold items or pre-cut yardage for this special offer.



Handwork Club


Every Tuesday, 10:00am - Noon
This delightful weekly club is for anyone who would like to work on a hand stitching project while learning new hand stitching skills. It's a great chance to finish our own projects and relax with a fun gathering of sewing friends. No fee to attend. Simply come and join us!

Wrong Price Wednesday!
Every Wednesday our pre-cut fat quarters are only $3.00!

Regular Price $3.75.



Time Out at the Wagon (Open Sew)
Every Wednesday, 10:00am to 4:00pm
Put yourself in Time Out at the Wagon in our School House located directly behind the quilt shop! At times we all need time out from housework, phone calls, and everyday responsibilities. Bring your current sewing project to "Time Out at the Wagon" and do just that. Marsha is looking forward to being in Time Out and hopes lots of you will join her.

Thank you for supporting your local brick-and-mortar quilt shop!


We feel honored to be part of such a wonderful quilt-making community.



We hope you'll visit us again soon,
Jen and the Girls
at Corn Wagon Quilt Co.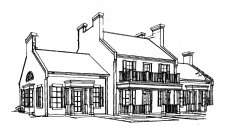 We would love to hear from you!
801-491-3551
cornwagonquilts.com