Skip Navigation
Website Accessibility
New Dates Added for Your Favorite Classes!




Learn Something New at Corn Wagon Too!
We wanna know! Tell us what you would like to learn at our Schoolhouse. We want to offer the classes YOU want to take. The following three opportunities are back by popular demand because you spoke and we listened. So tell us, what techniques, patterns and projects have you been itching to try but would appreciate some guidance from an expert? You can reply to this email with your ideas or chat with one of our friendly employees next time you're at the shop.


Be sure to visit our online class list and calendar often to see what's new. There you'll find project photos, instructor bios, supply lists and of course the chance to register conveniently on the web. You'll also find project samples on display now at the quilt shop! From beginner-friendly projects to intermediate and advanced clubs, there's always room for YOU to learn something new at The Wagon!
---
How to Make a T-Shirt Quilt
Many people have T-shirts that hold memories, though they may no longer wear them. Instead of letting those shirts sit in a drawer, you can breathe new life into them by turning them into a T-shirt quilt.
This all-day class, taught by Cheryl Wallin, will go over everything you need to know to create your own heirloom T-shirt quilt.

Friday, May 19th, 10 a.m. - 5 p.m.
at the Schoolhouse.
$70 Class Fee

Too Cool T-shirt Templates are the key to making any size shirt or logo fit into your quilt without extra math! Now available for pre-order at the shop, we highly recommend these templates for class though they are not required.
---
Cake Mix Recipe Class
It's a delectable way to make quilts! Learn how to follow Cake Mix Recipes for block pieces that make stirring up a Layer Cake quilt easier than ever. This unique triangle paper was designed by Miss Rosie for use with 10" or 5" precuts and the results are precise pieces that can be configured into a wide variety of delicious quilts.

Join Jen Tanner and Lexi Lamb for an exciting Cake Mix & Cupcake Mix demonstration where we will take you through the process from beginning to end. Then we'll spend the remaining hours practicing at the sewing machine. You'll come away with a few finished blocks to get you started on a scrumptious Cake Mix Quilt of your choice!

Thursday, July 13th, 5 p.m. - 8 p.m.
at the Schoolhouse
$35 class fee

BONUS: Slice of real cake included along with sample block kit so you can try before you buy.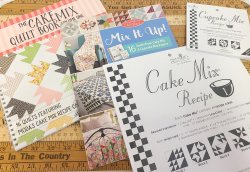 ---
Collage Quilt Class
Shaylene Engh is a certified Laura Heine Collage Quilting instructor
and she is so excited to teach you how it's done!
Collage quilting can be a fun, non-stressful quilting project
(like never having to worry about matching points)
and is a great scrap buster!
It is an opportunity for you as a quilter to express
your creativity in a unique way!

Register now and join us at the Schoolhouse
for this two-part class
Thursdays, June 22 & 29, 10:00 a.m. - 2:00 p.m.
$70 Class Fee

In this class you will learn Laura Heine's
basic techniques for Collage Quilting.
You and Shaylene will talk about supplies, fabric choices,
fabric placement, background, and finishing details
while working on one of Laura's Teeny Tiny Collage Quilt patterns!
Choose one of six designs (3 per pattern)
available now, in-store and online.
---
General Class Information

Classes at the Corn Wagon Quilt Co. are held in-person at our new, state-of-the-art Schoolhouse at Corn Wagon Too, located directly behind the Quilt Shop. You'll love sewing in this beautiful space! All class supplies are 15% off to those registered and you'll receive 15% off regular price items purchased on the day of your class at Corn Wagon Quilt Co.

Please, click the image below for our complete class policies.
All class fees are due upon registration.
Class fees reserve your seat and compensate instructors for their time and expertise.
For this reason, class fees are not refundable for any reason.


Thank you for supporting your local brick-and-mortar quilt shop.
We hope to sew with you again soon!

Corn Wagon Quilt Co.
303 East 400 South
Springville, Utah 84663

801-491-3551
www.cornwagonquilts.com