Summer Bag Classes Now Open for Registration!




Learn Something New at Corn Wagon Too!
Summer is a busy time. Vacations, sporting events, community celebrations, gardens to tend to... the list goes on. Don't forget to make time in your schedule to learn something new -- and we have just the thing! Why not make a cute new bag to take to all those summer events. I can hear the compliments now, "Oh! Where did you get that adorable bag?" "You didn't make that, did you? It looks so professional!" You'll learn skills from Shelley Taylor that you can use over and over again -- and it's a good thing because you'll be hooked. Bags to go with every outfit. Bags for all your friends. Bags of all shapes and sizes. Start your bagineer adventure this summer at Corn Wagon Too.


Be sure to visit our online class list and calendar often to see what's new. There you'll find project photos, instructor bios, supply lists and of course the chance to register conveniently on the web. You'll also find project samples on display now at the quilt shop! From beginner-friendly projects to intermediate and advanced clubs, there's always room for YOU to learn something new at The Wagon!
---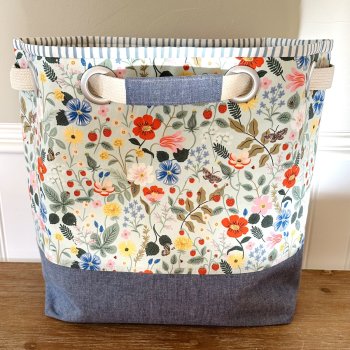 Pucker-Up Project Tote Class
The Pucker-Up Project Tote from Bodobo Bags is a beautifully designed bag
to take your projects to quilt retreats!
It will keep all your supplies organized, with two different size options and a handle that expands when opened and cinches the top closed when picking up the bag.
The petite size is perfect for a handbag,
or if you have a small project to take with you.
The large size is roomy and fantastic for taking larger projects and supplies.
Both sizes feature contrasting fabrics, interior pockets all around,
and an optional zipper pocket.
Join Shelley and learn how to make this fun bag today!
Friday, June 30th, 11:00 a.m. - 4:00 p.m.
OR
Saturday, August 5th, 11:00 a.m. - 4:00 p.m.
---
Haralson Belt Bag Class

Let Shelley Taylor teach you how to make this belt bag that's perfect for everyday use!

The Haralson Belt Bag by Noodlehead is compact and easy to wear across the front of your body making it a great bag for travel and security.

It has multiple flap hardware closure options for maximum versatility.

The back zippered pocket is perfect for your phone or keys, with a spacious interior and a zippered pocket inside.

Instructions include options for making the closure using leather, cork, or faux leather.

Plus, instructions for making the closure with different hardware options!

Thursday, August 10th, 11:00 a.m. - 4:00 p.m.

OR

Friday, September 15th, 11:00 a.m. - 4:00 p.m.
---
Mega Dream Bag Class
A Corn Wagon favorite, The Mega Dream Bag is the perfect bag for all your sewing tools and notions.
It also makes a great travel bag for toiletries and all your traveling stuff!
There are no exposed seams, and the special features include:
Lots of interior pockets you can customize to your needs

Handles drape out of the way when in use

Zipper opens all the way so bag can open fully

Top can be folded down so contents are easily accessible

Lots and lots of room for all your stuff
Thursday, September 21st, 11:00 a.m. - 5:00 p.m.
OR
Saturday, October 7th, 11:00 a.m. - 5:00 p.m.
---
General Class Information
Classes at the Corn Wagon Quilt Co. are held in-person at our new, state-of-the-art Schoolhouse at Corn Wagon Too, located directly behind the Quilt Shop. You'll love sewing in this beautiful space! All class supplies are 15% off to those registered and you'll receive 15% off regular price items purchased on the day of your class at Corn Wagon Quilt Co.
Please, click the image below for our complete class policies.
All class fees are due upon registration.
Class fees reserve your seat and compensate instructors for their time and expertise.
For this reason, class fees are not refundable for any reason.
Thank you for supporting your local brick-and-mortar quilt shop.
We hope to sew with you again soon!

Corn Wagon Quilt Co.
303 East 400 South
Springville, Utah 84663

801-491-3551
www.cornwagonquilts.com