Skip Navigation
Website Accessibility
2 More Days to Hop the Shops -- Plus, get in on our NEW WOOL BOM!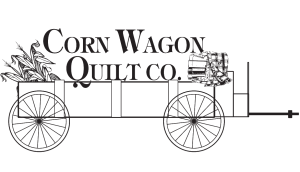 Have you hit the road yet for the 2023 Utah Shop Hop? It's not too late! We have two more days of celebrating the "Forgotten Holidays" at 13 quilt shops along the Wasatch. The party rages on here at Corn Wagon Quilt Co. for "Beyond the Backyard Day." It's been awesome to meet and greet quilting friends old and new this week. We hope to meet you too! So, gather the quilting gang, hop in the car and follow the road map found at utahshophop.com for a weekend of hopping the shops!
Sweet Ride is one of 18 new quilts on display at the Corn Wagon as we travel "Beyond the Backyard" for some outdoor adventures in quilting. This playful mix of florals and travel-themed fabrics by Laundry Basket Quilts is intended for children but it's sophisticated enough for kids of ALL ages. It was the perfect choice for these adorable applique cars. Your next destination is just around the bend when you follow the road map on the background fabric. Our kit includes the pattern, also by Laundry Basket Quilts as well as yardage required for piecing the 55.5" x 63.5" quilt top and binding. Our cute sample was pieced by Chris Chamberlain and quilted by Ramona Sorensen.
Don't feel rushed! Enjoy a slow stroll through the shop so you can take in all the sights along the way. Look carefully; flora and fauna abound as you make your way "beyond the backyard." Garden Snails is a fun & whimsical quilt pattern by Pen + Paper Patterns. Cymoni Whatcott chose fat quarters from the Eden collection by Gabrielle Neil and paired them with a mix of modern solids for piecing the 58" x 67.5" quilt top and binding for $86.99. The background is our current favorite, Kona - Lingerie. It's a gentle, neutral peach tint that goes with so many current collections, we can't get enough of it! E2E quilting by Dorene Cole.
As you walk through our neck of the woods, what else will you find? Forest Fungi is another traditionally pieced quilt for the intermediate sewist by Pen+ Paper Patterns. Lynette Christensen selected an autumn blend of Art Gallery Pure Solids against a neutral Artisan Cotton background to reflect the colors of nature as you piece the cutest toadstools you've ever seen! Delicate Rifle Paper Co. floral for binding finishes this one perfectly. Our kit includes the pattern and fabrics as shown for piecing the 57" x 70" quilt top and binding for $123.99. E2E quilting by Dorene Cole.
After taking in all the sights in the wild, make your way to a cozy cabin in the woods. Jen Tanner enjoyed putting this quick and easy quilt together (below) over a weekend while reflecting on her own travels through the wilderness of Utah. Essex Linens bring beautiful texture and depth to the Homecoming quilt by Lo & Behold Stitchery. Earthy tints of blue, green, and gold against a slate background make this quilt feel like it belongs at the lodge. Our kit includes Essex Linens as shown for piecing the 53" x 71" quilt top and binding, as well as the pattern. E2E quilting by Dorene Cole.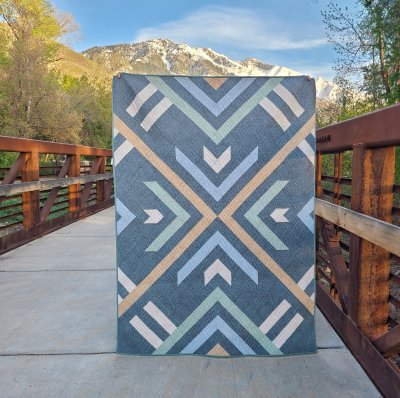 SPRING S.A.B.L.E. SALE !
SATURDAY, MAY 20th, 9:00 a.m. - 3:00 p.m.
30 quilter's will set up shop in our parking lot with sewing goods they are willing to part with. Each vendor will manage their own transactions so come prepared with cash or Venmo. We're happy to have Renee's Cheesecake food truck back for some treats. Corn Wagon will have lots of clearance fabric and items marked down in the Schoolhouse. Come help your fellow quilters destash their S.A.B.L.E.s and see what fabric treasures you might find!


As part of celebrating "Beyond the Backyard Day"...
We have opened registration for a new, outdoor themed wool block of the month! Camp Basin by Buttermilk Basin is a 60" x 60" quilt featuring wool applique on a flannel background. Camping, fishing,hiking, roasting smores around the fire; you'll find all your favorite outdoor activities features as well as some friendly wildlife. We have a few of the blocks on display now at the shop and you really need to see them in person to appreciate all the details.
The twelve-month block-of-the-month will include the patterns, cotton backgrounds, borders, and binding, and hand-dyed felted wool for applique. You will receive one block each month for twelve months. Threads sold separately.
This block-of-the-month program will run from September 1, 2023 to August 1, 2024. Sign up now online for our monthly subscription service. Your credit card will automatically be charged each month and you can choose free local pickup or shipping for an additional fee.
$20 non-refundable sign-up fee
$32.99 per month for 12 months
---
Upcoming Sales & Events

Saturday Sampler May pickup begins tomorrow!
Yes, even with Shop Hop in full swing, we will have May's kits ready for pickup beginning tomorrow, May 13th. As usual, we will allow a one week window to bring last month's blocks in to show us you finished your assignment in order to receive May's kit free. See you soon!
Magic Word Monday
This Monday's Magic Word is "ADVENTURE." Enter the magic word as a coupon code online 05/15/23 to receive 20% off WOOL KITS! Local customers can repeat the Magic Word at the register on Magic Word Monday and show that you follow us on social media for the same great deal! Some exclusions may apply. Discount does not apply to block of the month programs. Cannot be combined with other offers. We will not hold items or pre-cut yardage for this special offer.

Handwork Club
Every Tuesday, 10:00am - Noon
This delightful weekly club is for anyone who would like to work on a hand stitching project while learning new hand stitching skills. It's a great chance to finish our own projects and relax with a fun gathering of sewing friends. No fee to attend. Simply come and join us!

Wrong Price Wednesday!
Every Wednesday our pre-cut fat quarters are only $3.00! Regular Price $3.75.

Time Out at the Wagon (Open Sew)
Every Wednesday, 10:00am to 4:00pm
Put yourself in Time Out at the Wagon in our School House located directly behind the quilt shop! At times we all need time out from housework, phone calls, and everyday responsibilities. Bring your current sewing project to "Time Out at the Wagon" and do just that. Marsha is looking forward to being in Time Out and hopes lots of you will join her.

Thank you for supporting your local brick-and-mortar quilt shop!
We feel honored to be part of such a wonderful quilt-making community.

We hope you'll visit us again soon,
Jen and the Girls
at Corn Wagon Quilt Co.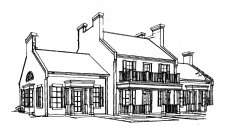 We would love to hear from you!
801-491-3551
cornwagonquilts.com