QUILT FOUND! We've never received a call quite like this... the voice on the other end of the line was a concerned quilter seeking the owner of a quilt found on the freeway exit here in Springville. Her husband spotted it and they pulled over but before they could get to it, another car (clearly NOT a quilter) ran over it. Knowing the love that goes into a quilt, this sewist hopped out of the car and grabbed it quick as she could and began thinking of ways to find its owner. Upon inspection, she discovered hand stitching! Unfortunately there were also tire marks so she carefully hand washed to clean what she could. Realizing the Corn Wagon was just up the street, she figured it was highly likely the owner might be a customer of ours so she reached out and here we are, asking if YOU or someone you know recently lost a quilt near the freeway in Springville, Utah. If so, please contact the shop with a description and we'll get you in touch with our sweet quilt rescue hero!
And now for our regularly scheduled newsletter... Have you ever considered the similarities between quilting and gardening? Both begin with inspiration and a passion for watching something grow from a small start into something beautiful that can be shared. Scraps are like seeds sewn into furrowed rows with hopes for a fruitful finish. Both arts take equal parts know-how and experimentation. What works for one block or plant variety may not work for another and so we play with possibility. We find ourselves trimming, shaping and even "fixing bugs." It's important to have the right tools and patience is key. Putting in the work, paying attention to details and enjoying the process deliver a bounteous experience and a result you will be eager to share. Like gardening, quilting is a legacy that can be generational with unique cultural flavors and traditions. With that in mind, let's take a look at three garden-inspired quilts in their natural habitat.
Nothing says garden season like fresh strawberries! This delightful quilt (above and below) inspires dreams of sunny weather surrounded by loved ones. Strawberry and Friends fabrics by Kimberly Kight for Ruby Star Society are mixed together in striking rows with a modern palette of solids. Our kit includes the Mae pattern by Wren Collective and fabrics as shown for piecing the 80" x 88" quilt top and binding for $179.99. Pieced by Angie Pope. E2E Machine Quilting by Dorene Cole.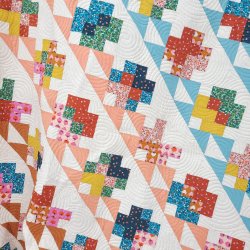 Beautiful blooms rely on buzzing bees and so the quilt below is a fantastic ode to the garden. Featuring bold prints from the Local Honey collection by Heather Bailey, this version of the Kara Quilt by Kitchen Table Quilting was also pieced by Angie Pope and quilted by Dorene Cole. It offers a modern window to a floral wonderland against a gentle peach-toned background (Kona Solid Lingerie). Our kit includes the pattern and yardage for piecing the 56" x 68" quilt top and binding for $99.99 in-store and online. You'll also find The Kara Quilt patterns and lots of yardage from the Local Honey collection available!
One of our favorite quick and easy quilts with BIG impact, the Giant Vintage Star by Jeni Baker is especially striking when favorite prints are paired with solids. Averi Reilly chose four prints from the Edan collection by Gabrielle Niel and paired them each with a coordinating solid and, BAM, just like that, Giant Vintage Star. Averi also quilted this cutie! Our kit includes the pattern and yardage for piecing the 68" x 68" lap quilt and binding for $94.99. It's a great beginner project that's fun in nearly any fabric choice!
Opening at NOON Tomorrow 06/10!
Because we are located along the Art City Days Grand Parade route, we will not open shop until NOON Saturday, June 10th. We will remain open until 5:00pm. This happens to fall on the second Saturday so if you're a member of our Saturday Sampler BOM, your kits will be ready to begin pickup at noon that day. Traffic may be hectic with all of the events going on for the final day of Art City Days so we advise that you plan accordingly. As usual, we will allow a one-week window for you to bring in last month's finished assignment and receive this month's kit free of charge.
Today & Tomorrow!
Be sure to visit the Art City Days Quilt Show
Friday, June 9, 10am - 6pm and Saturday, June 10, 12pm - 4pm at the Cherry Creek North Gym (485 S. 200 E. Springville). Admission is free so bring the family and support your local quilters! See if you can spot all 10 quilts submitted by the gals at Corn Wagon!
---
Upcoming Sales & Events

Saturday Sampler Pickup begins tomorrow at NOON - 5:00 p.m.
Because our shop is along the Art City Days Grand Parade route, we will not open our doors until noon that day. June's kits will be ready for pickup after noon. As usual, you will have a one week window to bring in your finished blocks to receive June's kit free of charge. We look forward to seeing you and your awesome blocks soon!
Magic Word Monday
This Monday's Magic Word is "GARDEN." Enter the magic word as a coupon code online 06/12/23 to receive 20% off FACTORY PRECUTS! Local customers can repeat the Magic Word at the register on Magic Word Monday and show that you follow us on social media for the same great deal! Some exclusions may apply. Cannot be combined with other offers. We will not hold items or pre-cut yardage for this special offer.

Handwork Club
Every Tuesday, 10:00am - Noon
This delightful weekly club is for anyone who would like to work on a hand stitching project while learning new hand stitching skills. It's a great chance to finish our own projects and relax with a fun gathering of sewing friends. No fee to attend. Simply come and join us!

Wrong Price Wednesday!
Every Wednesday our pre-cut fat quarters are only $3.00! Regular Price $3.75.

Time Out at the Wagon (Open Sew)
Every Wednesday, 10:00am to 4:00pm
Put yourself in Time Out at the Wagon in our School House located directly behind the quilt shop! At times we all need time out from housework, phone calls, and everyday responsibilities. Bring your current sewing project to "Time Out at the Wagon" and do just that. Marsha is looking forward to being in Time Out and hopes lots of you will join her.

Thank you for supporting your local brick-and-mortar quilt shop!
We feel honored to be part of such a wonderful quilt-making community.

We hope you'll visit us again soon,
Jen and the Girls
at Corn Wagon Quilt Co.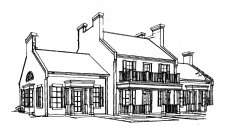 We would love to hear from you!
801-491-3551
cornwagonquilts.com