I remember, years ago, opening bags in my grandmother's basement to find quilts unlike any I had seen before. Pretty, they were not. Haphazardly pieced from remnants of heavy wool, these quilts had clearly been used to the max. My grandmother called them utility quilts and went on to tell how they were used by my grandfather's roadwork crew at their construction camps while building roads through various seasons in the unforgiving Utah landscapes such as Zion National Park. They were an essential comfort to those men and these were the few that remained from their team. I think of those old quilts everytime I piece something together for my favorite fellas.
Inspired by utility quilts of the past, our Campfire Quilt (above) is made using 10" precut Mammoth Flannel squares so it goes together lickety-split. The addition of a few simple stitch-and-flip corners adds interest. It's safe to say this quilt has all the good looks that those old camp quilts lacked plus all the soft comfort of cotton flannel! Our kit includes the Campfire Quilt pattern designed by our own Ramona Sorensen and Mammoth Flannels by Robert Kaufman for piecing the 73" x 73" quilt top and binding for $104.99. These are the kind of quilts my boys fight over, because even the roughest, toughest outdoorsmen love the comfort of a handmade camp quilt. Our sample was pieced by Chris Chamberlain and quilted by Dorene Cole.
Speaking of the great outdoors, get a load of these fantastic new fabrics from Dear Stella Designs! The Gone Camping collection has everything you need for a weekend in the woods. Watch for it to hit the floor and our website next week!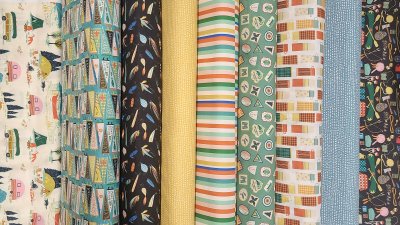 Guys love a good quilt. Especially when they know it was handmade just for them. It might be a bit late to whip one up in time for Father's Day but it's never too late to give some quilt love to your favorite fellas. I'm the only gal in my household so I've become an expert in composing quilts the guys go for and here's what I've learned:
Keep it simple. They'll love it because you made it for them, not because it's made of 20,874 pieces.

Make it soft. Don't be fooled by their rugged, manly nature. Back that man's quilt with flannel or minky for extra comfort.

Appeal to their interests. Athlete, musician, outdoorsman, tech guru... throw a hint of their favorite pasttime into the fabric mix.

Don't be offended when it gets used. It's the best compliment when the quilt you made him goes everywhere he goes, be it the couch, the campsite, the beach or the ballgame; make him a quilt that can handle a washing or two(hundred).
This one appeals to outdoorsmen of all ages. Foxes and bears await campers -- don't worry -- these critters are friendly! The Timberline fabric collection by Art Gallery Fabrics is outdoor fun for everyone. It's especially great used in the Mountain Retreat pattern by Aunt Em's Quilts. Our kit includes yardage as shown for piecing the 58" x 68" quilt top BUT you'll find you have enough fabric to enlarge this quilt to 64" x 74" if you buy an additional 3/8 yard of the Art Gallery Fabrics Decostitch background (linked in the kit listing)! Pieced by Karen Averett. Quilted by Dorene Cole. Look how great these prints are up close!


Now, if you're looking to honor a love for the outdoors in a bit less utilitarian way... Join the CAMP BASIN BOM by Buttermilk Basin!

Venture into the woods to spend a night under the stars telling big fish tales after a day at the lake. This quilt captures all the good memories to be made with wonderful detail. The 60" x 60" finished quilt features wool applique on a flannel background. It's the perfect quilt for the outdoorsman and their family.
The Camp Basin Block-of-the-Month program will include the patterns, hand-dyed, felted wool for applique and cotton backgrounds, borders, and binding. You will receive one block each month for twelve months. Threads are not included. There is not a class to go along with this program but if you are new to wool applique, we encourage you to attend one of our free wool applique demos or checkout our YouTube tutorial on wool applique here.
This block-of-the-month program will run from
September 1, 2023 to August 1, 2024.
$20 non-refundable sign-up fee
$32.99 per month for 12 months
Register online today through our secure subscription service and choose pick up or shipping for an additional fee. Please note, this is a 12 month commitment. Registration fees are not refundable for any reason.
---
Upcoming Sales & Events

Magic Word Monday
WE'RE CHANGING THINGS UP! We're going back to our original deal for in-store customers while continuing our discounts by department online! Local customers can repeat the Magic Word at the register on Magic Word Monday and show that you follow us on social media for 20% off one regular price item of your choice! Online shoppers may enter the magic word as a coupon code online 06/19/23 to receive 20% off ALL regular price COTTON FABRIC YARDAGE! This Monday's Magic Word is "DAD."
Some exclusions may apply. Cannot be combined with other offers. We will not hold items or pre-cut yardage for this special offer.

Handwork Club
Every Tuesday, 10:00am - Noon
This delightful weekly club is for anyone who would like to work on a hand stitching project while learning new hand stitching skills. It's a great chance to finish our own projects and relax with a fun gathering of sewing friends. No fee to attend. Simply come and join us!

Wrong Price Wednesday!
Every Wednesday our pre-cut fat quarters are only $3.00! Regular Price $3.75.

Time Out at the Wagon (Open Sew)
Every Wednesday, 10:00am to 4:00pm
Put yourself in Time Out at the Wagon in our School House located directly behind the quilt shop! At times we all need time out from housework, phone calls, and everyday responsibilities. Bring your current sewing project to "Time Out at the Wagon" and do just that. Marsha is looking forward to being in Time Out and hopes lots of you will join her.

Thank you for supporting your local brick-and-mortar quilt shop!
We feel honored to be part of such a wonderful quilt-making community.

We hope you'll visit us again soon,
Jen and the Girls
at Corn Wagon Quilt Co.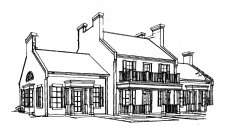 We would love to hear from you!
801-491-3551
cornwagonquilts.com